in Coeur d' Alene, ID
Lorraine (Lori) Elmore was born in Wallace, ID, grew up and attended grade school in Idaho until her parents divorced. Lori and her mother then moved to Spokane, WA, where she went to St. Paul's School for Girls in Walla Walla, WA through high school. After HS she attended Washington State College (now University) for a year and a half, spent a semester at the University of Hawaii, then went to Reed College for a year. Unfortunately, while at Reed, her eyes gave out because of years of wearing improper glasses.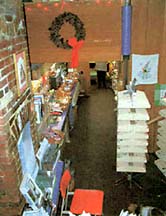 Lori married at the end of her junior year. She explains, "My ex-husband joined the army and we bounced around the country: El Paso, TX, Monterey, CA, East Pepperell, MA. When he got out of the army, we went to Long Island, NY, where we worked at Brookhaven National Laboratory."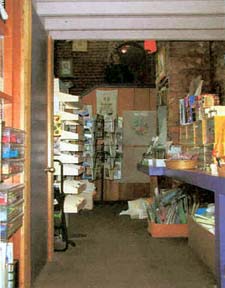 ----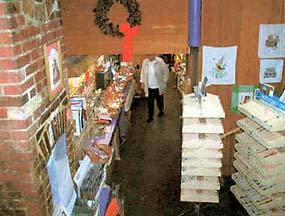 ---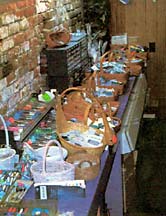 About her childhood Lori reminisces, "I grew up in a disgustingly talented family and thought I was unable to do anything. My chief passion was reading, mostly historical." It was serendipity that put her on the path to a career in needlework, "While on Long Island, I saw a beautiful white-on-white 4 way needlepoint. I went in and asked if I could do that. The reply was 'No you can't do that yet. You have to do Bargello first.' My response was, 'What's Bargello?' The owner set me up on a running flame stitch. I was so thrilled I found something I could do; I gave 25 pillows the first year for Christmas. That led into more complicated things."
Lori eventually found herself back in Idaho, "I got a divorce, my job phased out, I took my two sons and moved back to north Idaho. My choice was working for someone else or for myself for little or no income. I chose the latter. It was what saved my sanity in the years I took care of my mother as she became less well." This past August Lori celebrated her17th year in business.
Lori admits that she did not truly appreciate north Idaho while growing up there. She says, "As far as I knew, everyone could enjoy the beautiful scenery, wildlife and climate. Now people ask if I work for the Chamber of Commerce!" The town in which she currently lives has a very small population, so she decided to locate her shop in Coeur d' Alene, which boasts a population of 35,000. It is within 30 miles of Spokane, WA. Lori adds, "We are on what National Geographic calls, "One of the 5 most beautiful lakes in the world."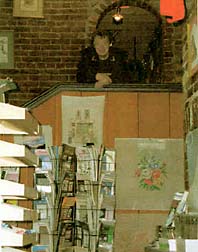 If you really look, you can just barely catch a glimpse of Lori leaning over the stair railing. Lori admits to not being "overly fond" of being in front of a camera!
The building, which houses Lori's Needle Ark, is about 100 years old. It has brick and stone walls and myriad nooks and crannies. Unfortunately, the new owner of the building will tear it down eventually, but not for at least a year. Lori will then need to find a new space for her business. Previous to her current address, the shop was located for 9 1/2 years elsewhere. Lori explains, "The owner of the building told me he had been offered double rent for my space. Then he said needlework isn't considered fine art. So much for him!" Though not a designer herself, Lori loves to play with color, fibers and stitches.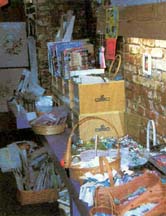 ---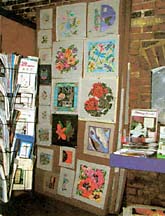 Lori's Needle Ark carries both needlepoint and cross stitch, as well as some Hardanger and crewel. Lori states, "When I lived in New York, people did only needlepoint. When I got here I found cross-stitch was mostly what they did. Ergo, I carry both." She has gradually expanded her inventory in canvases, books, fibers, gadgets and whatever else a stitcher might need or think of. Among the fibers Lori stocks are the Caron Watercolours, Wildflowers, Waterlilies, Snow and Impressions. Anything not in stock, she will gladly procure. Lori adds with a laugh, "The story of my life seems to be 'I can order it for you."
Each and every year that she has been in business Lori has held an Evelyn Bernstein trunk show. Lately she has also staged Lee's Needle Art and Leigh's Needlework Photo Album Shows. She schedules these during the summer months to take advantage of the extra tourist traffic. Lee McLeron routinely taught classes at the shop during the summer as well, but her health has now slowed her up. Lori takes time out to help customers with their needs and projects anytime she's not swamped. She firmly states, "I do not carry anything I cannot do."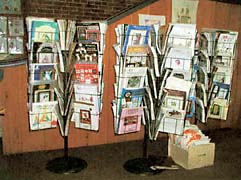 Nine years ago Lori decided that what was needed in the area was a local needlework guild. Being the "can-do" woman she is, there now exists the Syringa Stitches EGA chapter, which celebrated its 8th birthday in October.
Patta Pouf
Lori's Needle Ark's "Official Welcomer"
Lori's Needle Ark boasts an "Official Welcomer:" a Shih Tzu who was a year old Dec.10th. Lori adds, "Patta Pouf takes her job very seriously. No one comes in who isn't greeted with great joy. We are still working on some manners though!"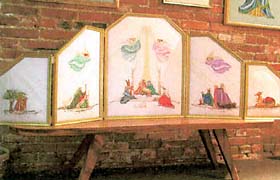 As Lori's business has burgeoned and grown, so has her family. She now has 4 grandsons. She relates wistfully, "One of them was supposed to be a girl, but I think I am out of luck. The ages range from 5 months to almost 5 years. Both of my sons have 2 boys."

Lori's Needle Ark
123 Sherman Ave
Coeur d' Alene, ID 83814
Phone: (208) 664- 8587
Fax: (208) 664- 8587
E-mail: lorinark@icehouse.net