Be Sure to Treat Yourself to a Free Online Class, Compliments of Our Featured Designer
We are pleased to present an interview with
Maria E. Gollek
of MarNic Designs, Waterloo, ON, Canada
Tell us about yourself.
For me it all started at a very young age – seeing life as a snap shot in time. As my family would trek along on hikes I would be caught up in my own world. This world evolved into photograpyh, writing and drawing. The University saw me doing a degree in German, History and Fine Arts. It was not until a friend of my mother's introduced me to cross stitching that all of the parts came together into MarNic Designs. My family consists of 2 strapping sons, 3 dogs and 1 turtle that all grace my home. The dogs allow me to hike along off beaten paths, without worrying about my safety. They have become very used to my command to stop as I take yet another picture along the hike.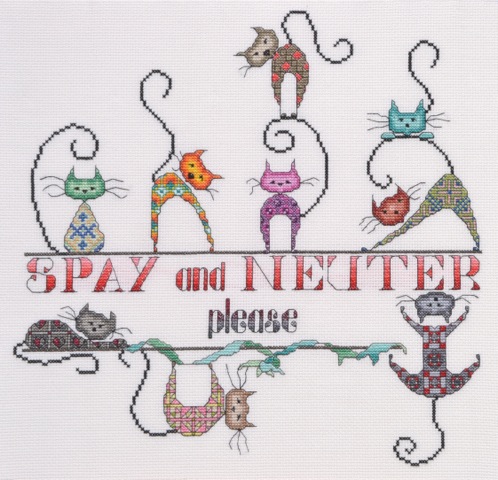 How did you become involved in needlework?
I got involved in needlework when at the age of 16 a friend of my parents introduced me to cross stitching. Mentoring was done by the members of the Needlework Designers of Canada, especially Linda Lachance of Northern Pines and Laura Dickson of Enchanting Lair.---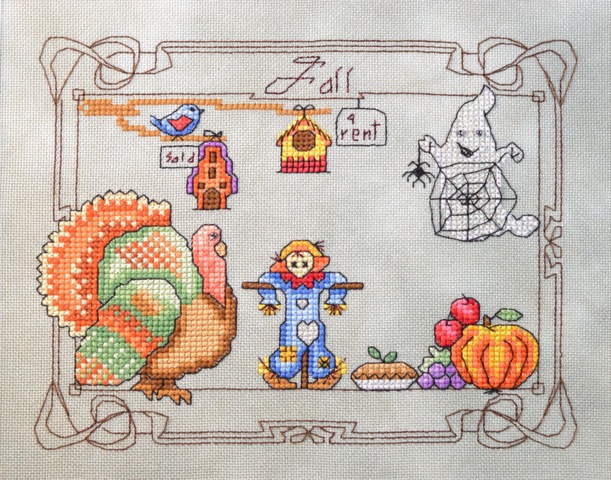 How have hobbies influenced your needlework and where do you find inspiration from?
My sayings or photographs at times find their way into my designs. My inspiration comes from life, the highs, the lows, the challenges, the emotionally wretching events, and the ones that bring tears of joy.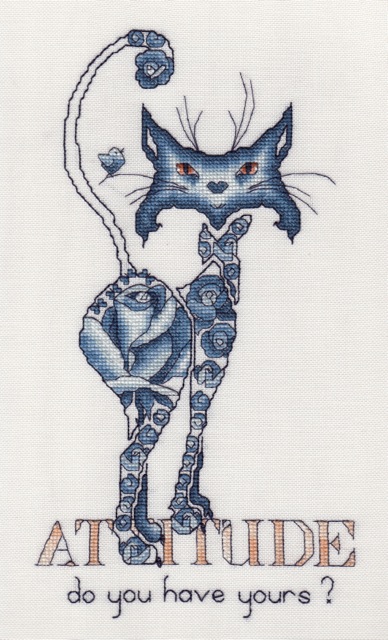 How has your work changed since you first got started in needlework?
I'd say now I take into consideration color trends, design trends, world events, instead of just my whim and fancy.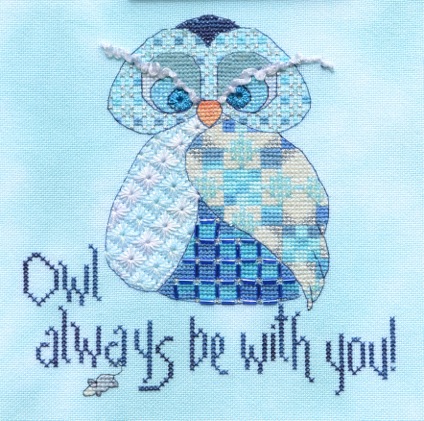 Do you find current trends in home design, etc. influences you?
Yes, the coming year's color trends at times influence the color hues or shades I will use.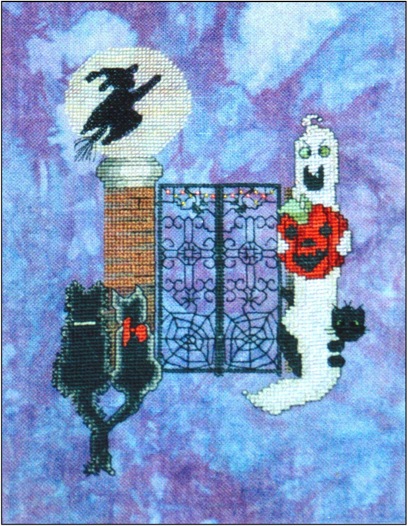 Do you ever collaborate with other designers or teachers and, if so, what kinds of projects do you work on?
Linda Lachance of Northern Pine Designs and I have worked together. Needlework designers from North America also worked on a book to raise funds to fight copyright violations. I work closely with Maria of 'A Needle Pulling Thread' magazine on each issue.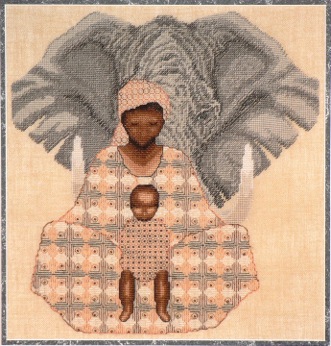 How has modern technology —charting programs, color printers, computers, software programs, and the Internet, etc. impacted your style or your work?
They have made my work process easier, but it has not impacted my style.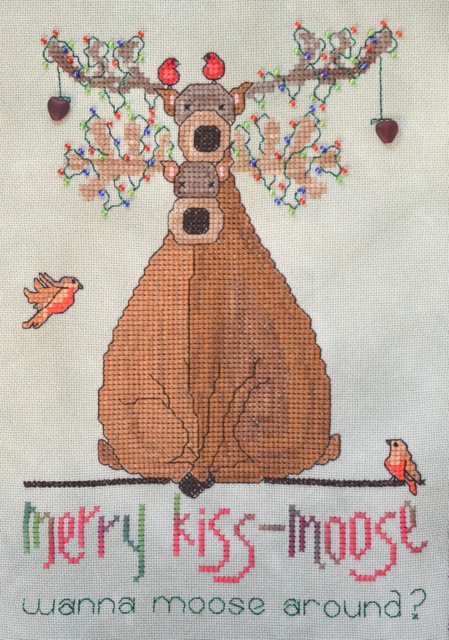 How would you classify your style (modern, traditional, classic, etc)?

Wow, I would say my style is a colorful version of me, in whatever capacity that takes.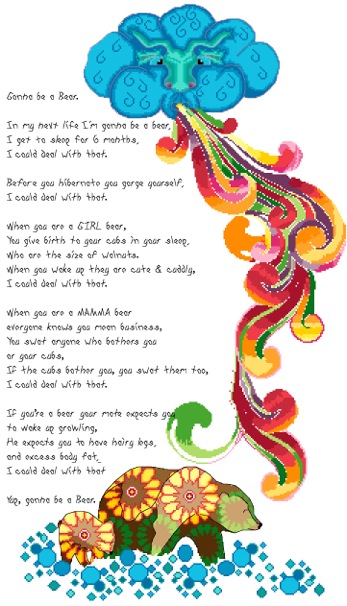 Do any of your designs have a special story behind them?
The 'Mother & Child' series developed when I had my first son. I looked at the relationship of mothers and their children from around the world. The 'I wanna be' series came about as my sons started exploring the world around them and their own aspirations. Other designs evolve out of my quirky sense of humor, or sometimes putting a warm touch to a very serious topic.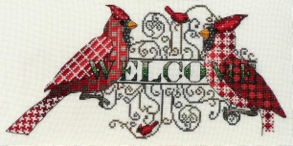 Where do you display your work or teach?

The usual, my website and I also participate twice yearly in the 'Creative Festival' in Toronto. I've had a number of trunk shows. Maria Santos of "Stitch it Central' in Ingersoll, Ontario has a vast amount of my models on display. On display have been cultural/historically significant pieces at the Button Factory, as a group project. I've also had an exhibit of my photography at the Eldon Gallery in Waterloo, Ontario. I teach twice yearly at the 'Creative Festival' in Toronto. AND when my children where younger I taught in the elementary schools in this area. I had a great bunch of kids who where thrilled to be learning new skills. Consumers can just email me for a teaching schedule.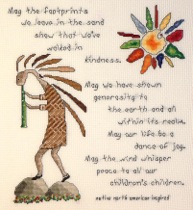 Where are your designs available or how can consumers purchase them?
They are available through my website and at stores( brick and mortar/online) around the world, but mainly in North America and England.

When did you first learn about The Caron Collection threads and how have they impacted or influenced your designs?
I'm not exactly sure when I first learned about them. Years ago when I was looking for threads that transmitted the colors that I found in nature I came across them.

As far as inspiration, at times I will go through my stash of Waterlily threads and a certain color will inspire me. I will then pull individual colors and incorporate all into a design.
What is your favorite Caron Collection thread?
I do not have a favorite. There are too many that are awesome.

What kind of upcoming projects or plans do you have?
I will continue to work on the 'Welcome' series and others as the inspirations move me.

What has been the most fulfilling aspect for you about designing needlework and what would you say is your greatest legacy?
I would say the most fulfilling aspect of designing has been where a personal inspiration/design has moved the viewer/stitcher on an emotional level.
As the saying goes 'I aspire to inspire, before I expire.
The Internet has changed our entire society. What are the pros and cons of the Internet as it concerns our industry?
The pros are the worldwide exposure. The cons is the copyright violations.
Needlework is our passion. How can we pass our enthusiasm and skills along to future generations in a way that is appealing and exciting to them?
We can pass this onto our younger generations, in the school, service clubs, camps, etc.
© 2015 Marnic Designs.