Be sure to see this month's Online Class for Roz's FREE PATTERN
By Rita Vainius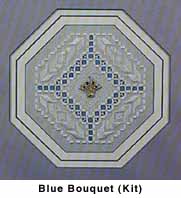 Meet Rosalyn Watnemo: wife, mother, stitcher, designer and entrepreneur. She and Sue Meier are the founders and co-owners of Nordic Needle, a name familiar to stitchers worldwide and synonymous with Hardanger to most.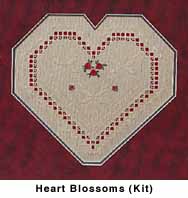 Though of pure Scandinavian heritage on both sides of her family, Roz was not exposed to Hardanger embroidery until she was in her 20's. Growing up on a farm in northern Minnesota, Roz did her share of driving the tractor and haying on a par with 3 brothers. In addition, her mother Carol and grandmother Selma, made sure that she learned some needlework skills: embroidery and crochet respectively. Roz's first crochet attempt, using strips of her grandmother's old brown stockings in lieu of yarn, was a an oval mat which bore a keen resemblance to a canoe when completed. Roz admits she hadn't yet learned how to "take" the corners. As her technical expertise improved, she turned out many a respectable afghan, scarf and placemat. Roz also became proficient on the sewing machine, making most of her own clothes. Her initial embroidery projects were stamped patterns on dish towels and, since attending school entailed 3 hours on the bus each day, Roz found it a convenient and enjoyable hobby to pass the time en-route.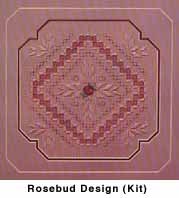 Post high school, Roz attended both a college and a technical school in Moorhead, MN, marrying her high school sweetheart, Harold, at 19. They lived in Denver for a short interlude, but then returned to Moorhead, where they have been ever since. Upon their return, Roz was employed at Concordia College. She, Sue Meier and another friend, Gayle Hillert were involved with a women's interest group. One of the activities was a class in Hardanger embroidery taught by a Norwegian-American. Marie Hanson was then already in her 70's and had been doing Hardanger for much of her life. The patterns they used were ones which Marie had acquired by being passed down stitcher to stitcher, over generations. There was nowhere to get supplies locally, except for the pearl cotton thread at a small knitting shop. Whenever someone was driving to Minneapolis (250 miles away), orders were put in. For some materials, there was no recourse but to send away for them from overseas. The ease with which we pick up a phone and blithely do business around the globe today, would then have been viewed as more of a distant sci-fi fantasy than the soon-to-be reality it has since become.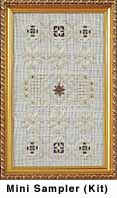 Roz was smitten with Hardanger. Perhaps it was the subconscious connection with her cultural heritage which motivated her. Aside from Marie's hand-me-downs, few other patterns were available. Fabrics that were suitable came only in shades of white, but since traditional Hardanger is executed on a white ground with white thread, Roz learned the fundamentals of the craft in true traditional manner, giving her an excellent foundation of the technique in its purest and most authentic form.



While still learning Hardanger, Roz, Sue and Gayle (who remained in the area for one year before moving away) decided to open a shop whose real purpose was to be a resource for their own small group of stitchers. After two years, both Sue and Roz decided there was a need for more variety in patterns and together they published their first book, Hardanger Embroidery Favorites. It included the patterns which Marie had bestowed on them and was dedicated to her. That source depleted, they decided to have a go at designing, confining themselves to small designs and ornaments. And that is how Roz discovered her biggest talent and avowed metier.

Of the many hats that Roz wears as co-owner of Nordic Needle, she finds designing to be the most fulfilling of her pursuits. Her originals can be found in several series of books, many with themes; The Four Seasons Samplers, Elegant Accents I through IV and Nordic Sampler are some of the most popular. Patterns in the Fiber Fantasy Book feature the use of Caron Watercolours and Wildflowers. Roz has a definite affinity for these threads: "I find it exciting to stitch with Watercolours. I love to see how the colors come out in large areas of solid satin stitch work. I can't put down my work until I have completed just one more solid motif to see how the colors lay." Angels, one of 3 chartpacks Roz has created, also contains both Watercolours and Wildflowers threads. Another chartpack, Babies Bring the Gift of Love, won the Golden Needle Award from Anchor in 1996.

Inspiration for Roz's designs is never far away. Since Hardanger is very orderly, geometric and symmetrical, she sees ideas in some of the most unusual settings (unusual in that they are so commonplace!): kitchen flooring, wallpaper, decorator fabrics, tiles. "They all have hidden Hardanger designs within them," she emphasizes, implying that it doesn't matter where you are, but how you perceive what's around you, that holds they key to inspiration. Other handwork interests serve to spark innovations as well. Roz created five Hardanger designs emulating quilt blocks by integrating her love of quilting and sewing with embroidery. These blocks can be joined to create a wall hanging or expanded to make an extravagant quilt, which would make quite a priceless, one-of-a-kind family heirloom to add to a hope chest.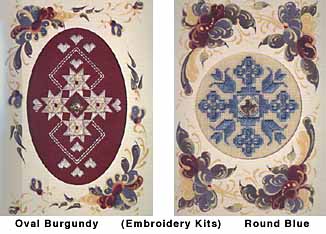 Most designers feel frustration at not having time to try all the ideas that come to mind. Roz is no exception and whenever occupied in the retail shop at Nordic Needle, she has to resist the temptation to drop everything else, surrounded as she is by a profusion of fibers and fabrics, and try something new on the spot. Roz's newest needleart infatuation is with silk ribbon embroidery. Especially enticing is just a touch of it added as an embellishment which goes a long way when combined with Hardanger. Two new kits and one chartpack have already evolved from this combination of techniques.

Over the years, Roz has had her designs published in Better Homes and Gardens magazines and companion publications. In 1997, she was invited to be a guest judge at a competition sponsored by them and found the experience to be quite fascinating. It was held in their World Headquarters in Des Moines, Iowa and involved hundreds of pillows submitted for the contest from all over the US.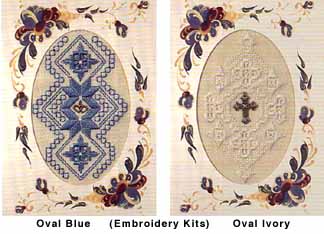 Recently, Roz was thrilled to combine her talents with those of her daughter, Jessica, an art student, who speaks Norwegian and spent a year studying at a folk art school there. Jessica rosemaled (traditional Norwegian rose painting) the designs that Nordic Needle offers as greeting cards with inserts for Hardanger embroidery. Roz's other daughter, Alyssa's, interests veer in a different direction; she has a natural bent for composing her own music on the piano and is preparing to enroll in a paramedic school. Taylor, currently in fifth grade, enjoys pencil sketching on paper, but this interest gets lots of competition from his consuming passion for sports, especially basketball. However, another family member is keen on needlework. Since retiring, Roz's dad has taken up plastic canvas embroidery and rug hooking which he finds both eminently enjoyable and therapeutic. Roz cheerfully admits that a "readily available source of supplies" did play a small part in his choice of hobby!

Roz never takes her success, her talent or the privilege of having the opportunity to use it, for granted. Her family has been an inspiration and a bulwark of support and encouragement. She marvels that after 28 years of marriage, she has never heard her husband say: "Put that needle down!" The same can be said, with no less surprise, of her children. The bottom line for Roz is: "Life is good with my family, my needle and the Good Lord directing my life." Amen and Hallelujah!

Rosalyn Watnemo's designs are available from Nordic Needle at:
1314 Gateway Drive, Fargo, ND 58103
Phone: (701) 235-5231 and (800) 433-4321
Fax: (701) 235-0952
E mail: needle@corpcomm.net
Website: http://www.nordicneedle.com