Honolulu, Hawaii

by Rita Vainius
"In a faraway land, but not too far from Waikiki, you'll find a piece of paradise! Located just blocks away from the only palace in the United States, Fiddlesticks is stuffed with a wealth of stitching treasures." Step into Fiddlesticks, owned by Jean Anderson and daughter, Randy Grobe, both native Hawaiians. Before Fiddlesticks, Jean already owned her own wholesale Hawaiian toy company. When the mother-daughter team decided to open a needlework shop, they renovated part of the toy warehouse into a retail space and just jumped in feet first. Looking back Randy exclaims, "It scares me to think back and know just how ignorant we were!" If this was the case, they were certainly fast learners, for 18 years later, they are still there and going strong! Jean sold the toy business a few years ago, but retained ownership of a line of golf items, which she still sells.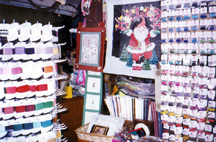 While in college, Randy had done some course work in Denmark. While visiting with some Danish friends, she recalls, "Their whole house was covered in cross stitch!" Randy's grandmother was a weaver and she'd been brought up around handcrafts but, as she puts it, "I'd never seen X'S before." She wasted no time learning the technique and was instantly hooked. Randy continues, "Very patient people in that little Danish XS store! They spoke no English and I spoke no Danish!" Randy's grandmother had also been a very accomplished painter, but Randy sighs, "Too bad my mother and I inherited none of that talent! That's why stitching is so great, it gives you a pattern for the un-artistic and you can 'fill in the lines!'"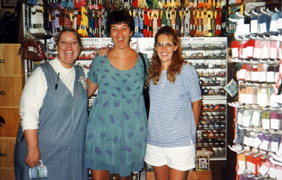 Years later, while living in Phoenix with her husband, Randy could indulge her cross-stitch passion at will since there were many great needlework shops. After moving back home to Hawaii, she missed the variety of needlework projects she had been able to engage in. At the beach one day with her family, she said to Jean, "We should open a needlework store." The following Monday, mother and daughter found out about a show in San Francisco and a couple months later, Fiddlesticks was a fait accompli!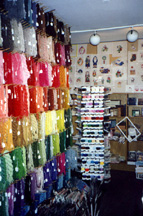 ----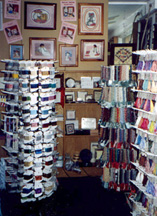 Fiddlesticks is not in your usual retail "walk or drive-by" location. "People are always surprised to find us where we are," jokes Randy. "We are in more of an industrial area with lots of small [car] body shops, warehouses, mom-and-pop food places, but we're just 3 blocks from downtown, so we're not far from the action! It's turned out to be a great location and there's always something interesting going on in the neighborhood! We provide a shopping adventure!"
But the real adventure is to be found inside where stitching supplies fill every available nook and cranny, even to using the ceiling as a backdrop for painted canvases. Randy is constantly amazed by the innovative displays the staff comes up with, "They are very talented in making creative use of space. One of the jokes in the store when I go to market, is that I buy what I want and then tell the company that they have to ship it home to arrive before me. Then it's not my problem to find a place to put it!"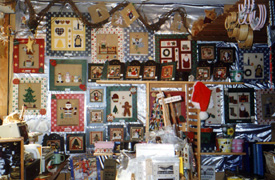 Since opening its doors, Fiddlesticks has specialized in both cross-stitch and needlepoint. They began by carrying only floss and wool, but now the store is filled with a wide assortment of threads as well as silk ribbon, the demand for which has been very strong in recent years. Beading, stumpwork and Hardanger are all very popular as well. Randy assures, "We have a great teacher who just keeps creating! She uses many of the Watercolours for the Hardanger projects." Fiddlesticks stocks the entire Caron Collection Line of Waterlilies, Wildflowers and Impressions and selected assortments of the other fibers. In house you'll find over 3000 cross stitch leaflets and charts and loads of hand painted needlepoint canvases. Those featuring Hawaiian and Oriental designs are very popular and remain steady sellers, but they also stock a broad range of other design styles. Aidas, linens, evenweaves and canvases are offered in numerous counts and colors and cut to size. The full line of Mill Hill beads and treasures is on hand, along with many other buttons and charms. Nestled everywhere you'll see frames, trays, boxes, pre-finished items and models for ideas and inspiration. There are also kits for travelers or for the beginner, who just hasn't been bit by the "bug" yet! In addition to a regular newsletter, Fiddlesticks has put together a comprehensive catalog and their mail order business, which spans the globe, has grown tremendously over the last several years.

By education, Randy is an Occupational Therapist who worked for several years with psychiatric patients. Thus she feels she's well qualified to "deal with the shop staff." This quip is all in good fun as Randy is the first to acknowledge the six wonderful women who treat Fiddlesticks as their own, " They are the reason for Fiddlesticks' success and longevity and we are a team of which I am only one small part. Because of them I have a life as a wife and mother!" She laughs and continues, "They keep me 'locked up' in my office. I'm only let out to admire show-and-tell and take care of problems. Most people think one of them owns the shop and that's OK. The only job description is to get it done and everyone does!" Staff members include shop manager Joan Rembold, Katelynn Litzelman, Dee Nishimura, Maria Maunez and Lois Amioka.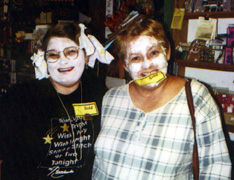 Fiddlesticks may not be physically situated in the heart of the city, but its emphasis is completely community and customer oriented. Each year for Christmas, the shop makes ornaments to be donated to the Ronald McDonald House. They also collect food and sell "grab bags" for annual donations to the R.M House and the Child's Advocacy Center. Special customer events include a Halloween sale each year when people have to dress up to get discounts. Extra points are garnered for hair in rollers, a mask of some kind etc. Randy jokes, "It's great to see the extent some people will go to for a few extra percentage points!"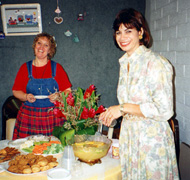 Fiddlesticks hosts several trunk shows each year that vary in style and design. They invite a national designer at least once a year for a weekend of classes, which includes a couple smaller projects along with a larger one so that there is something for everybody. Catherine Coleman will be their featured guest designer this September. Additionally, they arrange other community events throughout the year such as teaching lunch classes for office employees and other groups and they hold special children's classes during the summer.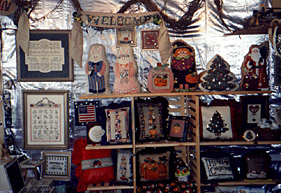 Fiddlesticks collaborates with a group of talented artists to complete special order designs. Randy stresses, "We're always happy to work with customers and provide the artwork for their approval before the canvas is painted. We adapt a lot of Hawaiian designs for church kneelers, seat covers etc. Our staff specializes in working up stitch guides for canvases using a variety of threads and stitches."
Fiddlesticks offers a full range of classes in needlepoint, cross stitch, Hardanger, stumpwork and silk ribbon for all levels, which they also kit-up for clients who cannot attend in person. Randy explains, "There are many customers who live on the other islands that aren't able to shop or take classes as easily so we try to be as accommodating as possible." In addition, they hold a "Mixed Plate" special, which is something like a Just Nan sampler to get people to try different stitches on linen. Lately they have added more beading classes - projects using the assortment of Mill Hill beads and other embellishments. Teachers strive to customize classes to whatever the students are interested in. Randy elaborates, "As we get requests, we work it in! We've had fun with our "Wild, Hairy, Scary Threads" class which gives everyone an assortment of new threads to play with and we explain each thread's unique personality! Cording and Tassels are always fun too. We try to rotate them so that everyone stays excited!"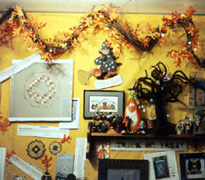 It's eminently clear that Randy, Jean and the staff at Fiddlesticks have a good time with each other and with their clientele. Randy re-iterates, "Everyone is a friend as soon as they come through the door and I think our mail order business has picked up so much because each box is packed with warm sunshine, cool mountain breezes and the smell of fresh plumeria blossoms! How can we go wrong?" How indeed? As Randy points out to their non-paradise customers, "Try receiving that in the middle of January in North Dakota?"
Fiddlesticks
Address: 620 Coral St. Honolulu, Hawaii 96813
Phone: (808) 533-4565
Fax: (808) 538-3557
E-mail: fiddlstick@aol.com
Business Hours: Monday to Friday: 9 am to 5:30 pm
Saturday: 9 am to 4:30 pm
Sunday 10 am to 4 pm