Mary Hickmott
"We have reached out 100th issue of New Stitches and are still going strong," declares Mary Hickmott, founder and editor-in-chief of both New Stitches and Cross Stitch Gallery magazines.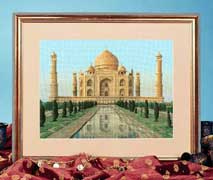 Taj Mahal
Mary Hickmott was born in Brisbane, Australia. When she was very young, the family moved back to England. Her father, a priest in The Church of England, was pastor of a parish, which encompassed the charming village of Flax Bourton near Bristol and Mary grew up in the beautiful countryside of the West of England. She attended a Parents National Educational Union School in Backwell. Mary relates, "Many people forget or ignore their early education, but this school was outstanding and had such an influence on what I now do. It is a foundation stone for me. Part of the curriculum was to be taken on a nature walk each week. We learned the names of flowers, the shapes of leaves and trees, the colours of bird feathers, the mysteries of fungi and the changes of the seasons.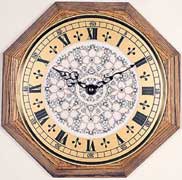 As Time Goes By
On every walk we had to find something...then paint a picture of whatever we had found using paintbrush and watercolours...we were encouraged to look closely and portray it as best we could. I am not alone in thinking that these afternoons were magical." Mary continues, "For us there was nothing better for getting to know and understand the world in which we lived. For me, the painting was the climax of the day. I learned to look and found myself mixing colours...we had learnt colour theory when we were five year olds. This was fascinating...I have been looking at things ever since."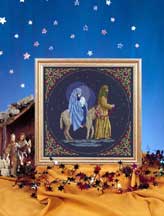 Flight Into Egypt
Both Mary's parents had artistic ability -her father sketched and loved colour, even though he was colour blind and reds, greens and browns were a bit of an enigma to him. Her mother drew in what Mary calls a "cartoon" style. Mary, her sister and brother were always making things: enormous rambling houses out of shoeboxes complete with detailed windows, doors staircases and so on, sprawling civil engineering works were contrived in the sandpit with roads, bridges and buildings. All of them were creative and have remained so. Mary reflects, "Making things is in the blood!"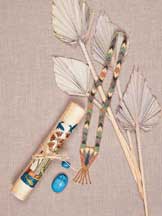 Lotus of the Nile
Mary did well in school, but was very uncertain about career prospects. Only those of an academic nature seemed to be viable, but Mary's need to apply her intelligence was so strong that just acquiring endless information did not appeal to her. Medical professions did offer some practical aspects so Mary trained as a nurse to work with the mentally handicapped. She recalls, "This was great fun, but very hard work also. After most days going out for the evening was out of the question, but doing something... anything ... to unwind was. A friend spent a couple of hours embroidering in the evenings and I thought it looked quite interesting and might give it a go. That was well over thirty years ago and I haven't stopped giving it a go since. It is an obsession!"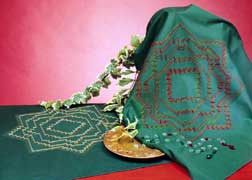 Christmas Maze
Mary became a ward sister within a year of qualifying. She took to saving all her spare money to go up to London to visit the Needlewoman shop in Regent Street. Though no longer there, Mary recalls it as an "Aladdin's cave" of supplies, ideas and design books. She taught herself many different types of embroidery including Hardanger, which was hardly heard of in Britain at the time.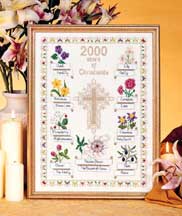 2000 Years of Christianity
After marriage Mary gave birth to three children within four years. Though not employed outside the home, the work shifts were still just as long! She elaborates, "I still needed to unwind in the evenings and so the embroidery continued." Just when the youngest was about to start school, the opportunity to take a City and Guilds course in embroidery arose. It was just what Mary needed and she elaborates, "Two years later, after taking part one and gaining a triple distinction, I somehow found myself teaching in adult education."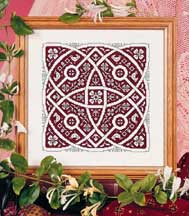 Assisi Knot Garden
Mary's classes were attended by a variety of people from many backgrounds, with many differing tastes. She felt it was important for them to work on something they truly enjoyed, so Mary structured the classes so that they were not all working the same type of embroidery and the same design. Getting a class of this type going was not easy, but once it was up and running, pupils learned much more from looking at what others were doing. The process itself created its own momentum and each pupil was provided with some individual attention.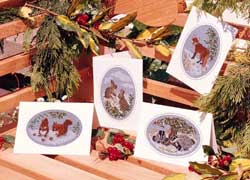 Winter Wildlife
While teaching Mary discovered that pupils who came to class with a kit, often had difficulties with it. Sometimes the instructions were poorly laid out; some kits included inferior materials to work with. Intelligent, very capable women were making a complete mess of things! So Mary decided to market some good instructive kits that would set people off in the right direction. These did well and, when the opportunity to start a magazine presented itself, the move was made since it provided Mary with the opportunity of reaching even more people and exposing them to more varied types of embroidery.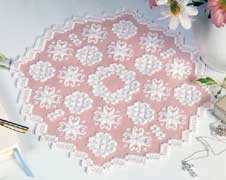 Pride of Place
In designing, Mary's personal style of design varies from the realistic for plants and animals to stylized forms and pattern design with a mathematical or geometric basis. She does not restrict herself on the number of colours used in a design. The design itself will dictate this; shading of colours is an important consideration as well. Mary deliberately uses only whole cross-stitches in cross-stitch work and rarely makes use of back stitch. "Nature seldom uses lines and does not use outlines, so I don't either," she states emphatically and adds, "I see thread as my palette and Caron threads were immediately and indelibly added to my palette. Not only are they wonderful to use, but the imaginative combinations of colours just lend themselves to creative work."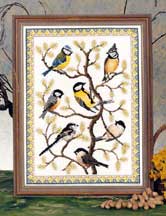 Country Garden
Other hobbies Mary delights in are gardening. She regularly attends the Chelsea Flower Show and belongs to the Royal Horticultural Society. Her special interest is in growing bearded irises. She also is enjoys traveling and has recently visited Australia, Sri Lanka and Northern Finland (Lapland). Mary says, "Travel is an inspiration in itself." After a twenty year hiatus, she has once again taken up a former pastime - metal detecting. She informs, "I have been working over a large field that I own and have found several items of considerable historical interest. Four items are currently being examined at the local museum and a fifth - a silver pin with a gilded head, possibly of Saxon origin - has been sent to the British Museum. Each of these items is a piece of art from the past."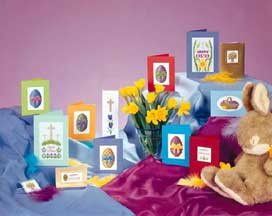 The Spirit of Easter
Both New Stitches and Cross Stitch Gallery are widely available from newsagents in Britain, or by subscription. For further details contact:
Creative Crafts Publishing Ltd.

Well Oast, Brenley Lane

Faversham, Kent, ME13 9LY, England

phone: 01227 750215

fax : 01227 750813

Email address: enquiries@ccpuk.co.uk
See previous features about Mary Hickmott, her designs, classes, (there is even one just for kids!) and Magazine Freebies in our site archives:
Mary Hickmott and Cross Stitch Gallery and New Stitches Magazines
http://www.caron-net.com/feb99files/feb99fea.html
"En Vogue" by Mary Hickmott
http://www.caron-net.com/nov99files/nov99mag.html
Delicate Essentials Hardanger Design by Mary Hickmott
http://www.caron-net.com/feb99files/feb99mag.html
Hardanger for Kids - from Mary Hickmott's book http://www.caron-net.com/apr99files/apr99kid.html
Designs shown can be found in the following issues of Cross Stitch Gallery or New Stitches:
Taj Mahal, New Stitches #83

Flight Into Egypt, New Stitches #79

Lotus of the Nile, New Stitches #79

2000 Years of Christianity, New Stitches #79

Assisi Knot Garden, New Stitches #79

Winter Wildlife, New Stitches #80

Pride of Place, New Stitches #82

Country Garden, New Stitches #82

As Time Goes By, New Stitches #84

The Spirit of Easter, Cross Stitch Gallery #20

Christmas Maze, New Stitches #93
For Magazine Subscription Information -
In the U.S. contact New Stitches at phone # 770 832 0641
In Australia contact New Stitches at phone # 03 9702 3203
In New Zealand contact Warnaar Trading Co. At phone # 0800 888362
In Belgium and the Netherlands contact Orchidee at phone # 050 411880