Designs by Merry Cox
It was Merry's paternal grandmother who started her stitching at age four when the family came for holiday visits. On one such occasion when they went together into town, her grandmother bought her a child's sterling silver thimble. Merry says, "I, of course, still have the thimble and it's original box from the '50's." Merry began stitching by doing embroidery on tea towels, knitting, weaving potholders, and constructing small rag rugs. She recalls, "I remember one time she [my grandmother] gave me some plain cotton fabric and said to make anything I wanted. I made a little envelope-type purse with smalls for my pretend lipstick and powder and coins! You can see I've always loved making sets! Although my stitching time with my grandmother happened very early in my life, it stayed in my heart." Merry's grandmother made each of her grandchildren an heirloom ­ Merry's was a beautiful crocheted bedspread, which she treasures.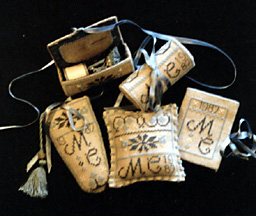 Heirloom Sewing Case I & Accessories
The first Project Merry Taught at a National EGA Seminar in 1988
Merry Cox was born San Francisco. Her father worked for the California Department of Fish and Game, which moved the family all over the state while she was growing up. They lived in Willows, Brawley, Los Banos and Tranquility, all before Merry was 8 years old. Mom was a bookkeeper. Since she retired ten years ago, she's been working with Merry in her business, assisting with her kits. Merry states emphatically, "I could not have done it without her help!"
In high school, Merry immersed herself in all art and craft related classes. She took up drawing and painting with fervor and learned to sew, making most of her own school clothes including her prom dress. After graduation, she attended secretarial college and then went to work as a secretary to the president of a John Deere tractor dealership. She married her high school sweetheart.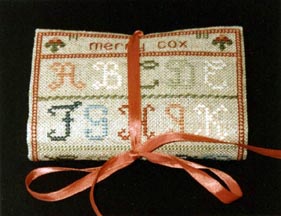 Sampler Stitcher's Case
Tri-Fold Case with a Mattress-Type Pincushion
First Taught at a National EGA Seminar in 1990
While at the office one day, a colleague was knitting a sweater and Merry told her about her experience learning to knit at her grandmother's knee so many years ago. Next thing, they were off together to the local yarn shop. Merry was thrilled to have the feel of fibers in her hands again, set with the challenge of expressing herself creatively once more. On another trip to the shop, back in the "60's, Merry noticed a crewel kit, so she added that technique to her stitching repertoire along with the knitting. An ad in a needlework magazine showing a counted cross-stitch kit from Denmark, led to her promptly sending for it. Once she tried it, she was hooked for good. Merry continues, "It was wonderful and exciting to start with a blank piece of linen and create such beauty. In 1973 I quit working when our daughter, Anna, was born and in 1976, another daughter, Leah, was born."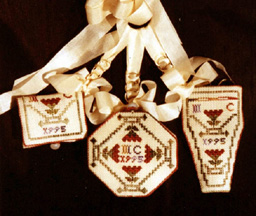 Memphis Basket Chatelaine
Part of a 4-Day Class at the ANG National Seminar Held in Memphis
While her children were young, Merry decided to go back to school at the local community college, where she majored in art. She took classes in drawing, painting (both watercolors and oils), art history and more. She also began writing poetry. These experiences have influenced her needlework designs profoundly. Merry explains, "just about every major piece of needlework I design has a poem or quipet that I have written. As I am designing a piece, I also start writing about it. My needlework is so much a part of my being that I like to write a verse that conveys the story or message of that piece.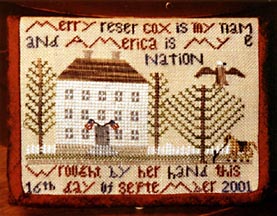 The Courtship: A Colonial Sewing Purse
For example, I designed a piece last year entitled, "The Courtship: A Colonial Sewing Purse." On the front of this Americana piece there is a white colonial house, trees, a horse. Here's the story: the man who owns the horse is inside courting the woman who is in the parlor stitching on her sampler! Now here is the verse I wrote and stitched on the back:

I come to thee on bended knee, my love cannot be bound
No longer shall the days go by without your loving sound
Alas, say yes and joyful be, my heart forever found
Then inside the case are pockets with a small sampler and the happy couple."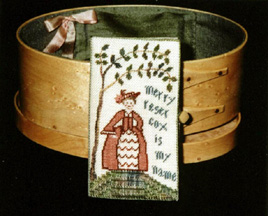 Off to Williamsburg
Needlecase
During this time Merry also started teaching quilt making at a local shop. The shop owner saw her stitching Eva Rosenstand - Clara Weaver kits and asked her to contact the company, which by this time had some branches in the U.S. The owner began carrying the kits in the shop and Merry started teaching counted cross-stitch in addition to quilt making. This led to her own relationship with the Eva Rosenstand Company. She was asked to write a quarterly publication for them, which she did for awhile, giving stitching and finishing tips. Eventually she began including a few of her own designs. Then she was asked to be their western U.S. agent. Merry rented an office/warehouse in Clovis and set up shop. A few years later their eastern U.S. agent retired and Merry became the only agent for Eva Rosenstand in the U.S.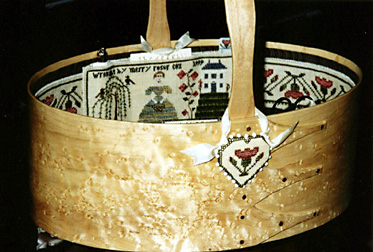 House on the Hill Beckons to Thee
Carrier with Stitched Bands and Pockets
Taught at Just CrossStitch Seminar
Christmas in Williamsburg in 1999
Merry continues, "It was so wonderful to talk to people who had the same love of needlework. Many times, when I first had the business, people would call up and need to know how to do a cross stitch on linen. They had stitched on Aida but not linen, so I would give a mini verbal lesson on the phone and then send a small stitched sample in the mail. In the '80's I taught counted thread to EGA chapters in our valley and then in 1987 I read in my EGA magazine that the national seminar to be held in Louisville, KY would accept submissions from non-credentialed teachers. I submitted my design "Heirloom Sewing Case I and Accessories" and was accepted. What a thrill!! "Since then I have taught at other national and regional seminars for EGA and ANG, Calloway Gardens Needleart School, National Academy of Needlearts at the Greenbrier, The Spirit of Cross Stitch, Sampler Gathering, Just CrossStitch Needleart seminars." A few years back Merry also did a video for the Spirit of Cross Stitch. She designed a tri-fold sewing case with a mattress type pincushion. The video explains the stitching and then goes step-by-step over the finishing. This is the same way she teaches her classes in person. She has mock-ups of each step so she is certain that each person can finish their piece.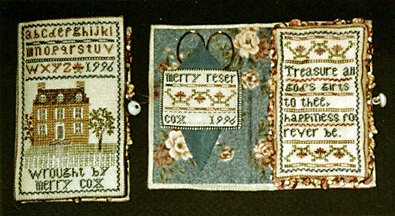 Williamsburg Sewing Case
Sewing Case with Mattress-Type Pincushion taught at
Just CrossStitch Needleart Seminar, Williamsburg, VA in 1996
When designing, Merry will oftentimes take one of her antique handmade pieces, such as a sewing roll, and then design one to the original size. The perfect example of this is a piece she designed for Sampler and Antique Needlework, on the cover of Volume 26, titled "A Lady's Sewing Roll." The magazine pictured the antique piece, which has a little painting on it but no actual stitching. Merry designed a sampler-type design with an alphabet, house, meadow, sheep and a whimsical flower vine with birds. She kept the construction and finishing the same as the original antique piece. Merry especially likes to design with Caron Waterlilies and Soie Cristale silks. She says, "On 32-count linen with lots of 'over one,' these silks give me the look I love"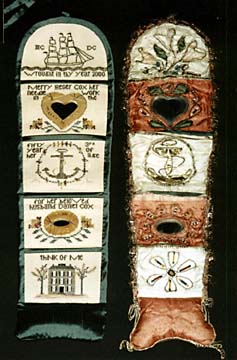 A Sailor's Huswif

An example of how Merry takes an antique piece and designs the stitched piece to the same size as the antique. Like the original, Merry designed the inside with four pockets with the pincushion at the bottom. It rolls up and is tied at the top. She taught it at the Just CrossStitch Seminar, Christmas in Williamsburg, 2000 & 2001
After working for the Eva Rosenstand Company for almost 16 years, Merry retired 3 years ago to devote all her time to designing and teaching. She still maintains the same office in Clovis, but now it is where she kits her designs and her mom still lends an indispensable hand. And why does she keep hitting the road? No mystery there according to Merry, "I love to teach because it shares my love of needlework."
From Merry's Heart
Designs by Merry Cox
P.O. Box 402
Clovis, CA 93613 ­ 0402
Phone: (559) 346- 1976
Fax: (559) 346- 1976
E-Mail: merrysheart@cvip.net