Lucy's Thimbleart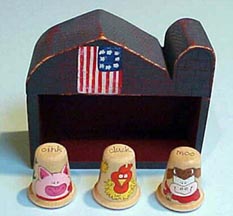 Oink, Chick and Moo Farm Set
Thimbleart Collection
Designed and Hand Painted Wooden Thimbles
by Lucy Tracy
| | |
| --- | --- |
| | |
| Camel | Golf |
Lucy has always loved crafts, cross-stitch, swimming, gardening and children. She adds, " Growing up, our local Park District had wonderful craft classes and I signed up for every one. I graduated from Illinois State University with a degree in Early Childhood Education and worked in preschool many years. I retired after 3 years as a Director of a local preschool. I always loved arts and crafts and would have majored in Art Education but was not a fan of art history." Lucy loved working with children but there was a creative side of her that wanted out. In her late thirties, she decided to start painting as a part time business.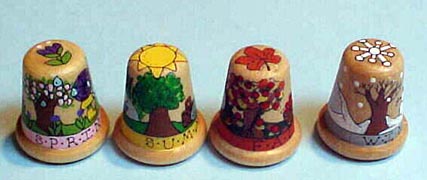 Four Seasons
Lucy has been designing, painting and selling thimbles since 1991. Lucy was at a Pier One check out counter with her sister and noticed a bowl full of blank thimbles on the counter. She picked one up and said, "I bet I could paint something on this." Her first thimble design was a little angel. She reminisces, "I wish I had kept track of the numbers of thimbles I've painted. It is in the thousands. My most popular set is my Nativity Set."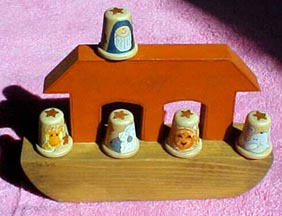 The Ark Thimbleart Set
Lucy doesn't just paint wooden thimbles. As she says, "I paint anything wooden. I also paint large wall murals -- mostly children's rooms and I stencil walls. I love to decorate and in addition to decorating my own home have helped many friends with decorating."
| | |
| --- | --- |
| | |
| Plate Collector | Joker |
Lucy Tracy was born in central Illinois but raised in the Chicago suburbs. Her mother died when she was 31. But she has had a long and happy marriage to sustain her. She and her husband just celebrated their 25th wedding anniversary this year. They have two children: a 20-year old son who is a student at Purdue University and a 17-year old daughter. Since she has so little left from her mother to remember her by, it is important to her to preserve some legacy of herself for her own children. She clarifies, "My artwork that I keep is a part of me that my children will have when I am gone. I always keep the original thimble of any design I make."
| | |
| --- | --- |
| | |
| Chicago | Elephants |
Lucy gets her ideas literally everywhere, "I always look at things and think about how I would paint them small. I love the work of Mary Engelbreit. Back in the early 80's I saw an article about her in Better Homes and Gardens magazine. She was a young mom with two young children about the ages of mine. The article focused on furniture she had painted in her home and a little bit about her greeting cards. I credit her for the start of my painting career. I even sent her one of my Nativity Sets and painted a ME thimble and Ann Estelle thimble in her honor."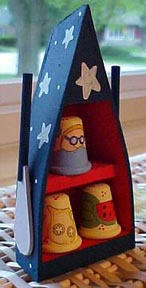 Lucy's New 2002 Summer Set
Lucy's love of gardening and her passion for browsing at craft fairs and flea markets are also sources of inspiration for her work, not only for designs, but she is ever on the lookout for new objects and surfaces to paint on.
| | |
| --- | --- |
| | |
| Bowling | Harley Dude |
Lucy sells her unique thimbles through a little shop in her hometown and online. Together with the Holly Fair, she hosts two craft fairs in her home in the spring and fall. She also belongs to a Yahoo thimble-collecting group and many of the ladies request custom work. Much of her work, not surprisingly, has been sold through word of mouth. Lucy Loves a challenge and eagerly welcomes custom orders! She adds enthusiastically, " I have customers all over the world now."
Lucy's Thimbleart
Lucy Tracy
503 Briarhill Road Glenview, IL 60025
phone: (847) 729 - 1583
e mail: thimbleart@aol.com
website: http://www.hometown.aol.com/thimbleart/index.html
To see Lucy's latest designs go to Lucy's Free Yahoo Group at:
http://groups.yahoo.com/group/thimbleart
COPYRIGHT NOTICE: No part of this feature story nor the included designs can be reproduced or distributed in any form (including electronic) or used as a teaching tool without the prior written permission of the CARON Collection Ltd. or the featured designers or contributors.