More Flower Power
We see flowers almost every day - in our gardens, offices, homes and museums. They are an endless source of inspiration for poets, painters, photographers, fashion designers and other artists alike. Flowers play an integral part in the most significant events of our lives, from birthdays to funerals and every special event in between. They have become powerful symbols in most cultures from the red rose representing romance and the four-leaf clover which portends luck, to the sacred lotus of the Buddhist faith. Flowers not only nourish our souls, but our bodies as well, with their myriad delicious fruits. It is no wonder that flowers are a favorite subject for needlework designers and stitchers. Continuing with Part II of Flower Power we present floral designers who, with their distinctive styles, express their personal interpretations of this most wonderful gift of nature which makes all our lives richer.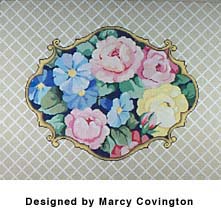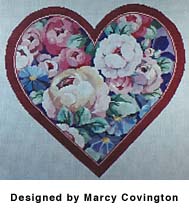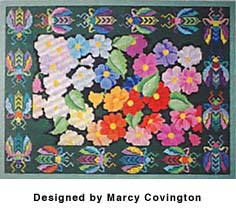 Marcy Covington:
Experimenting with different styles including realistic, stylized, whimsical and impressionistic is part and parcel of Marcy Covington's floral design strategy. Often a border consisting of another floral theme, a lace pattern, polka dots, checks or ribbons & bows will embellish the main feature in the composition. Colors usually correspond to those in nature as she feels they carry a more universal appeal. Her preference is for bold colors set against a dark background, while concentrating on shape and form to show specific aspects of each flower to best advantage. Marcy aims to leave room for personal interpretation. Even her most realistic floral designs, which are the most intricate and detailed, allow the individual to customize the border design or background color.
Vivian Falzetti:
With "Hibiscus in Blue," Vivian Falzetti presents flowers as big, bold, striking shapes, somewhat reminiscent of Paul Gauguin's oils depicting lush scenes in the tropics. Her floral designs are rendered in a graphic contemporary style in vibrant colors, emanating a dynamic and fresh quality.
Susan Hays:
"Poppies" by Susan Hays embodies both the whimsy and sophistication which typifies her unique approach to floral design. She imbues them further with a pleasingly gentle and airy feel which enriches their inherently elegant simplicity.
Candi Martin:
Candi Martin portrays realistic florals simulating watercolor paintings. Her design, "Iris," is distinguished by a contrasting stenciled-look floral border, with the prominent Iris blossoms overlapping it, creating a 3-dimensional look. Warm color tones and shading further enhance depth and texture.
Linda Pietz:
"Pastel Flowers" by Linda Pietz somewhat belies its name as the colors are rich and fairly deep in value. Her graphic contemporary style with a touch of abstract expressionism is nonetheless realistic in nature. Curves and round shapes distinguish her floral interpretation. Though evidencing deliberate shading in varying color intensities throughout, the work maintains an unusual flat perspective.
John Ward:
In "Floral with Lace Border," as in many of his other designs, John Ward is able to accomplish a marriage of characteristics which might seem to contradict each other: using large canvas mesh which is easy and fast to stitch, while maintaining enormous detail. His designs reflect an ethereal quality executed in subtle pastel to medium tones, with soft edges, against a deeper background of contrasting color.

.Marilyn McCreary:
Marilyn McCreary presents two of her Teneriffe Lace designs: "Jennifer" and "Shelley." These depict florals in a contemporary starburst pattern, which borders on the abstract, executed in muted and very subtle color variations. The design and background colors, along with choices of fabric and threads, mesh perfectly to create a dreamy and quiet composition which is nevertheless striking.

Susan Treglown:
In "Iris with Lace," Susan Treglown has created a stitch sampler background as the counterpoint to the blossoms. Executed in a neutral color tone , the background contains 36 different stitches forming a mosaic pattern. The richly colored Iris appear superimposed, an effect enhanced by the monotone coloring and textural complexity of the background. In "Flowers and Lattice," Susan combines formal and informal elements along with aspects of both traditional and contemporary styles. A romantic floral wreath design, in an Old-World European mode, is set against a fanciful checked pattern. She adds a surprising touch by maintaining the familiar circular format inside the wreath, while fitting the outside of the wreath into a boxy shape by extending the leaves into the corners, mimicking the angular checks behind it.

Vivian Falzetti, Susan Hays, Candi Martin, Linda Pietz, John Ward and Susan Treglown designs are distributed by Susan Treglown Designs. Ask for them at your favorite needlework shop.

Marcy Covington's designs are distributed by JB Designs and are available at most needlework retailers.

Unfortunately, we have not been able to get in touch with Marilyn McCreary. As soon as we have information about her designs, we will post it on our site. Forgive us, Marilyn!

COPYRIGHT NOTICE: No part of this feature story nor the included designs can be reproduced or distributed in any form (including electronic) or used as a teaching tool without the prior written permission of the CARON Collection Ltd. or the featured designers.
---