An Exclusive Online Class by Rosemary Drysdale
Rosemary Drysdale, a trend setter in the needlework field, presents our On-Line Class featuring a "Blanket Stitch Finishing Technique". Rosemary, born and bred in England, comes from a multi- generational family of tailors. Surrounded by exquisite silks and fine woolens, she learned early on the value of patience and accomplished stitching skills. Her love of needlework began at home and was later nourished in school. Attending a prestigious ladies college in Durham, England she studied Advanced Needlework and Dressmaking and graduated with distinction, teaching degree in hand. Fate brought her to NYC where she initially designed for Coats and Clark. She then had the immense good fortune to meet the extraordinary Joan Toggitt, who steered her towards a different career. For the past 30 years, Rosemary has had a distinguished vocation as an embroidery designer and teacher. Throughout these years, she continued to work for Joan Toggitt, and then for Zweigart after they bought Joan's company. Rosemary has authored two books: The Art of Blackwork Embroidery and Pulled Work on Canvas and Linen, which are now being updated and reprinted. She has also published a line of cross stitch and knitting pattern leaflets and her designs have been spotlighted in all the major needlework magazines. She teaches all over the USA and England and at The Spirit of Cross Stitch Festivals.

She currently resides with her family and pets in a rural seaside setting blissfully far from the madding crowd. She enjoys gardening when she can find the spare time to dig her hands into the dirt! For more information e-mail her at Rags@peconic.net

MATERIALS

Two 5 x 5" pieces of Lugana gold and cream evenweave fabric, 20 ct (Zweigart Article 3256/118/55)

1 skein Caron collection Wildflowers, 025, Holiday

1 tapestry needle, #24

Polyfill to stuff the cushion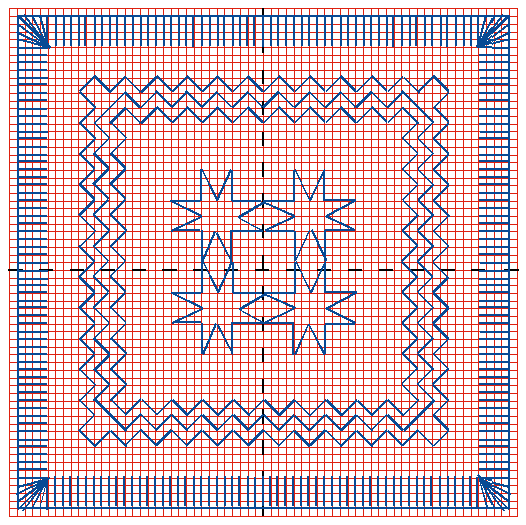 GETTING STARTED

If you would prefer a different design in the center of your pincushion feel free to use any design of your own. We are learning here to finish a pincushion in a quick manner.

The embroidery area is approximately 2 1/4" square. I used 48 threads x 48 threads and most of my stitches were worked over two threads.

Find the center of each 5x5" square by folding the fabric in half lengthways and basting a coloured thread down the fold. Repeat widthways. Then baste a square 64 threads by 64 threads. See Sample A.

To work the embroidery start at the center of one 5 x 5 square and work four back stitch stars as show in Diagram 1. Then work the border in Holbein stitch following Diagram 2. Use one strand of Wildflowers in your needle throughout. Sample B shows how your embroidery will look when you've completed this portion of the work.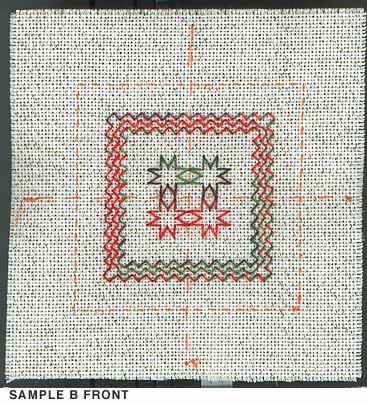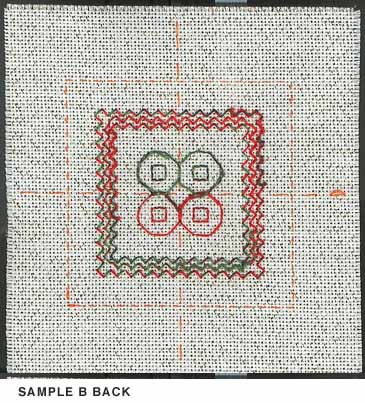 TO WORK THE BLANKET STITCH BORDER

Begin at the bottom left hand corner. Use one strand of Wildflowers in your needle. Count from left to right for five fabric threads away from the corner. Bring the needle out at this point (A). See Diagram 3. Then insert needle in at 1 and out at 2, looping the thread under the needle.

Work one stitch as shown in Diagram 4. The stitch will be four threads tall and worked along the basting line, each stitch one fabric thread apart.

Continue working along the row until you are four fabric threads from the bottom right hand corner. To work the corner see Diagram 5. All of the stitches are worked into the same hole.

Continue around the entire piece. See Sample C.

Repeat for the second piece of fabric (the back). IMPORTANT: you must have the same number of blanket stitches for the back piece as for the front piece. See Sample D.

TO PUT THE PIECES TOGETHER

Fold back the excessfabric (you can trim to 2" if desired) to blanket stitching. Using two strands of Wildflowers, whip stitch the two pieces together working each stitch into the horizontal loops of the blanket stitch. See Diagram 6.

Before completing the fourth side, fill with polyfil. Then slip stitch the fourth side closed.

See Sample E below.