We are pleased to present...

By Rita Vainius
Click here for her FREE PATTERN
Catherine's path to designing began serendipitously when she entered a contest around 1990. She explains, "I entered a contest to design an Easter egg sponsored by Cross Stitch and Country Crafts magazine and won a prize. Although my egg did not finish in the top three, it was one of the three egg designs pictured on the cover of a special issue. My local shop owner, Georgia Stewart, encouraged me to begin stitching on linen; I fell in love with the texture and versatility of the fabric and have been stitching on it ever since."
| | |
| --- | --- |
| | |
| Spring | Summer |

Catherine Strickler was born an only child in Davenport, Iowa and attended public school in Iowa and Florida. She graduated from Scott College in Bettendorf, IA and the Del Mar School of Nursing in Corpus Christi, TX. Prior to becoming a professional designer Catherine worked as a nurse, draftsman and calligrapher. She ultimately burned out on nursing, which she relates, "is not an uncommon hazard in the profession." She had always had a passion for architectural design and that led her to a drafting job in Iowa. Calligraphy, which actually began as a hobby, led to doing many jobs for the Navy where she ultimately met her husband, Jim.
| | |
| --- | --- |
| | |
| Autumn | Winter |

Catherine has previously lived in Davenport, IA, Pensacola, FL, Corpus Christi, TX and now makes her home in Virginia Beach, VA. Catherine moved from Iowa to Florida and then back to Iowa with her parents while attending high school. She met her husband, Jim, a Navy pilot, while he was serving his last tour of duty at a Naval Air Station in south Texas. When he retired from the Navy, they moved to Virginia, his home state and Catherine insists that she absolutely loves it there!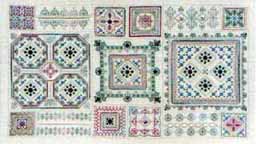 Brittany's Quilt
Catherine and Jim have three grown children. The eldest daughter, Michelle, is married and lives in south Texas. Their son, Matthew, graduated from high school in 1998 and joined the United States Marine Corps; he is currently stationed in California. Their youngest daughter, Meredith, is also living in south Texas. Both daughters have done some stitching, but are not addicts, yet, Catherine qualifies. Meredith has stitched the map of England for one of Catherine's design models. Matthew, the Marine, stitched another of her designs, Matthew's Stocking, but Catherine issues a disclaimer on his behalf, "I guess he doesn't want his marine buddies to know that." She further adds confidentially, "He also does beautiful Hardanger."
| | |
| --- | --- |
| | |
| My Son | A Fair Little Girl |
Catherine was first taught embroidery by her grandmother. Her own mother has engaged in some quilting, but overall has always been more attracted to outdoor activities. Catherine clarifies, "The dear lady who introduced me to stitching was my father's mom." Catherine herself has now been stitching for over 30 years. She relates, "I started with those pillow cases with the blue lines. In the 70's, I began cross stitch on Aida cloth. My training as a draftsman taught me orderliness and precision, which I find very helpful. Before needlework designing took over my life, I used to do calligraphy professionally."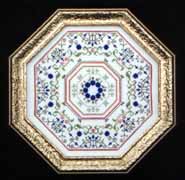 Fine China

After Catherine's initial contest entry, which propelled her into designing, the next project she designed and stitched was a six-color contour map of the state of Virginia for her husband. Georgia, her local needlework shop owner, once again gave her valuable advice, suggesting that she use the map as the center piece of a sampler. Catherine complied. Catherine was further prompted by Georgia to try designing for the commercial market. After discussing this possibility with her husband, Catherine decided to establish her own company, Indigo Rose, in early 1996. With eight published designs in hand, she attended her first needlework trade show in February 1996, the INRG Nashville market. Currently, Indigo Rose offers over 40 designs on the market.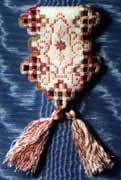 Victorian Needlebook
One can see the influence of Catherine's drafting experience in her designs; they are so finely detailed and meticulous. Her use of color is dramatic, but at the same time subtle, a stunning combination of almost contrary attributes. Catherine considers herself a sampler person. Although she uses modern fabrics and fibers, she is most strongly influenced by and attracted to antique samplers. Catherine adds, "I marvel at how little girls nine or ten years old could produce such beautiful work."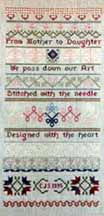 Mother to Daughter Sampler
Color, nature, and family inspire Catherine's designs. She continues, "A number of my designs were inspired and named for members of my family. One design, Georgia Stewart, was inspired and named for my local shop owner; the stitches in it are the ones she taught me. As you can probably tell she became my teacher, mentor and dear friend." Georgia Stewart was also responsible for introducing Catherine to the Caron Collection fibers. She states, "I immediately fell in love with the Waterlilies. I use them in almost all my designs. I like the way the variegated effect of the Waterlilies helps blend the solid colors together. I always look forward for new ones to come out."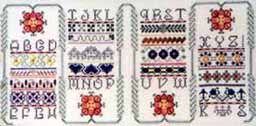 Margaret
Catherine credits Jim as being the other half of Indigo Rose. She clarifies, "I design using pencil and graph paper; Jim takes the graph paper design and puts it into the computer along with stitch diagrams and instructions." Aside from needlework, Catherine has many other interests, among them cooking, reading Stephen King and Dean Koontz and collecting blue glass, demitasse cups, and embroidery scissors.
| | |
| --- | --- |
| | |
| Millenium | White Orchids and Diamonds |
Indigo Rose exhibits at two needlework markets each year, the INRG markets at Nashville and Charlotte. Catherine's designs are also carried by the Hoffman Distributing Company of Birmingham, AL and by Solo in the United Kingdom. She began teaching needlework over three years ago and has taught for numerous shops, EGA and ANG Chapters, at Celebration of Needlework, and at the 1999 and 2000 INRG Nashville markets. Last summer at the INRG Charlotte market (NATS 20000), the Indigo Rose design My Son won two awards from the Charted Designers of America: The Ginnie Award for best charted embroidery and the People's Choice Award.
For more information on Indigo Designs, contact your local needlework retailer.
Indigo Rose
4217 Bounty Road
Virginia Beach, VA 23455
Phone: (757) 460-3340
Fax: (757) 460-0112
E mail: catherine@indigorose.net