This Month in Our Gallery


by Rita Vainius
At Stoney Creek, Christmas is the most favorite time of the year. It's easy to see why when you get a glimpse of the incredible beauty and variety their holiday-themed designs offer, which include something for every stitcher and for everyone on a stitcher's gift list, as well!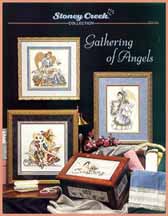 "Gathering of Angels" (Book 152)
8 Designs including Summer Angel, Lady's Necessaire of Roses, Spring Angel, Angel of Roses (A Series of 3 Designs), Winter Angel and Autumn Angel.




"Holiday Stitches" (Book 264)
From angels and antique postcards, to our annual Santa Christmas plate and a Mrs. Claus stocking, to a festive rocking horse, cuddly Santa teddy, and a variety of birds and a chipmunk feasting at a holiday feeder, this season offers something for everyone.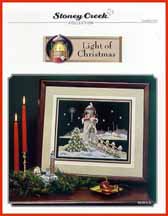 "Lighthouse of Christmas" (Leaflet 103)
Stoney Creek's handsome Lighthouse of Christmas is decorated for Christmas, even though it can warm your home all winter long. May it guide and welcome your guests into a place that shines with love and peace.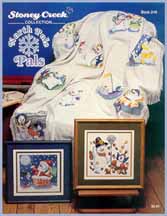 "North Pole Pals" (Book 245)
Stoney Creek's North Pole Pals have fun in every season. This book features a whimsical snowman and his penguin friend having a snowball fight, flying a kite, chasing butterflies, enjoying fireworks, going back to school, raking leaves and more. There are twelve designs: one for every month of the year.

"The BRRR-muda Triangle"(Leaflet 104)
An adorable pyramid of snowmen make up The Brr-muda Triangle in this delightful Stoney Creek publication. Eleven delightful snowmen form this pyramid, each displaying their own unique personality. Some snowmen have carrot noses, others have coal noses. Hats come in all shapes and styles, some wear coats, some wear shawls, and even the common mittens and scarves are worked in a bright rainbow of different colors. They'll bring a smile to many faces!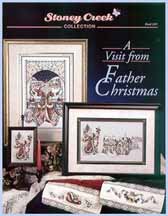 "A Visit from Father Christmas" (Book 109)
4 Designs including Father Christmas, Christmas Village, Ring Christmas Bells and Sleigh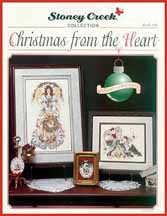 "Christmas from the Heart" (Book 136)
11 Designs including Angels of Christmas, Jingle Bell Stocking, Angels' Tree, Christmas Angel, Holly Angel, Drummer Boy Lullaby, Waiting for Santa, Old English Carol Sampler, Holly Bell, Santa Ornament and Stained Glass Cardinal.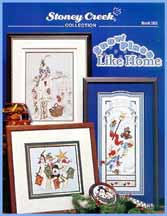 "Snow Place Like Home" (Book 262)
An adorable collection of snowmen from Stoney Creek shows us why there is Snow Place Like Home. Seven designs featuring these friendly snow folks are sure to warm your heart.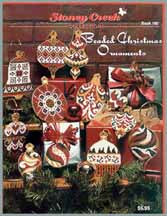 "Beaded Christmas Ornaments" (Book 190)
A Stunning Collection of 19 Different Ornament Designs
"All The Trimmings" (Book 265)
This new Stoney Creek book contains All The Trimmings you'll need to bring Christmas cheer to every corner of your world. Create ornaments for the tree, mini stockings for special occasions (baby's first Christmas, newlyweds first Christmas), Christian symbols for church or home and stitch snowmen, teddies, birdhouses, quilts, candy canes and much more. Choose from 30 different designs! Finishing instructions for creating cording, making stockings or mounting designs on padded foamcore are also included.

To purchase Stoney Creek Collection designs, please see your local needlework retailer. If there is no shop in your area, you may contact the Stoney Creek Collection at:
5161 Woodfield Ct., N.E.
Grand Rapids, MI 49525

Phone - 616-363-4858 or 1-800-243-1410

Fax - 616-363-593
E-Mail xstitch@stoneycreek.com
Website http://www.stoneycreek.com