An Online Class by Lois Caron
Materials:
Plain paper

Graph Paper

Colored Pens

Computer graphics program (optional)

Your imagination (most essential)

Threads -- your choice
This month instead of providing a particular design for you to copy, we'd like you to develop your own. We won't leave you entirely stranded, however. Following you'll find the basic shape you can use as a basis for your design and some ways we've interpreted it. You'll find more help in our Feature Article, too. If you prefer, draw your own shape and take off entirely in your own direction.
Getting Started
Draw the shape you 've chosen on plain paper. If you've elected to work with the six-pointed star, you'll quickly see that it is composed of two triangles.
Think about some of the ways you can develop this shape into a design. Will it be a single motif as in a Star of David, will you make it into a knot garden, or perhaps build on it to come up with an all-over repeat pattern.

I like all of these ideas, but I don't have enough time to do justice to either the knot garden or the repeat pattern right now, so I'm choosing a Star of David.
Planning
What will be the size of the design? I started with a large and elaborate design (see the handpainted version below), but for this class I need to be more compact, so I'm going to simplify my pattern and make it about 5" tall on 18 count canvas.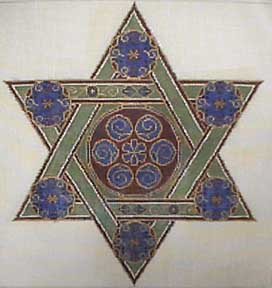 Since I've chosen to work on canvas, I can draw the design to scale on paper and then trace it onto the canvas, or I can chart it out first. I want this design to be symmetrical, so I'm charting it on my computer. This way I can play with different color combinations at the same time and see if I need to make any adjustments to the pattern before I begin stitching.
I'm keeping the basic colors of the original. I think the pattern speaks for itself here and doesn't need any embellishment, so I've stitched it in plain needlepoint in silk threads. (Click on the chart, left, for a larger version.)

---------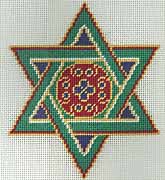 Developing
I keep thinking about the triangle structure, though, and want to experiment a little more with that idea. Now that I have my chart, I need to decide on details such as threads, colors and stitches which will enhance the triangle concept. I like the idea of repeating the motif, so for this version, I've divided the central hexagon into smaller repeats of the shape.
I want the emphasis to be on the shapes and think that long smooth stitches will show them off to good advantage. Although I originally planned to use four colors, I found when I started stitching that two colors of Watercolours and one color of Antica metallic as an accent were plenty. I could very easily stitch this design entirely in needlepoint or cross stitch and control the effect just by my choice of colors. (Click on the chart, left, for a larger version.)

--------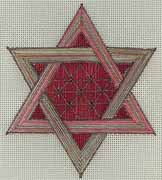 More Ideas
There are so many ways to arrange and interpret the triangles. Here's another idea, but when I try to work out the stitches, I find that the triangles are not all the same size. Back to the drawing board! With a few adjustments in the outline, I can proceed. This time I want a more masculine look and thought it would be interesting to try and achieve the appearance of different types of wood. The final design is stitched with four shades of Watercolours and one of a fine metallic.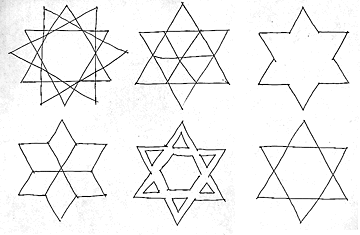 --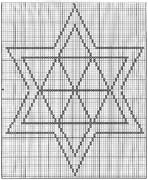 ----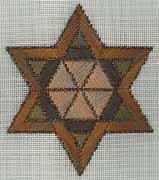 I have many pages of sketches and notes for other ways to interpret this shape, but they'll have to wait for another time. It's your turn now. Let us know what you come up with. Send us photos and we'll feature as many as we can on a future edition of our Gallery.

Have fun.......and use our threads, of course!

Lois

COPYRIGHT NOTICE: © 1998 Lois Caron. Permission granted for shop owners and guilds to copy. One time reproduction privileges are provided to our web site visitors and is limited to their personal use only. Any other use, whether it be electronic or otherwise, requires the express written permission of Lois Caron.