Travel with us as we uncover
Christmas Needlework Traditions from Different Cultures
around the World
by Rita Vainius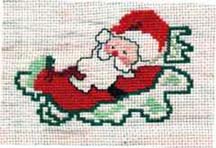 Traditionally Christmas in Italy is more reserved than in other Countries. Only recently has more attention been given to decorations. The most popular tradition is that of hanging Christmas Stockings for Santa Claus (Babbo Natale) to fill. On Christmas day a special cake called "panettone" is traditionally served throughout Italy.
Needlework is used to make small Christmas gifts for friends, such as Christmas cards and pillows. For children, special embroidered little shirts or sweaters with holiday motifs are made. A special needlework project customarily made for a child is "Baby's First Christmas Bib." Also executed in needlework are Christmas stockings, decorations for household linens, decor for doors and windows, and ornaments for the Christmas tree. The most common motifs depicted are Babbo Natale, candles, little red hearts and wreaths. Wreaths and embroidered stockings are often made using needlework in combination with other crafts and added embellishments, like ribbons and special printed fabrics. When religious themes are chosen, the Crib tableaux is the favorite.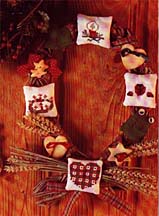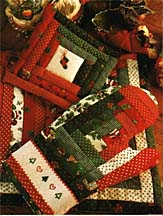 Decorating the home with Advent wreaths and calendars are traditions in Northern Italy. The most typical Christmas tradition throughout Italy is hanging Christmas stockings under the tree. A popular ritual on Dec.24 is setting up the Nativity scene, going to Mass for Christmas Eve and preparing special foods for the Christmas Day Lunch. At 12:30 P.M. on Dec.25, no car is seen on the road throughout Italy, since everybody is sitting at the table. A revolution could easily be done and nobody would notice it!

The various Christmas festivities are celebrated on Dec.24, Christmas Eve with midnight Mass, on Dec.25, Christmas Day with the holiday lunch and on Dec.26, Saint Stephen (Santo Stefano), which is a sort of "aftermath of Christmas Day for the stomach!" Also commemorated are Dec.31, New Year's Eve, Jan.1, New Year's Day and Jan.6, the Epiphany. On the evening of the 5th kids go around masked or dressed in costume scaring people and collecting small tips. This tradition is known as "La Befana," (a sort of Halloween). Also at home, the stockings may be filled by "Befana" with goodies if children have behaved. If naughty, they are supposed to receive coal (black sugar rocks). In some households traditions of both Babbo Natale and Befana bringing gifts are kept up.
Stitched examples provided by Elisa Tongiani, Giulia Manfredini and Lara Seppia. Information on Christmas traditions provided by Giulia Manfredini, M.D., Via Palestro 16, 54100 Massa, Italy
e mail: jmanfr@tin.it
Yuletide in England
Christmas decorations done with needlework in the UK consist mainly of stitched tree ornaments, Christmas stockings, Christmas cards and, more recently, a growing interest in household linens. The most popular motifs stitched are Santas, Christmas trees, candles and snowmen. Of religious themes found, scenes of Mary and Joseph with a donkey riding into Bethlehem and the stable tableaux prevail.
Cross-stitch is by far the most common technique used, with Christmas cards being the top choice of items to make. Designs from Lavender & Lace, such as Celtic Christmas and Spirit of Christmas, are very popular. The ubiquitous Christmas cards and tree decorations are the items which most often will integrate other techniques or crafts with needlework. Mill Hill beaded tree ornament kits are popular and cards are made using fabric and Fus-o-Bond which is a quick and easy option.
Advent calenders are common and on Christmas Eve when children go to bed they leave a glass of sherry and a mince pie for Santa and maybe a carrot or two for the Reindeer. Mince pies, Christmas pudding, (a rich fruit mix that is boiled) and 'Yule' log (a chocolate cake roll decorated to look like a log of wood) are traditional Christmas "fayre."
Christmas Eve, Christmas Day and Boxing Day are the celebrated occasions. Boxing Day is the day after Christmas Day when, in days gone by, the local trades people (e.g. baker, butcher, milkman, postman) called round for their "Christmas Box" - actually an envelope containing a tip for services rendered to the house over the past year."
Information and stitched examples provided by Rosemary and David Sharman of
The Country Cross-Stitcher, 19 Bedford Street, Woburn, MK17 9QB, United Kingdom
e mail: ccswoburn@btinternet.com
website: www.btinternet.com/~ccswoburn.web
Jul in Norway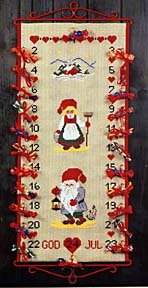 God Jul is the equivalent of Merry Christmas in Norway, where the holiday is celebrated on Christmas Eve. It is the Julenissen, a friendly troll, who brings the gifts. Advent calendars are hung to count down the days with a little gift (usually candy) attached to each day for the children. A large decoratively embroidered burlap bag is left out for the Julenissen to fill with presents and the Christmas Tree skirt may also be made of burlap and decorated.
Among the Christmas customs most diligently kept are the foods prepared. One such is a rice porridge, Risengrynsgrot, and plenty is cooked to share with the Julenissen. Juleol, a holiday beer might be brewed and seven kinds of cookies, Sandbakkels, and a Julekake, a special holiday cake, baked. The traditional Christmas dinner is usually eaten after church services on Christmas Day. A typical spread would include a large pork roast or fresh ham. Another staple is lutefisk, sun-dried, lime-cured ling, a relative of the cod, traditionally served with a white sauce, potatoes and peas.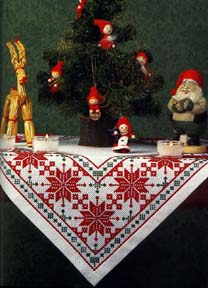 Straw holiday decorations survive from the distant past, from a time when Christmas was filled more with dread than joy. The holiday was haunted by the Oskerei, wicked spirits who caused the fierce storms of winter. In this mischief, they were joined by the Julebukk, a devilish Christmas goat. To protect themselves, the family would gather and sleep together on a floor covered with straw, since it was believed to help ward off evil. The straw's golden color symbolized a link between one growing season and the next - a force of continuing light and life battling the dark and evil forces. Goats fashioned from straw and Christmas trees festooned with straw ornaments remind us Norway's Christmases past.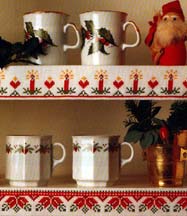 Needlework items commemorating the holiday most popularly feature table linens: table cloths, runners, napkins, bread basket liners etc. Preferred colors are red, white and green, with touches of brown, blue or yellow depending on the motif. Techniques employed are cross stitch, surface embroidery and Hardanger. Holiday motifs are plentiful: bells and ribbons, pine cones, holly leaves and berries, stars, candles, hearts, tulips, poinsettias, seasons greetings and the ever popular "nisser"(Christmas elves), either singly or several making merry. Tablecloths may present wintry scenes of forests populated with birds, deer and squirrels or may depict a charming country church, spire and gables piled high with snow and horses pulling a sleigh through the magically transformed countryside. Smaller designs are stitched and placed in miniature frames to hang as ornaments.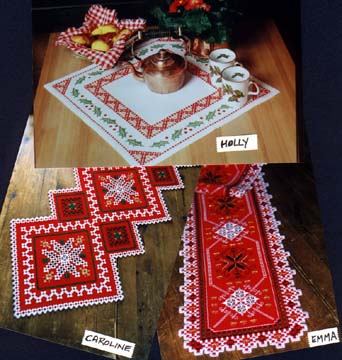 Trees might also be hung with star and snowflake shapes crocheted from metallic threads. Advent calendars are truly works of art when stitched, each day securing a little gift held on with ribbon. Another festive tradition is the Julepost, a bag to hold Christmas greetings. One item that is back in popularity is the decorative kitchen towel rack. Trims for shelves, stitched with rows of elves, birds, candles or hearts, are also finding their way back. Among the more unusual decorations are the Osteband, a stitched band to wrap around a cheese or a Flaskeforkle, a sort of ornamental apron for the bottle holding a special holiday brew.
Currently most homes are decorated for the holiday mainly with table linens. But there is a trend to begin reviving more of the holiday traditions from the past. One look will prove how well worth preserving they are, both in the present and for generations to come.
Needlework examples courtesy of Thuve-Stua and Vicki McEntaffer of Kunsten Needle Art. The composite photo shows 3 table linen designs, Holly, Caroline and Emma, available as kits from Kunsten Needle Art. Information on Christmas traditions in Norway furnished by Vicki McEntaffer and The Sons of Norway publication, Viking, Issues Dec. 1998 and Nov. 1999.
For more information on Thuve-Stua designs, see their Gallery feature on our Hardanger-themed website at http://www.caron-net.com/apr99files/apr99gal.html
Thuve-Stua designs and books are available from:
Kunsten Needle Art
8595 College Parkway
Fort Myers, FL 33919 P
Phone: 941 481 1908
Fax : 941 481 -1986
E mail Kunsteninc@aol.com
COPYRIGHT NOTICE: No part of this feature story nor the included designs can be reproduced or distributed in any form (including electronic) or used as a teaching tool without the prior written permission of the CARON Collection Ltd. or the featured designers.