| | | |
| --- | --- | --- |
| | Dyed and Gone to Heaven – An Online Magazine and Needlework Resource | |
Back to Spotlight Designer of the Month Page
(To print out intructions: Go to File Menu and select Print Page.)
(Stitch Count: 41 x 22)

Materials: Sand Tula (10 ct) or other 10 ct evenweave using The Caron Collection's Watercolours thread: Natural #000, Flame #045, and Midnight #072.

Directions: Cross stitch using 1 ply of Watercolours. The stripes are horizontal oblong crosses.

Natural #000Flame #045Midnight #072

Horizontal oblong stitch with backstitch.

Flame #045.Natural #000.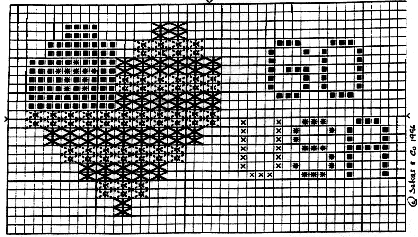 (Permission to reproduce this has been granted by Sekas & Co. for personal use only. These charts cannot be reproduced (electronically or otherwise) or sold without the express written permission of Sekas & Co.)
© 1997 The Caron Collection Ltd./ Voice: (203) 381-9999, Fax: 203 381-9003