We're delighted to present...
Linda Connors of Calico Crossroads

Some individuals are blessed at an early age with knowledge of their destiny in life. Linda Connors is one of these enviable few. Growing up in a small town in southeast Wyoming, an incident at age seven typifies her artistic precocity: rather than color within the lines of her coloring book, Linda proceeded to copy Trigger (Roy Roger's horse) freehand. When she showed her handiwork to her mother, her mom could not believe that it was not traced. Upon closer inspection it was revealed to be 3" larger than the original in the comic book. There was no denying that Linda had copied it identically, on her own. By high school, Linda was concentrating her artistic talents on fashion design. With typical enthusiasm and flair, she designed and then sewed her original creations. Many were immediate successes, while others had inherent flaws (like the dress with diamond cutouts on the overskirt, revealing the color of the skirt underneath, which constantly snagged on door knobs, handles and any other protrusion she passed, tearing each cutout in turn). But the success of each project did not really matter because this unrestricted experimentation allowed her to mature as an artist and it was the process of visualizing a design and then creating it that was of paramount importance. (Click on the picture above for Linda's FREE pattern.)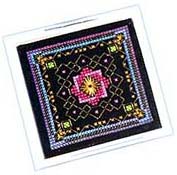 Linda's first needlework teacher was her grandmother, who was a strict taskmaster. If Linda was not paying attention or complained of having to rip a piece to do over, Grandma would thump her over the head with the thimble that Linda swears eventually fused with the tip of her finger. The maxim, "anything worth doing is worth doing well", was repeatedly drilled into her, so that now even without the omnipresent thimble, it is second nature to her. Her mother tutored her in embroidery and Linda would use remnants of old pillowcases or sheets as her ground fabric. Her own first designs were, (you guessed it!), figures copied freehand from her coloring books.
The rest of Linda"s needlework and artistic skills were mostly self taught and she has amassed an impressive reference library as a result. Linda's experiments eventually encompassed a wide spectrum of fiber artsand crafts: macrame, knitting, sewing, crocheting, weaving, crewel, decoupage, string art, spinning, natural dyeing, needlepoint, beading, tie-dyeing, batik, sand painting and even making train model buildings.
Her interest in cross stitch, which was to become her forte, began in 1982 when she noticed an inconspicuous display of needlework executed in counted cross stitch at a florist shop, She immediately recognized new possibilities for artistic expression and picked a pattern. She gathered the materials required, puzzling over the fact that even though the background called for blue, there was no number given for this color of floss. Improvising as she was wont to do, she picked a blue that looked close to the color shown in the photo. Only when she had completed it, after filling in the entire background with blue cross stitches, did she realize that the blue called for in the instructions, was referring to the color of the background fabric! Another lesson was learned: there's often more than one way to interpret something.
Linda was presented with an incentive to design an original cross stitch piece by entering a contest for a pin cushion design. The pattern she came up with, fused her stitching and computer skills with her artistic talent. Though she did not win that contest, she was successful in a more important way, because she began to see needlework design as a viable at home career. This pincushion design became her first published pattern ­ Melange. The next 3 designs she created were submitted to Just Cross Stitch Magazine and were all accepted. One of these has particular sentimental value. It's a poem that Linda wrote for her mother as a teenager, which her mother had kept and carried in her purse until it was almost in shreds and barely discernible. When her mother asked her if there was any way to preserve it, Linda visualized it in cross stitch calling it "A Child"s Prayer". The following Christmas, when she presented her mother with the poem, recreated as a stitched piece, there was not a dry eye in the house.
Linda has not looked at the world in quite the same way, since she began designing. Nature in her endless permutations is a constant design partner. But more than not, it is an ordinary experience that will spark an motif. Welcome Bellpull was inspired by a shirt worn by a fellow bowler at a bowling league event. Karma, Destiny, Kismet and Fate four companion pieces, all contain the same motif, inspired by the cross design on a confessional booth glimpsed on a TV show. Whatever the initial inspiration, Linda's dedication to her craft has been a focal point in her life and also her salvation. When her only son, at age 20, died unexpectedly in an accident, Linda was ultimately able to maintain a sense of self worth, accomplishment and belonging that helped her through the dark night of the soul when it seemed that her whole world had shattered, never to be repaired.
Once a design idea has taken hold, it can change dramatically from it's origin to the end result. Letting it evolve in a natural way, has been crucial to Linda's success. The down side to this approach is that she finds it difficult to design on demand. In choosing colors, Linda relies on her instincts, often going through numerous trial and error combinations, before she is satisfied. Ultimately, nothing is set in stone until the actual model is stitched, which she always does herself. This design process is a combination of painting with fibers, (the ground fabric is Linda's canvas and the threads, her pallette), and completing a jigsaw puzzle, (the whole picture cannot be truly appreciated until the last piece/stitch is in place).
| | |
| --- | --- |
| | |
| Spring & Summer Bell Pull | Autumn & Winter Bell Pull |
Linda's most popular design to date is her Noel Bellpull. When a customer called to say she didn't want to take it down at the end of the Christmas season, it prompted Linda to design a series of bellpulls with other seasonal motifs. These patterns are very intriguing as they look like hardanger, but use only satin stitches and eyelets to achieve this effect, requiring no cutting.
Linda's personal design style is extremely eclectic ranging from whimsical snowmen to elegant Oriental florals to brightly colored geometrics to traditional muted samplers. She admits to being easily bored, something that could be a curse, but which Linda has turned into an assett. Her response is to constantly research, experiment and refine her design ideas. Having endless choices is one of the true joys of designing. Over time Linda's patterns have become more sophisticated with respect to materials used and stitches incorporated into her work. The more she learns, the more eager she becomes to pass this along to others. Being an active member of the EGA, and participating in the Spirit of Cross Stitch Festivals gives her welcome opportunities to constantly expand and share her needlework knowledge and skills.
The Caron Collection threads figure prominently in Linda's design work. Often just playing with the fibers and colors will lead to a new design. The Wildflowers and Watercolour threads in particular can project a scenario of possibilities, just by the way they work into a pattern and how the colors fall, either randomly or by manipulating the effect.
Linda exhibited at the NATS Market in Charlotte for the first time last year. Since then, her designs have been featured much more prominently in the US and the UK. She is now in the process of introducing them to Australia and New Zealand.
Other shows she participates in include the NATS Cash and Carry Market in Nashville, the Spirit of Cross Stitch Festivals and Celebrations in Needlework. Her designs are marketed under the name of "Calico Crossroads". Keep your eye out in the near future for a Calico Crossroads Web Site. For a free catalog, send a SASE to Calico Crossroads, 1501 Barcus Drive, Georgetown, Texas 78626©7371. Linda can also be reached by e mail at calxrds@aol.com
Note: All designs shown remain the exclusive property of the designer and are protected as such under the U.S. copyright law.