We present a talented designer whose work often includes nautical motifs...
By Rita Vainius
Agnes Claudia Dutcher Kistler, who goes by the name of Claudia Dutcher, is the fourth in a family line of Livermore business owners.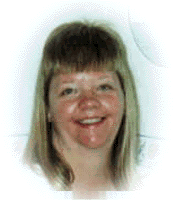 Her great grandfather started a hardware store in the 1880's which later passed down to his son, N.D. Dutcher II and then to Claudia's father, N.D.Dutcher III, and was appropriately named throughout, N.D.Dutcher & Son. Since Claudia's father had no son, in order to be a store proprietor she had to establish one of her own. But, the path to opening Dutch Treat was not a straight one. (Click on the Sailboat Doily picture below for Claudia's FREE pattern and instructions.)
Claudia originally planned to work with disabled children and adults and majored in Psychology and Physiology in college. Marriage soon after graduation and a severe stroke suffered by her mother just a year later changed the course of events. Claudia and her husband moved into her Mom's home to care for her. It was a very difficult time, but also an extremely precious one for Claudia and her mother, one Claudia wouldn't trade for anything in the world. During this period, Claudia found part time work at Sunset Designs (a needlework kit manufacturer) as part of a group of stitchers who worked the bugs out of new needlepoint designs. After the birth of her son, she again worked part time at a local craft and hobby store.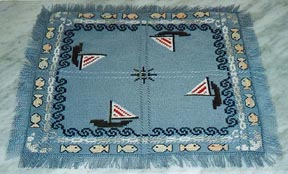 Divorce and a period of time spent in a "real" job followed. All throughout the three years she spent as a licensed insurance person, Claudia envisioned a future in her own business, which, by now, she knew had to be in needlework. In 1991 she took the plunge and opened Dutch Treat -- a name inspired not only by her own name, but also by her determination to make the business pay its own way. Fate smiled on her personal life at this time, too, and she met and married Bruce Kistler, her soul mate and part-time business consultant, who adds a rare combination of attributes to both relationships. In the latter capacity, he handles all of the accounting and computing requirements of Claudia's business.
As a child, Claudia was always "the kid" who was making something or other ­ sewing Barbie doll clothes, sketching, crocheting, oil painting, playing piano. These are all talents handed down and encouraged by Claudia's idol, her grandmother -- a woman whose zest for living stayed with her until age 92. After school hours at Granny's were filled with projects and , with Granny, learning anything became fun. Not only was she an expert needleworker, but also a talented sketch artist and poet. To engage in handiwork activities remains to this day Claudia's "reward" for completing mandatory tasks that she is less enthusiastic about. At the end of each day she spends some time stitching and this never fails to give her a sense of satisfaction and accomplishment.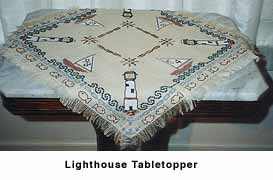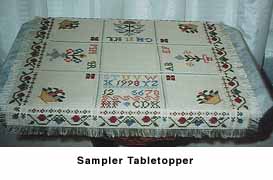 Family heirlooms were a part of Claudia's growing up and one of her most treasured possessions is a bookmark stitched on perforated paper by her great grandmother in the 1840's. Loving old needlework , Claudia avidly collects antique pieces and has found a kindred spirit in Dawn Lewis, who we featured on this site earlier this year (see Archives). Although she prizes antique samplers, Claudia's special obsession is perforated paper pieces.
There has always been an abundance of table linens of all kinds in Claudia's family. Both her mother and grandmother placed doilies under everything. The collection includes large cutwork tablecloths, cross stitch doilies and embroidered coasters. These linens planted the first seeds of inspiration for Claudia's counted cross stitch tabletopper designs which reflect both her European heritage and her appreciation for old needlework examples, while being specifically adapted to today's variety of new materials and threads. Claudia's customers were the other influence that eventually led to the birth of Dutch Treat Designs, her new wholesale venture which will make its debut at the INRG wholesale trade show in Charlotte, NC at the end of this month.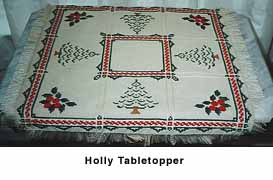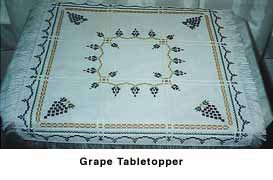 For years Claudia has carried Anne Cloth afghans in her store and many customers wanted to try stitching on this background without committing themselves to such a large project. Cutting up one afghan and finishing the edges to make a Christmas tree skirt, Claudia found there was just enough fabric left over to make a table runner. She adapted a published design for the runner and sold out her stock of booklets. After this design alteration experiment, Claudia's clients began to request themed patterns for certain holidays. Since her customers assumed that Claudia could "just make these up", she decided to try to accommodate them. To her astonishment and delight, her latent creative ability was just lying in wait for the chance to surface.
Her first tabletopper commission was for a Fourth of July theme which she rendered in heart shapes decorated with the stars and stripes and embellished with gold accents. The design series now includes The Windmill Tabletopper, featuring the company logo; The Sampler Tabletopper, inspired by an 1848 sampler stitched by a young girl named Hannah Foster; The Holly Tabletopper, inspired by a dear friend named Holly; and The Grape Tabletopper, designed for an EGA group in an area reknowned for its grape vines. Other designs feature an Easter theme, and one with acorns as the motif. The nautically themed Boat Tabletopper was designed specifically for this website as a free pattern for our web stitchers and Claudia has since designed a companion piece, The Lighthouse Tabletopper.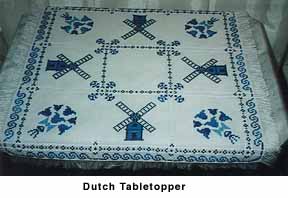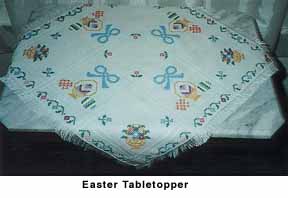 Claudia teaches her tabletopper designs both in her own shop and to EGA chapters. They are immensely popular with both beginners and advanced stitchers. Stitched on large fabric and fairly simple in design, each pattern has a few special stitches. They are fun to make and fairly easy to complete, and if stitched on the Anne Cloth Claudia favors, easy to maintain. They are the perfect accessory for any room, either on their own or to set off a candy dish, fruit bowl or vase of flowers. Claudia's prototypes have been "tested" by her four cats and she can confidently attest to their versatility and durability from first-hand experience.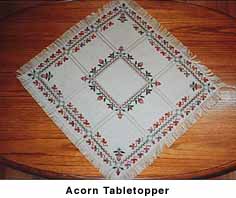 Although she had heard of The Caron Collection threads, Claudia had never seen any until she attended an introductory class at a Spirit of Cross Stitch Festival several years ago. In Watercolours, Claudia found just what she was looking for for her tabletopper designs -- a thread that would easily add color without having to endlessly rethread a needle, one that was washable and colorfast (please see our Thread Information feature in the Archives for information relating to reds and very dark colors), and one that would add texture and complexity to the designs.
Although she uses Watercolours exclusively for her tabletopper designs, Claudia uses Wildflowers and Waterlilies for reproducing some pieces from her antique sampler collection. She has also used Impressions and Soie Cristale in her work and stocks them all in her store.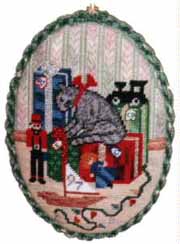 When the opportunity arises, Claudia eagerly tries her hand at other original designs. One of these was a custom ornament for the 1997 White House Christmas Tree which depicted a cat contentedly perched atop a heap of Christmas packages, playing with a bow. Caron Watercolour threads are included, of course. Claudia is also an enthusiastic design partner to her shop customers, helping them to turn their stitchery ideas into reality. On first encounter when asked to describe herself, Claudia modestly replied, "I'm a shop owner pretending to be a designer." Soon she may have to reverse that description and answer with aplomb, "I'm really a designer, just pretending to be a shopowner!"
Dutch Treat Needlecrafts is located at 291 South Livermore Avenue, Livermore, CA 94550. Supplies are available for cross stitch, hardanger, thread crochet and needlepoint. Products include threads, aida and linen fabrics and needlepoint canvas, Mill Hill beads and a library of 1500 books.
Claudia is delighted to give our website visitors and exclusive preview of her Tabletopper designs and hopes you will enjoy working her free Boat Doily as much as she has enjoyed creating it. Look for her other patterns soon in a shop near you, or contact Claudia at her shop. For more information concerning Dutch Treat Needleworks or Dutch Treat Designs call (925) 294-8621 Tuesday through Friday between 10AM and 4PM or e-mail them at dutchtrt@dutchtrt.com
You can also visit their website at http://www.dutchtrt.com

COPYRIGHT NOTICE: None of these designs can be reproduced or distributed in any form (including electronic) without the prior written permission of Claudia Dutcher.