This month we're delighted to present Crazy Quilter Extrordinaire...
(If you haven't already check out Leslie's Online Class this month.)

By Rita Vainius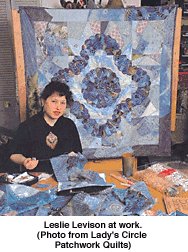 If there were rules for crazy quilting, Leslie Levison would have broken them all by now - at least twice! Unlike most traditional quilts, Leslie's have no set pattern or ordered shapes. Random patchwork is the modus operandi, later embellished with extraordinary embroidery detail and sewn-on objects, often fanciful and whimsical in nature. (Photograph of Leslie by Myron Miller)
This "fabric maverick" grew up in Beach Haven, NJ, off the coast and a bit north of Atlantic City. Beach Haven had a mostly Philadelphia kind of crowd. It was a very hip town with a fantastic bead shop that had bin upon bin bursting with loose beads, scooped up and priced by the ounce.
By junior high Leslie's family had relocated to Lakewood, NJ, a much more conservative and straight-laced environment. Here she began to pursue her interest in fabrics and needlework more seriously. In school she took a course in sewing and taught herself embroidery, beginning with basic stitch pamphlets and gradually expanding her repertoire to more complex and intricate stitches. Eventually sewing and hand needlework became her primary form of self expression and by her senior year she was attired in rather unconventional homemade costumes of her own design or put together from thrift store forays.

Click on the picture (at right) for Leslie's FREE pattern.
Leslie gained her very first interest in quilts from reading a mystery novel by Margaret Sutton called The Clue in the Patchwork Quilt at the age of 8. Judy Bolton, girl detective solves a case and finds the missing heroine by following a trail of fabric pieces sewn into a quilt. Even back then, Leslie was fascinated by the notion of tracing a person's history through fabrics and this captivation has stayed with her into adulthood. She moved to New York City permanently in 1972 to attend The Fashion Institute of Technology, graduating with an Associates degree in Fashion Buying and Merchandising. Looking back, she says that her entry into quiltmaking was a natural extension of this educational experience, which included the study of the technical aspect of fabrics as part of her courses.
Her first job in the textile milieu of NYC was with a knitted trim firm. Her responsibilities included matching colors and her ensuing skills for describing tones and hues as well as her visual memory for color were honed here. Afterwards she was employed in the "over-the-counter" trade. This term harkens back to the time of dry goods stores when bolts of fabric were kept stored behind the counter. When a customer required a piece of yardage the bolt was placed on the counter and cut to size. Thus the customer was buying her piece of cloth "over-the-counter". After a brief stint at a shirt company, Leslie secured a position at Gutcheon Patchworks remaining in their employ for 5 years. Subsequently Leslie worked at Fabric Country where she was instrumental in expanding the range of textiles used for quilting by counteracting a long-held practice, which specified that only calicos and small prints were to be used for quilts and larger prints and other patterns were suitable only for apparel.
Leslie pinpoints the 1984 publication of Penny McMorris' book Crazy Quilts as the turning point in the direction her own future creative output would take. She had always loved glitter and sumptuous fabrics and was already an experienced embroiderer by this time. The combination of these 2 elements presented a tremendous appeal to her. It seamlessly integrated her passions and skills with her unique personality traits and temperament. In addition, crazy quilting allowed for maximum artistic expression.
Even before encountering McMorris' book, Leslie was launched in that direction. In 1978 she took a class that taught her the fundamentals of quiltmaking. This creative focus has looped, surged, evolved and expanded, finally ripening into a full-blown crazy quilting obsession.
Initially, not having a collection of fancy fabrics, Leslie fashioned her quilts from cotton prints. She worked on her very first one while riding the subway, working one block at a time. "Crazy quilts enable me to do everything I like to do best", Leslie explains. "There is an endless variety of combining fabric, both the prints and the textures. I like the lavish embroidery and embellishment and I like not having to quilt it!"
When Leslie first brought her work to Quilt Market in 1984, renowned quilters were impressed with her original designs. Leslie brought to market a crazy quilt she had made of cotton print fabrics from Gutcheon Patchworks. When owner, Jeffrey Gutcheon saw it, he encouraged her to teach crazy quilting. By 1987, she had put together a class called "Dragonflies and Bellydancers", a beginners introduction to crazy quilting, which remains a mainstay to this day. She is the founder of the Empire Quilters' Guild in New York, serving as its President for the first 2 years. It's membership has grown from an initial 7 to 400 with monthly meetings featuring lectures and workshops.
Soon Leslie was involved in constructing her own "version" of crazy quilts entitled "Thematic Crazies", pieces that create more texture with stitches instead of contrasting the stitches with the fabric. Teaching crazy quilting to others is reflected in and expands the range of her own work. She sees crazy quilting a particularly social form of needlework. Leslie elucidates: " It's so immediate! If I'm with a bunch of students doing feather stitching, someone may add something else, then someone responds and adds something new and different to that. You wind up teaching each other." In her classes, Leslie strives to provide all that is necessary to get her students started in this medium in order to allow them eventually create their own heirloom crazy quilts.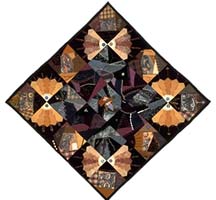 Leslie's immersion in crazy quilts reflects her natural tendencies toward chaos, clutter, sensual textiles, glitter and details that invite you to peer closer at her work. It concurrently satisfies her sensitivity to the organic quality of beads and embroidery which are the primary embellishments in her work. Leopard prints, snakeskin, gold lame and shells are some other more exotic components. She has also embellished quilts with actual photographs, ribbon flowers, sequins, glass jewelry, mirrors, buttons, rhinestones and rubber stamps. It is obvious that these quilts require a lot of handwork and you can almost keep adding and embroidering ad infinitum. This type of over-ornamentation was common at the height of crazy quilt popularity in the late 1800's; one could almost not see the underlying fabric through all the decorations added on top.
One of Leslie's goals is to make a quilt for every member of her immediate family. Of the 14 people who comprise this group, she has completed 6, often ready just in time for such occasions as wedding anniversaries, bat mitzvahs and birthdays. She is currently somewhat stuck in completing Uncle Lew's "Airplane Quilt", searching for the perfect blue sky fabric.
The very first full size quilt which Leslie completed was a traditional "Charm Quilt". It consists of hundreds of spool shaped pieces forming an intricate pattern. In charm quilts the goal is never to use the same fabric more than once, except for one pattern which is repeated twice, serving as a game for children to find. Leslie's example is comprised of 150 different fabrics! Another "Charm Quilt" requirement is that all the fabric components must be collected by trading with friends.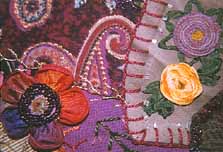 For a time Leslie was a craft show junkie and became an enthusiastic collector of hand-blown colored glass pieces. She was especially attracted to specific colors and the way light sifted through and was diffused through the glass. Her "Zweifel Fan Quilt" was inspired by a set of hand blown glass tumblers in hues of iridescent jade and turquoise, interspersed with bits of black. These were created by Craig Zweifel, the random particles of black glass being one of his artistic trademarks. These are just a few of the colored glass pieces that Leslie has in her collection, and she would not be able to justify the space they take up in her tiny apartment were it not for the fact that she actually uses these works of art in her daily life for the purposes intended: tumblers and goblets for drinking, vases to display flowers etc.
Her inspiration draws on simple things: a swatch of a fabric or color, or simply experimenting with a new idea. Her other free-time interests also play a part: seashore images, motorcycles, erotica and photographing old New York buildings with interesting architectural details. Leslie happens to live in an old building in a fifth floor walk-up. Her sewing area is remarkably well equipped considering it's part of the living room/library/den that make up a NY studio apartment. She describes her living space as the perfect locale to shoot a horror film entitled "The Fabric that Took Over the World"!
It would be typical to think that crazy quilters are inspired by antique examples of such work, but it wasn't until recent years that Leslie, entranced by an Iowa quilter's private crazy quilt collection, felt drawn to replicate some old pieces.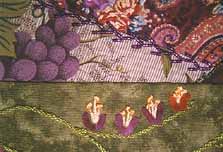 Leslie's own work has gone through several metamorphoses over the years. Currently her embroidery work travels far off the seams and takes precedence over the fabrics. Leslie's quilts are objets d'art, not meant for daily use. Many are displayed as wall hangings. Since they are made for decorative use and not warmth, there is no batting. Any additional thickness would alter the appearance of the embroidery which is such an integral feature.
Originally Leslie learned of the Caron Collection threads from the web. The Quiltropolis Crazy Quilt Digest listed the Caron website address. In Leslie's view, using the Caron threads has revitalized her embroidery. She loves the fact that there are so many different fibers to use: cotton, wool, silk and the silk-wool blend Impressions. They feel as sumptuous to touch and handle as those luxurious fabrics she is so drawn to. Leslie employs cottons, cross-dyed raw silks and velvets as well as any fabric that catches her fancy. She cautions that building a fabric collection can take a long time and requires patience and a constantly roving eye.
Leslie has fashioned quilts to match rugs, wallpaper and lifestyles. "These quilts are my legacy'" she admits. "I'm leaving them behind and maybe the generation that follows me will be inspired to take time away from computers to learn to work with their hands."
For more information about Leslie Levison's classes (listed below) please contact her at: Tatmermaid@aol.com
Dragonflies and Bellydancers - Introduction to Crazy Quilts, stitches and beadwork.
When the Stitch Hits the Fan - Additional stitches, introduction to ribbon flowers, beaded wire flowers and Brazillian embroidery techniques.
Patience is a Virtue - Concentrates on large embroidery and beadwork motifs.
Step into My Parlor - Finishing techniques for Crazy Quilts
The Tattooed Mermaid - 45-minute Trunk show featuring 15 Quilts and accompanying stories
Time for a Garage Sale - What happens when your fabrics stop speaking to you? Features 3 crazy quilts and 10 sketches in patchwork.
Leslie currently teaches regularly scheduled classes at the City Quilter in New York City, NY and at Sew Brooklyn, Park Slope, NY.

COPYRIGHT NOTICE: None of these designs can be reproduced or distributed in any form (including electronic) without the prior written permission of Leslie Levison