Every month The CARON Collection features one of the outstanding shops who so ably provide stitchers with not only supplies but guidance, technical expertise, and inspiration. We hope you'll support your local shops and browse through our extensive SHOP LISTINGS to find a shop near you.
Needles & Niceties
In Upland, CA
by Rita Vainius
As an outlet for the daily stress generated by his job as General Manager of a hotel, Bob Vasaturo, turned to cross-stitch. His wife, Anna, who managed a variety store business and was no stranger to stress herself, assured Bob that anyone, even he, could stitch. "Sure enough," Bob says, "I got hooked."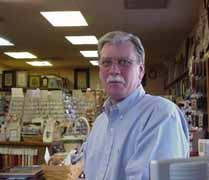 Bob was born and raised in the Philadelphia, PA area. After high school he attended Penn State University, receiving two degrees in Hotel Management. He met Anna during his junior year. After their marriage, Bob accepted a position in hotel management with Holiday Inn - the largest franchise holding company in the US at the time. Over the next 15 years Bob worked as General Hotel Manager at nine different locations. His final assignment in 1975 took them to Ontario, CA, a city situated 40 miles east of downtown Los Angeles.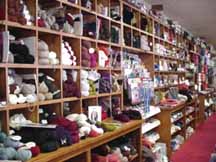 While living there, Bob and Anna purchased an existing business in nearby Cucamonga, CA. And, "Yes," Bob exclaims, "it's the same one Jack Benny referred to in his routines!" This business was a real honest-to-goodness old-fashioned Five & Dime establishment encompassing a whopping 15,000 square feet!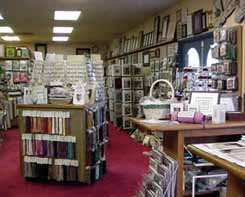 For the next ten years, Anna oversaw the day-to-day operation of the business. She also instituted a new and unusual department, which hadn't existed before - a needlework department. However, it was not the run-of-the-mill kind one would expect to find in a neighborhood store catering to a mass market, but rather a highly specialized needleart section featuring Hardanger fabrics, threads and patterns, fine linens, exciting offbeat fibers, high fashion specialty yarns and the very latest in designs and accessories. When Bob decided on stitching as a hobby to offset the pressures of his high profile job, he found a ready source of quality supplies and materials, thanks to Anna's foresight. Anna had a longstanding love affair with needlework having learned how to knit and crochet as a young child. She later took up cross-stitch and needlepoint as well.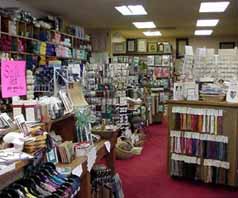 Bob recounts his initial stitching experience, "The first project I tackled was a Linda Meyers harbor scene. It was about 16" x 14", requiring the entire piece to be worked. Determined that this new found hobby was going to be relaxing, I sat back and completed it in record time, all the while rejecting the offer of help from Anna, and assuring myself that I was creating a masterpiece." He adds jokingly, "After all, how hard could this be?"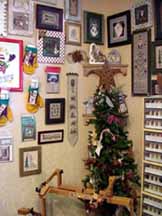 Bob insists that as he looks back on this first attempt, he still views it as a personal masterpiece, irrespective of the fact that his stitches were crossed in different directions, some not crossed at all, some completely missed and the colors that he used were ones the designer probably never even dreamed of. But from the first Bob had most important ingredient- his attitude of just having fun with it! Hence, his sense of accomplishment and satisfaction upon completion was overwhelming.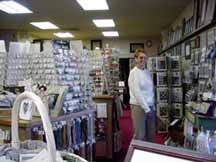 In 1990, Bob left behind his career in hotel management. He and Anna also closed the Five and Dime. Instead, they embarked on a new adventure by pooling their talents and expertise to give birth to Needles & Niceties, a wonderfully highly specialized needlework shop in Upland, CA. Anna's enduring passion for the needlearts, along with Bob's proficiency, as he puts it, "in crossing all the tiny little X's in the same direction," have insured that, from the first, their new venture would be a success. Needles & Niceties has just celebrated its 10th anniversary. Within its walls one will find all the latest and best in designs, fibers, linens and other fabrics, kits, accessories and stitching supplies that the wonderful world of needlework has to offer.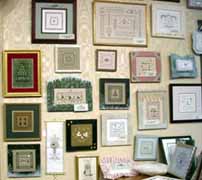 Bob and Anna cater to the stitching needs of a sizeable local clientele from Southern California, along with doing an extensive mail order business, which continues to grow exponentially. Bob's one and only complaint is that now he has a problem finding the time to stitch. He quips, "In reality, I have given into the relentless pressure brought to bear by my female customers, for me to quit stitching better than they do. Laying each stitch, they insist, even when executed in one ply, is a bit much!"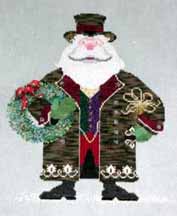 Bob and Anna revel in turning newcomers on to stitching. Almost every day at least one person walks in looking for a beginner's kit, eager to learn cross stitch or some other technique. The proprietors give these neophytes some valuable advice, telling them, "Find a project... that captures your excitement." This is a foolproof way to learn the right way, like Bob did - by just experimenting, not worrying about making mistakes. Bob adds, "Let the project call for cotton embroidery floss or an array of hand-dyed fibers from cottons to silks. Embellish it with beads and metallics. Choose cross-stitch, pulled work, petit point, cut work, needlepoint, counted threadwork, knitting or crochet. Capture some quiet moments and allow the process to evolve. Who knows where the journey will take you." Bob hastens to add, "I sure didn't!"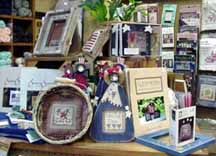 Needles & Niceties is a full service cross stitch and yarn shop located just east of downtown L.A., 2 miles north of the San Bernadino Freeway (Interstate10) off the Mountain Ave exit. It is easily accessible from just about anywhere in southern California. The store's customer base extends as far as 200 miles in all directions. They even have a designated winner of their "How Far Did You Come?" contest; a loyal customer named Monika, who travels regularly from Zurich, Switzerland, currently holds the record!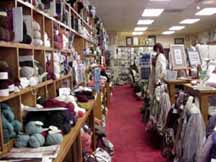 Bob is in the process of deciphering the mysteries of the technological age, a babe in the woods groping his way through the Internet. But as should be obvious, he does not shy from a new challenge. His current goal is to develop a website for the store. The grand plan for the sites debut will include a special one time offering of a kitted design by one of the world's premier needleart designers, created exclusively for Needle & Niceties. The design will be a bona fide collector's piece with a limited edition of only 100 kits, for which Needles & Niceties holds the sole worldwide distribution rights. Stay tuned for their Website's Grand Opening!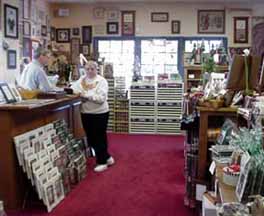 To be included on their mailing list, contact Bob or Anna at:
Needles & Niceties
1655 N. Mountain Ave. Suite 116
Upland, CA 91784
Phone: (909) 985- 6264
(800) 955- 5358
E-mail: needlesandniceties@dellepro.com