Compliments of Nicholas Smith, our featured Online Class Teacher
(In His Own Words) Let me introduce myself: my name is Nick Smith and I am the husband of Jennifer Aikman-Smith of Dragon Dreams Inc. Jennifer and I have been involved in the industry for eight years and have been avid cross stitchers for the last nine. I am also a full time teacher, father of two little girls as well as part time assistant, shipper, receptionist and guy Friday for Dragon Dreams.
Click here for more about Nicholas Smith and his family.
Jazz up a Geometric with Caron Fibres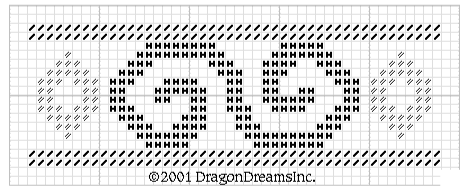 To find out about Ice Dragon's Kingdom and the other Dragon Dreams designs, drop by their website at http://DragonDreams.accra.ca
Nick and Jennifer with daughters Erin & Bethany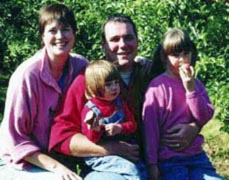 Jennifer and I were introduced to cross stitch through a male friend who stitches as a stress buster. To say that I was not terribly interested in picking up the hobby, would be an understatement. I saw it as a less than masculine pursuit that certainly did not mesh with my personal image. Jennifer was a quick study and, after losing her to stitching for many evenings, I decided to see what this is all about. Oddly enough, the pattern aspect of it, was not what hooked me, but rather the precision and mathematics involved
As Jennifer's career blossomed, she needed more and more models stitched and I was elected. I enjoy stitching models and learning more about the craft. When I accompany Jennifer to shows, most shop owners assume that I am just someone covering the booth. The look on their faces is priceless when I can actually describe a model, the fabric, stitch count, floss and various techniques used to create the finished product. There was even an occasion where a shop owner teased us that Jennifer was the Dragon and I was the Dream! As a male stitcher, I find it humorous to see people's initial reactions. After all, I am over 6 feet tall and not a shrinking violet. If I said I wrestled alligators or climbed sheer rock faces no one would bat an eye, but once the image of me using a tiny needle and a piece of cloth to create a design is brought to mind, it is infinitely less plausible! It is quite entertaining to be on the other end of a gender bias.
I have learned more than just basic cross-stitch and have acquired other techniques as well as the use of many different and interesting fibers. When I am not stitching Jennifer's models, I like to work on a wide variety of patterns. I even helped out with the cross-stitch club at the Middle School where I was teaching. I was pleased that four of the members were male.
Where Jennifer prefers intricate fantasy pieces, I am drawn to simpler pieces that have little or no backstitching; I intensely dislike backstitching. I am always looking for new designs to stitch and have to admit that I have my own stash of UFOs! I would like to see more men stitching as it is a truly relaxing and goal oriented past time. As there are not a lot of us males appearing at the trade shows and industry events, when we do run into each other, it is like meeting a member of a secret society.
I hope that I can be a positive force about how inclusive a hobby and industry this can be.
Happy Stitching,
Nick Smith