Alice Watterson
Creator of the Storyteller Series of Dolls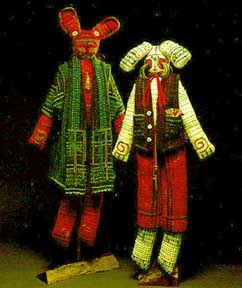 Gentlemen Rabbits
"I came to dollmaking through a side door," says Alice Watterson. "As a fiber artist, I first made hand-woven clothing for people, observing most of the boundaries for human style and fit. Eventually, I found myself imagining---what a well-dressed 'dragon-person' might show up in and then making it. The concept of clothing enlarged to include the flamboyance of costume and, especially, the being wearing it. My wings were beginning to sprout, and in the late 1980's I made my first 'doll,' a very ethnic, beaded fellow constructed from a bright orange fabric-- too garish for clothing. I was soon slipping sideways out of the world of wearable art and into the world of contemporary art dolls."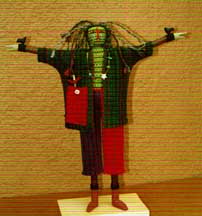 Bird Man
Alice's life began in Kansas, and like Dorothy in the Wizard of Oz, she was an
orphan. Her life's journey has also, like Dorothy's, been catapulted into a realm as wonderfully magical as Oz, but similarly also fraught with dire perils. It seems that fate had dictated from the very start, that Alice's journey through life, her way of expressing herself, and her relationships, would be anything but ordinary.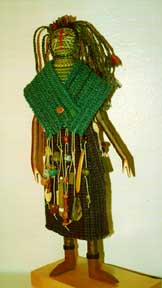 Peddler Woman
Alice was born to an unwed mother. When her birth grandparents revealed to their doctor that their daughter, Elda, had given birth, he and his wife asked to adopt Alice, doing so when she was 2 months old. Elda was a HS English teacher, the third of four girls in a Mennonite family who believed in education and travel for their daughters. Elda made three trips to Europe after the War: in 1946, to Germany to help clean up rubble and "do service," a Mennonite custom; in 1948, when Alice was conceived during a shipboard romance and in 1951, when Elda traveled to Ireland as a Fulbright scholar, a trip that ended with her death in a plane crash (Alice was 2). Elda never identified Alice's father, but he was honorable enough to send money during her pregnancy and while she stayed in a home for unwed mothers. Alice sympathizes, "This was a humiliating and lonely time for Elda, who was 25 years old and a professional teacher. Cruel times. So my birth father remains a mystery to me."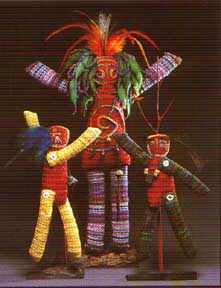 Believer Series
As a member of the Watterson family, Alice gained a brother, John (11 years older) who became a chemist, and a sister, Kitsi (7 years older) who became a writer. Since Alice's adopted parents knew her birth grandparents, a reunion with her extended birth family, including aunts, uncles, cousins and grandparents was arranged many years later.
Alice's adopted father was a brilliant, driven and generous physician with a larger than life personality. His wife was the stabilizing force of the family, providing nurture and support. Alice remains strongly indebted to her mother for recognizing and encouraging her talents.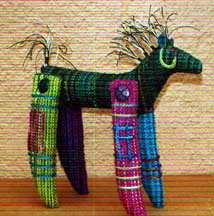 Horse of Another Color
In the mid '50's, her father's wanderlust took the family to Arizona, where, Alice explains, "Dad found an adventurous environment for his growing interest in alternative therapies for his patients -- treatments sometimes challenging lawful boundaries. Possessed by a renegade spirit, he was a pioneering and dedicated physician who dominated our unconventional family." He died in a fire in their home when Alice was 16. "My growing-up years were often lonely, though fortunately redeemed by my love of drawing and making things," Alice confesses; "This creative life was fueled by an active imagination and supported by my mother's belief in my talents. ART really does save lives." After her father's death, Alice's mother began working as the executive secretary in the Arizona State University Art Collections until she retired. Soon to be 88, she now lives in a retirement community in Santa Fe.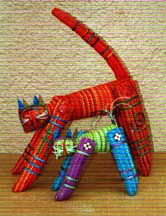 Circus Cats
While Alice enjoys drawing, her main focus has always been three-dimensional
work. She became engrossed in weaving in the 70's and was co-owner of a fiber arts store. "At first I made hand-woven clothing to sell," says Alice; "But eventually I tired of the shifting demands of fashionable color and styling. I became increasingly interested in the figure as the object of my attention and found that dollmaking satisfied both my love of weaving and 3-d constructions." All of Alice Watterson's figures begin their lives on the loom where she weaves the fabric, which will be transformed into dolls.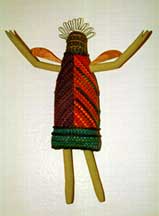 Seraph
In 1994, Alice was treated for cervical cancer and soon after for lymphoma. She turned increasingly to writing to understand her rapidly changing life. She composed "Cancer Notes" to send to family and friends. "Deeper introspection confirmed my interest in depicting the human figure in all its real and imagined forms, showing on the outside the reality of the inner life." During this time, Alice became active in her cancer support group and occasionally conducted creativity workshops with fellow cancer patients." She discovered the immense POWER of dollmaking while teaching one such workshop. Alice explains, "Because of the participants' keen preoccupation with the condition of their own bodies, their dolls took on personal ailments, dramas and dreams which quickly transcended the simple trinkets, beads and yarns on the project table. Many of the dolls embodied elegant visions in the midst of very dire circumstances for their makers. This experience, and my subsequent teachings with cancer patients, continues to act as a challenge to my own art process---to be conscious of my intentions and true to the content of my work."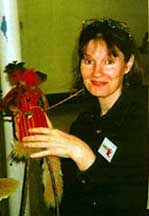 Regina, Artist and 10-Year Cancer Survivor
at HeartStories Workshop

Alice's figures of both humans and animals incorporate many ethnic cultural influences -- the native peoples of the West, Afghani nomads, African tribesmen---any people who enrich their lives through lavish personal adornment. Other inspirations come from contemporary ceramics and architecture. "Form, color and texture invade my being regardless of origin, lodge in my spirit and find expression in my art," Alice adds.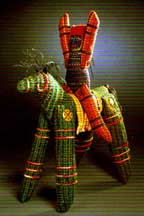 Horse and Rider
From the Circus Series
When Alice begins a new figure, she experiences an initial stage of charging ahead, sure of certain forms, colors and elements. Then, she admits, "Kerplunk!--- I land in unknown territory where I'm challenged to discover the figure's rules of ritual, dress and being. The work begins to actuate its own potential, blossoming into an entity that is a step beyond myself and several steps beyond 'dollness' in the conventional sense." At times materials dictate the beginning of a new project, but often Alice starts with the written word. She finds that by using both hemispheres of the brain, much broader possibilities open up. As Alice tends to perfection, her work reflects an intense attention to detail. "To balance that," Alice says, "I try to have my characters express a looser, open relationship to life. The image that comes to mind to describe this duality is of my fingers curled inward while working, then opening to release the work."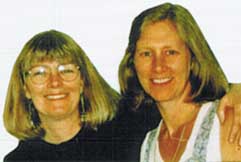 Alice (on left) with Sheila, Fellow Artist and Cancer Survivor
At HeartStories Workshop
Because her pieces are so detailed, Alice's output is relatively small. She sells through only a couple of venues. Currently, these include the Shidoni Arts Gallery in Tesuque, NM and the Carefree Gallery in Wisconsin. She also exhibits annually at the Scottsdale Arts Festival in Arizona (being held this year from March 8 ­ 10). When time permits, Alice teaches creativity workshops to artist peers and to people in health crises.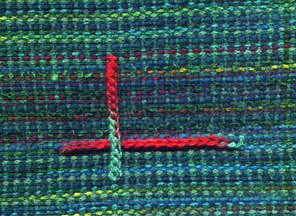 Detail of Alice's Handwoven Cloth with
Crochet Stitching on Top
In '96, Alice moved to New Mexico. "Starting a new life gave me a chance to look at my work with fresh eyes in a new environment," she says. "I broadened the base of my interests to include bookmaking and the paper arts. In the last couple of years, I've acquired some woodworking tools and now can articulate the hands and feet of my figures from tree limbs salvaged from friends who make willow furniture."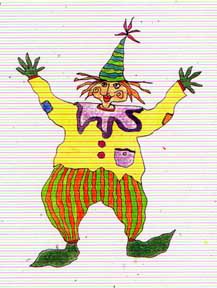 Clown Drawing
Inspiration for the Circus series of Characters
Circo Fantastico ---Alice Watterson Ringmaster
Often, Alice finds herself focusing on a theme generated by what is happening in her own life. "During and after my experience with cancer" she says, "I was preoccupied with healing guides in human form. Now, as a result of some thankful distance from that health crisis, and a desire to engage more playfully with life, I'm creating a full circus: ringmaster, trapeze artists, riders on horseback, lions and elephants and more. It's a project that will occupy me for some time."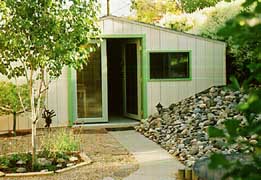 Alice's Studio
These days, a good portion of Alice's time, when not working at the Santa Fe Weaving Gallery, is spent trying to improve her lymph system which was seriously impaired by cancer treatments. She practices Yoga and loves to walk. In the summer, she loses herself working in her gardens. Her studio is her ultimate refuge "It's a peaceful work space that I relish retreating to...anytime. I'm an introspective person, so there's never enough time for just being. Being alone. Being thoughtful. Being observant."
For more information, contact:
Alice Watterson
2254 Calle Cuesta
Santa Fe, New Mexico 87505
Phone: (505) -474-5462
Fax: (505) -474-0035
E Mail: ah2osun@aol.com
For more about Alice and her work, see the Feature/Gallery section in Part I
of our special Doll Themed site.