Continuing our tour of the UK's people and places a visit to...
Voirrey, Embroidery Centre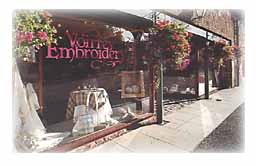 Voirrey is not only the name of an Embroidery Centre, it is also the name of its owner. Voirrey Branthwaite hails from the Isle of Man in the Irish Sea. The natives are a resourceful and imaginative lot and Voirrey possesses these qualities in spades. Her name is actually not that unusual; it is the equivalent of Mary in the Manx language (the native tongue of the Isle of Man).

Serendipity was at play when Voirrey met her future husband and business partner, Tony, whose mother was also a native of the Isle of Man. Legend has it that Tony set out to visit his mother's sister, named Betty Qualtrough, who still lived on the island. Voirrey's mother happened to have the same name and when Tony asked around for Betty, his aunt, he was instead directed to Betty, Voirrey's mother!

When Tony and Voirrey got married, he had just taken a job in Liverpool with the local Port Authority after pursuing a seafarer's life. Voirrey worked as a medical social worker, until their first son, Neil, was born in 1970. One and a half years later, a brother, Giles, joined the family. While the boys were young, Voirrey discovered the wonderful pastime of embroidery. When the boys started school, Voirrey resumed working with children, afflicted with physical or mental disabilities, and doing psychiatric counseling, including grief counseling.

A cathartic experience changed the course of her life in 1982, when her mother arrived in Liverpool to undergo surgery for cancer. It was, tragically, unsuccessful and after her loss, Voirrey felt she could not handle the emotional strain of returning to grief counseling. She needed a more healing and therapeutic occupation. Since stitching brought her so much pleasure, Voirrey was inspired to introduce others to this challenging and satisfying hobby. With her family's support, she opened a shop in the small 12th Century crypt of an old Manor House, Brimstage Hall, set in the heart of the Leverhulme Estate. This rural area, known as Wirral, is situated across the River Mersey from Liverpool.
| | |
| --- | --- |
| | |


Voirrey opened the shop in 1983, stocking it with threads, kits and fabrics. She shared occupancy with a ghost known as the Lady in White, who allegedly jumped off the tower above the crypt in an act of unrequited love. Voirrey has personally not encountered this apparition. Her neighbor, the tenant of the Manor House, operated a small restaurant and gift shop, which generated some trade, but not nearly enough for this remote needlework outpost, surrounded on all sides by miles of fields and farmland. By taking a booth at the Liverpool International Garden Festival, the business name spread to the diverse audience of six million who made their way through this exposition.

The effects of this strategy were soon apparent. By 1986 the crypt was bursting at the seams. Voirrey was offered some abandoned farm buildings, consisting of the original wain house and stables in the courtyard to the rear of Brimstage Hall. A much needed and welcomed Tourist Development Grant was secured, making renovation of the buildings feasible. The structures were reborn as the Voirrey Embroidery Centre. The new premises included retail shop space, a gallery exhibition loft and classroom area. Concurrently, Tony's career was going through an upheaval. The shipping company for which he worked was relocating to London. After considering the possibilities, Tony opted to throw in his lot with Voirrey and the new center became a family operation.

Because the concept of such a large, impressive, out-of-town operation was so unusual, especially in the needlework field, considerable curiosity and interest were generated. Following an article which appeared in the Daily Telegraph, the Centre became the subject of a BBC television segment presented at peak viewing time. The overwhelming response really put their name on the map and prompted Voirrey and Tony to undertake another expansion into the old mill and mix area next door, adding additional retail space with a Patchwork and Quilting Department, offices and storage facilities.

Exhibitions at the Voirrey Embroidery Centre are among the most inspired and inspiring to be found anywhere. Some are of national importance, like Tony's brainchild, The Military Embroidery Exhibit; others are more locally influenced such as The Ecclesiastical Embroidery Exhibit and still others are international in focus. Especially memorable was a Jordanian Exhibition spotlighting handmade coats, shawls and other garments embellished with elaborate embroidery in traditional ethnic designs and stitched by Arab refugees. Whatever the theme or subject, all exhibits illustrate some unique aspect of needlework. Themes are diverse, always provocative and displayed to the highest standards.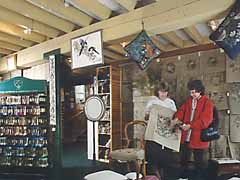 Two shows have become annual fixtures by popular demand. In July, the work of youngsters from local schools takes over and is much acclaimed for its originality and freshness of approach although this will not be staged this year due to other exhibition demands. In August, the gallery is turned over to the customers, giving them the opportunity to display their handiwork to the public and to view the work of others. The gallery's visitors' book bears testimony to the ever increasing interest in, and appreciation for, this art. To commemorate the millennium, the customer show has been rescheduled in order to restage it as befitting this momentous occasion. It will be held from Dec. of 1999 through Jan. of 2000. Each participant is invited to display 2 works: one from the old century and one for the new. Leading up to this gala event will be a show in July called "Approaching the Millennium" which will display the top 90 embroideries from all over Europe that were entered into the 1998 "Anchor Award for Modern European Embroidery Design." In October "Textiles 21" the World of Embroidery Magazine of the U.K. Embroiderer's Guild will present the work of 21 international textile artists forging a path into the 21st century with their design innovations.

The shop portion of the business carries a vast range of international products. Kits and charts in cross stitch, surface embroidery, ribbon embroidery, goldwork, canvas, crewel and blackwork abound. A large selection of trammed and printed canvas are available. Threads, fabrics, books and accessories galore entice wherever one's gaze wanders. Their growing portfolio of exclusive kits includes a cross stitch series in celebration of either Ruby, Gold or Silver Wedding Anniversaries, and two samplers: one commemorating the 50th Anniversary of the Battle of the Atlantic and the other, the 50th Anniversary of the Battle of Normandy.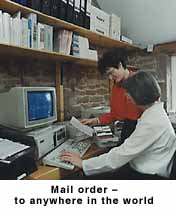 Instructional classes have always been a crucial part of the business. 70 offerings fill out the spring/summer 1999 schedule. In addition to the highly professional local teaching staff, guest instructors and designers frequently share their expertise. Each class is limited in size to ensure personal attention. Some workshops coming up include Machine Embroidery, Silk Painted Celebration Cards, Brick Stitch Beading, Painting on Silk accentuated with Goldwork, Taste of India and Taste of China, featuring Exotic Stitching with an Oriental emphasis, Three Dimensional Floral and Foliage Motifs Using Stiffened Threads, Silk Ribbon Embroidery and a special Hardanger Workshop using Caron Watercolours and Wildflowers threads to bring a refreshing new look to a traditional technique.

A most ingenious idea was hatched by Tony and Voirrey and, in collaboration with the Tourist Board, a tour called The Embroidery Trail was created. The trail "threads" its way through Liverpool and its neighbor, Wirral, on the opposite side of the River Mersey, in a most extraordinary series of stops where one can view the splendor of contemporary Cathedral hangings executed by dedicated nuns, priceless works preserved from the Middle Ages and even an embroidery completed by George Washington's great-great grandmother.

Under their combined stewardship, Voirrey has become one of the largest Embroidery Centres in the U.K. enjoying an international reputation. There have been many coincidences and serendipitous events that have marked the lives of Tony and Voirrey Branthwaite but it is no coincidence that Voirrey was voted Merseyside Business Woman of the Year, nor that the Business itself received a Special Tourism Award. They have both put their minds, hearts and souls into their enterprise and it is a truly one-of-a-kind emporium and showplace.

The Voirrey Embroidery Centre is located at Brimstage Hall, Wirral, England L63 6JA
Phone: 0151-342 3514 (when calling from the US dial 011 44 151-342 3514)
Fax : 0151-342 5161
For information on The Embroidery Trail contact Jackie Wilson at the Merseyside Tourism Bureau, Atlantic Pavilion, Albert Dock, Liverpool, England LE 4AE
Phone: 0151-709 2444
Fax : 0151-709 8129
Interested in having Your Work Featured in Our Gallery?
To our visitors: If you or someone you know is using the CARON Collection threads in an interesting or an innovative way send photos or samples and a note about which threads are being used and how, to the address below, for possible inclusion in a future "Gallery" feature. Please be sure to include your e-mail address. All materials and photos will be returned if requested.
Send materials to: The CARON Collection, Att: Web Gallery, 55 Old South Road, Stratford, CT 06497