Presenting our nautical contest entries and winner!
Our simple nautical motif yielded a suprising variety of designs and approaches. There were some very creative interpretations.
See if you can find the contest motif in the entries below.



Winning Entry
"North by Loch Ness" by Tisha Kuntz and Carolyn Hotchkiss
While the word "nautical" may evoke images of a breezy Eastern seacoast or a leisurely Key West afternoon, our latest Design Contest Winners let their thoughts journey to a cool, deep Scottish lake and its mythic inhabitant. "North by Loch Ness" designed by Tisha Kuntz and Carolyn Hotchkiss exhibits a common interest in the Loch Ness monster, a fascination the two women have shared for several years.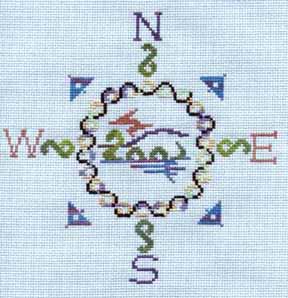 "We've always thought of 'Nessie', (their name for this elusive creature), as the Mystical Lady of the Loch," they explain, "and we thought it might be unique to see her featured in a cross stitch design." Their enthusiasm for "Nessie" extends to an eclectic collection of Loch Ness knickknacks, including a hand-puppet of the celebrated but baffling beast, presented to them by their mother after a visit to Scotland. Last year Carolyn presented Tisha with a deep green ceramic "Nessie" for Christmas and Tisha has made a figurine representing the creature using FIMO polymer clay. "It's challenging to find memorabilia related to the Loch Ness Monster," they admit. Recently they learned that Baccarat makes an incredibly gorgeous "Nessie" in crystal, which carries an incredible price tag to go with it! At some future date it's sure to find its way into their collection. In the meantime they continue to create their own souvenirs. Tisha is currently crocheting a "Nessie" puppet from some specialty yarns.
Tisha and Carolyn happen to be sisters and as such they often think alike and have common interests, foremost among them a passion for needlework. Their whimsical design is suggestive of a compass, surrounded by a "rope" of Waterlilies Pistachio, accented with black Impressions threads. The waters of the loch feature Wildflowers Blue Lagoon, which also enhances the corner motifs. "Nessie" is a striking sea serpent in her Jade Wildflowers, swimming beneath heathered hills of Waterlilies Amethyst, accentuated by a Wildflowers Clove sunset glow. The composition captures the mysterious and captivating aura that surrounds this well known but unexplained phenomenon.
After a hiatus of many years from the needlework they had done as children, the sisters wandered into a needlework store and discovered the Caron Collection. These threads inspired them to take up needle and thread again. The unlimited palette of possibilities so fired their imagination they started designing projects with these threads in mind and with so much to choose from, as soon as they complete one project, they're eager to begin the next.
As well as being needlework design partners, Tisha and Carolyn are writing collaborators and have worked together on fiction projects and newsletter articles. Together they accomplish twice as much and have twice the fun into the bargain.
Special Honorable Mention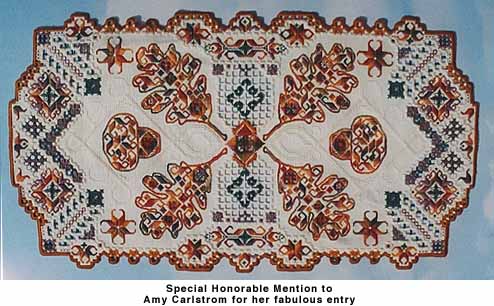 Other Outstanding Entries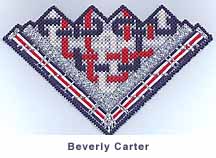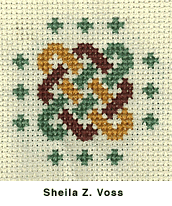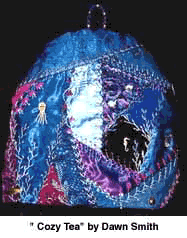 Many thanks to all who participated and the great job they all did with the pattern.