This month the dazzling beaded pouches of Sandra White of BeJeweled incorporating The CARON Collection's Watercolours threads for
some truly amazing and magical effects.
Dazzling Beaded pPouches of Sandra White of BeJeweled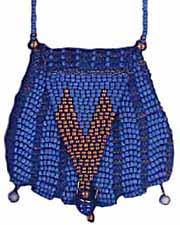 Shown above, BeJeweled's "Blue Horizon" pouch featuring hand dyed variegated
Watercolours thread "Twilight".
A Gallery of BeJeweled Creations

Just Peachy
(Cameo thread)

Two If By Land
(Abalone thread)

Swiss Miss
(Fiesta thread)

Honey Bear
(Fiesta thread)
About the Designer, Sandra White
"the greatest innovation to my creativity has been Caron's Watercolours yarn."

Sandra White, of BeJeweled, got started "beading" 8 years ago when her youngest daughter was getting married and had nothing special in the way of jewelry to wear. Sandra started off with a Kindergarten level beading book and $50.00 worth of beads. Right off the bat she made everything different than the book. More books and many beads later the whole upper level of her house was taken over by her "hobby" or should we say her "love", beads.
She tried finished jewelry for resale, baskets, made silk flower arrangements, imports, brass, etc. Then she made a million (at least) different designs of earrings, necklaces, bracelets and every other thing she could think of. Sandra had wanted to make the beaded pouches for about 6 months but had been avoiding buying the book for $12. She never could figure out how to get the beads on the thread/yarn so finally she had to break down and buy it.
Where it seemed nothing had been working before suddenly she couldn't keep up with the new demand for her innovative beaded pouches. Then one day she went into a craft store and saw Caron's Waterolours and the saleslady said they would work for beaded pouches. "Oh - My - God!" she exclaimed. Now it seems she just lives for shipments of Watercolours and tries to find obscure colored seed beads to marry them with. Sandra says all you have to do is compare the two and it all happens by magic. It appears that her beaded purses with muted colors and matte beads are the hottest sellers at the moment. She's gotten away from the "crayola" color combinations of earlier days but sometimes she notes, the yarn dictates what you're going to do, i.e., Malachite yarn combined with actual Malachite Zuni bear beads in the neck for instance. Sometimes, she says, the particular bead cries out for a particular yarn.
Her appraoch to naming the purses is quite creative too! Her comical names turned out to be a huge help, like Serengetti with Meatballs, You Look MAUVElous, Seedless Watermelon, Sleepy Peacock (because the yarn was subdued), Designer Coffee, Bright Golden Haze, etc. she hunted for phrases that contained a color such as Crimson Tide, etc.
Now Sandra teaches (one-on-one - $10.00 hour), sells beads and yarn and markets pouches retail and wholesale. Custom Orders are welcome - she can send out a little yarn with some beads for approval.
Now as far as beading goes, Sandra says you're not a full fledged beader until your vacuum cleaner sounds like a machine gun - then you know you have arrived. We know she has.