Celebrating the New Millenium with Lois Caron's
PIPSQUEAK SAMPLER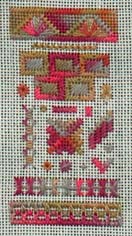 Samplers can be different things to different people. To me, a sampler is an opportunity to explore and practice. It's a place to try out new stitches, variations on texture, and color combinations. If I plan to use the stitchery as a reference in the future, I sometimes try to make a pleasing design out of my work, but this is not my primary goal.
You, too, can design your own sampler. We're all familiar with band samplers, of course, but why not try something a little different? Try a selection of stitches arranged in a way you find pleasing. Make the finished piece into a sachet, bookmark or box insert if you can't bear to put your work away into a notebook.
Here's a small design to get you started. Use this as inspiration for your own efforts.
MATERIALS
1 piece of fabric or canvas. The model is stitched on 24 count Congress cloth, but a 28 count evenweave linen , 18 count fabric or canvas, or a 14 count fabric will do just as well.
Thread(s) which will stitch properly on the ground fabric you've chosen. You can use all one color, or select from leftover scraps you have available in your workbasket. On our piece, we've stitched with hand-dyed Wildflowers.
Needle in size appropriate for the thread you're using
SIZE (37 threads x 71 threads)
On 24 or 28 count, the design will be approximately 1.5" x 3"
On 18 count, the design will be about 2" x 4"
On 14 count, the design will be 2.5" x 5"
CLICK HERE FOR CHART 1 AND CHART II
Here is an expanded version of the class design. More stitches have been added and the motifs have been rearranged to create a balance composition.