About Betty Pillsbury
Betty has used her Silken Roses Collar to embellish a dress that fits an 18" Doll. But this collar, which will beautifully set-off a blouse and other doll attire, can easily be adjusted to fit other sizes of dolls, as well as an infant's dress.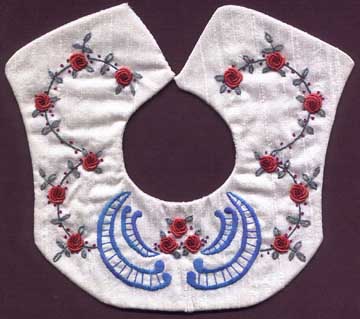 Materials:
10" square of silk dupioni
10" square of muslin
10" square of backing fabric
Soie Cristale in 5061, 106Olive, 2010, 2031, and 2032
Waterlilies in Grape and Blueberry
Chart
to Print Out
Instructions:
Trace the design (including the outside edge) onto the dupioni with a mechanical fine-line pencil. Place dupioni onto muslin (like a sandwich) and insert into 8" embroidery hoop. You will be stitching through both layers. The muslin provides stability and strength to the silk. Baste around the outside edge of collar. This basted line will
become the sewing line later. Basting also prevents the layers of fabric from shifting while doing the embroidery.
Using 1 strand of the Blueberry Waterlilies, satin stitch the scrolls and straight stitch the lines within the scrolls.
Using 1 strand of the Soie Cristale 5061, stem stitch the vine of the roses.
Using 2 strands of the Soie Cristale, stitch bullion roses: 2010 for the centers, 2031 for the next round and 2032 for the outer round.
Using 2 strands of Soie Cristale 106, stitch lazy daisy leaves.
Using 1 strand of Grape Waterlilies, scatter 2-wrap French Knots as shown.
Press collar. Place collar and backing fabric, right sides together. Using the basting line as a guide, sew just inside the basting line, leaving an opening for turning. Press. Clip curves. Turn right side out. Sew opening shut using a whip stitch. You may attach a button and loop or Velcro for closure.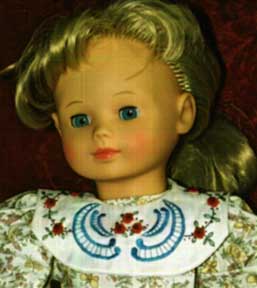 Betty Pillsbury
E Mail:flyingneedle@webtv.net
Website:http://community.webtv.net/flyingneedle/CrazyQuilts
About Betty Pillsbury
Betty Pillsbury is an award-winning textile artist, teacher and writer. She lives with her husband and children in the northern fringes of the Catskill Mountains in New York State. Betty has appeared on Simply Quilts and Nebraska Quilting and her works have been featured in many publications and exhibits. Her goal as a teacher is to inspire her student's creativity by providing an understanding of the basics while encouraging individual interpretation. Excellent craftsmanship and artistry must blend for the most satisfactory outcome.
Although crazy quilting is Betty's biggest passion, she has engaged in many other forms of needlework and holds a deep appreciation of the history of needlework and for the women who stitched. Betty researches many of the techniques she practices. Teaching affords her the rewarding opportunity to share her fervor and knowledge, as well as act as the catalyst that will spark creativity in others.
For previous features by Betty Pillsbury, go to:
The History of Crazy Quilting - Parts 1 and II -
http://www.caron-net.com/featurefiles/featmay.html
Stitching Crazy Patch Seams - Parts 1 and II -
http://www.caron-net.com/apr01files/aprcla01.html
For more information, contact Betty Pillsbury at:
e mail: flyingneedle@webtv.net
website: http://community.webtv.net/flyingneedle/CrazyQuilts
Publications in which Betty's work and/or articles have appeared:
Quilting Arts
Needlearts
Needlepointers
Miniature Quilt Magazine
Norsk Quiltblad (magazine of the Quilt Guild in Norway)
The Guide
Crazy Quilt Society Newsletter
Crazy Ladies Gazette