Bags... Evening Bags, Handbags, Clutches and Carpetbags. We're delighted to present a designer with a real flair for bags as well as all kinds of innovative needlepoint
By Rita Vainius
Without a doubt, Julie Pischke is one of the most creative and eccentric design talents on the needlework scene today. Her effusive personality shines like a beacon through her work. Alternately referred to as the "Mad Genius of Needlework" and "Our Lady of Contradiction" by those who really know her, Julie's designs embody bright color, bold shapes, funky flair and luscious sensuality. Despite the juxtaposition of dramatic color and eclectic motifs, her work exudes a feeling of compelling ingenuousness. (Julie's style comes through loud and clear in her FREE PATTERN for a handbag, shown left, for our web visitors.)


Julie's design talents became apparent as a teenager working in her mother's needlework shop, The Silver Web. By age 14 she was indispensable for filling the special orders and custom design commissions. Some of her first designs were featured in a Charity Needlework Show organized by Louise French. Julie also came to the attention of Jean Ready, the originator of "Deux Amis," a high-end line of hand painted canvases. Jean was so enthusiastic about Julie's work that she took them to display in her booth at a TNNA Show.

After opening her own store, Island Needlework in Key West 21 years ago, Julie had her hands full running the business alone for 18 years. It wasn't until Tracy O'Neal appeared out-of-the-blue in 1995 that Julie was able devote some serious time and energy to her true passion for design. In 1996, both Julie and Tracy spent two weeks at the Woodlawn Plantation designing needlepoint and decorating a little girl's room in the 1802 Manor for a Christmas Show, transforming it into a sunny fantasy of subtropical colors: acid green, periwinkle blue, royal poinciana red. 1997 brought a request to design an ornament for the White House Christmas Tree. As with much of her work, this design was symbolic. It shows President Clinton playing his sax on a field of deep blue which incorporates several references to eternal life: the four gospels of the New Testament, the three notes of the Trinity and the dove on the sax which holds the key to eternal life.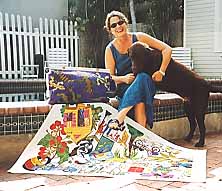 Julie and her beloved Lab and one of her famous carpetbags on her right.

Another project which Julie tackles head-on is designing an original work of art for the Annual AIDS Auction. Each artist is presented with a theme to be integrated within their piece. The motif for the 1997 show was a chair and Julie's imagination soared. Her mixed-media contribution was entitled "Life is but a Game." The focal point is an Adirondack chair representing the Chair of Judgment, which she envisioned suspended from a tree in the woods. The chair spins on a lazy susan base in tones of green and brown, akin to the forest floor, while the leaves tremble on their branches. The brown leaves are labeled with the seven deadly sins; the nine fruits of the spirit are depicted on the green leaves; the natural linen leaves identify the seven gifts of the Holy Spirit. Scrolled along the sides of the turning platform is the message:
"The Game We Play of Truth or Dare is Simple at the Start
But With Each Question Your Soul Will Bare
Until We See Your Heart"
The seat of the chair is a needlepoint game board done in Wildflowers threads and the game pieces consist of gold and pearl buttons. Along the side borders of the seat can be seen a series of characters. Only by holding up the mirror provided can the word GOD be discerned in a repeating refrain. The back of the mirror states, "Check out your reflection. What do you see? Good or evil you can be." Coins litter the wheel and a pair of dice await a throw. Perhaps life is a game, but what's more to the point for Julie, is how the game is played.





For this year's AIDS event the theme is "Ten Years of Helping Hands." Julie's contribution to this event, which is still a work in-progress, will be a pillow filled with down to form a meditation cushion, evoking a Zen-like quality in mood and color ( muted gray, brown, and charcoal tones). It reveals her personal conceptualization of the hands of the Trinity each identified by one of the Greek words for the different types of love: Eros, Agape and Filia, executed in needlepoint.

Julie designed a piece of art consisting of painted canvas and needlepoint for a Valentine's Day Show. Titled "My Love is Silent," it is a self-portrait showing a white figure in a red dress. The dress is shown slipping off the shoulder, baring one breast and hinting at disrobing. The figure hold out her arms which are adorned with Julie's signature silver bracelets. With fluid grace, a red scarf is draped across her face obscuring the mouth. The symbolism is subtle, but encompasses many levels. The intensity of color, texture and dimension Julie accomplished with her threads makes it appear to be an oil painting unless one scrutinizes it at close range.

While Julie approaches needlepoint as a true form of artistic expression, she prefers designing items which can be used, not just passively enjoyed. Among these are pillows, bags, belts, shoes and slippers, address books, rugs and footstools. She is best known for her carpetbags which originated when a good friend asked her to make one which she could carry on board the plane to accommodate her needlework, jewelry and other valuables, during her frequent trips abroad. The original bag was made to conform to detailed specifications down to the brass feet and buckles and leather trim. This first bag featured a pattern of exotic tropical flowers. Many of her other designs also depict the native flora and fauna of her hometown paradise. Orders are often customized to a client's particular taste. A recent floral pillow constructed for a gal from NYC sported a leopard spot fabric border. Another pillow with a similar design might be accentuated with a border of raw silk, brocade or red leather. Sizes of pillows can vary dramatically also; some are large enough to be considered pieces of furniture in their own right.


Not only does Julie customize her work, she also adapts her activities to accommodate her clients. Because some are hearing-impaired, Julie studied sign language. One of her creations is a derivation. The two figures in this piece are "Mangels" (Julie's word for her visualization of non-prettified, non-sexed angels), depicted "signing" the phrase, "It's a Wonderful Life."

Though outside inspiration hardly seems necessary to get Julie going, Key West provides fertile ground. Against a background of exotic blooms, turquoise blue waters, unrivaled sunsets and funky artistic residents, Key West is always offering up something to inspire and intrigue. The stunning hues which clothe the birds, fish, reptiles, fruit and flowers add a riot of color and whimsy to Julie's work.

Since many of her designs are so "far out" in some respects, Julie gravitates toward a balance by designing items that exemplify her firm faith. Her "scripture line" includes a belt inscribed in needlepoint with the verse: "Cast not your pearls before swine;" a pair of slippers showing a white dove hovering on a red background remind us that, "We walk by faith, not by sight." Some of Julie's favorite commissions are ecclesiastical in nature. She has designed kneelers for churches in Atlanta, Fort Lauderdale and her church in Key West where Julie teaches confirmation classes and belongs to a study prayer group called "Daughters of the King."
Tracy is now a vital part of the business and design collaborator. She and Julie plan to combine their talents for a future line. This venture is still in its early stages. Because of the overwhelming demand for Julie's designs, it is impossible to keep up with the orders. She and Tracy have begun to explore the possibility of reproducing some designs through the medium of silkscreen. This technique presents definite limitations as only some designs can be produced this way. Julie has reservations, sensing an element of blissful spontaneity would be absent in designing for a mass market. Her ambition is motivated by her desire to experiment and always try out something novel: to create, not copy.

Julie reminisces that even as a teenage she thought, "...working with color and fibers is so much fun and so easy, that it can't possibly be a career." NOT! Julie's forte in design lies in her innate sense of color and form, and the manner in which she coordinates textures, colors and fibers. She paints her designs on canvas but has never seriously considered switching her medium. She insists that she could not achieve the texture desired or the richness of color that "painting with threads" accomplishes in any other way. Besides, she admits, "I just don't think I would be any good on regular canvas. I think in fibers instead of paint." To go beyond the traditional applications prescribed for needlepoint is a constant goal, modifying the elements used to suit her vision. Her success in augmenting this aim places Julie at the cutting edge of contemporary needlework design.

In concert with her spiritual inclinations, instead of designing a Christmas stocking to hang by the hearth, Julie's holiday creation is a tithing bag, symbolic of a sentiment closer to the true spirit of the season. This bag is shaped like a bishop's miter (placed upside-down). A series of crosses portrayed in various styles and sizes and executed in gold thread, is highlighted by the rich burgundy-red background. A border of gold cord accentuates the outside of the bag and it is then polished off with a elegant gold tassel.

Back at Island Needlework, Julie continues to pursue her self-appointed crusade to seamlessly mesh needlework with fun and frolic. Her devotees eagerly await the shop's most extravagant annual event, the Formal Christmas Tea tailored to a new theme each year. This year they were greeted by Madame Louise, who resurrected the ancient art of "mehndi," (the hand painting of symbolic designs on the hands and feet with henna), which has its origins in India and Morocco. Iced tea was served (a concession to the hot weather), black beans and rice, salsa and ... brownies. Be there or be square! Rumor has it that Madame Louise seems to resemble Our Lady of Contradiction. Need I say more?

For more information on Julie Pischke's designs which are marketed under Island Needlework Designs, call or fax her at (305) 296-6091. The shop is located at 527 Fleming Street, Key West, Fl 33040.

If you missed the story on Julie's shop, Island Needlework in Key West, FL, featured on our July website, go to http://www.caron-net.com/storefiles/storjuly.html

Bag ordering info for Julie's Button Bag:

Julie's Button Bag is available from Island Needlework as a do-it-yourself project which includes just the bag itself, constructed from an 18 ct natural colored linen. It can also be purchased as a kit which consists of the linen bag with individually selected and coordinated buttons already attached, an outline for the embroidered details and Caron Wildflowers threads to complement the specific button arrangement and color scheme. Each kit is different and designed to result in a one-of-a-kind accessory when completed. For pricing information and ordering, call Julie or Tracy at Island Needlework.