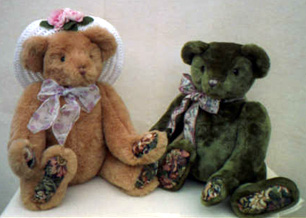 Donna Cornelison-Henasy just loves teddy bears. For quite some time this passion was satisfied by collecting them. Then, as a lark, Donna decided to make one herself. This was no small feat as she had not sewn anything since making the ubiquitous apron in a home ec class. But her first go at it led to one more and then yet another. Before she knew it, Donna was as addicted to creating bears as collecting them. She has now been bearmaking for about 15 years and proclaims, "After the first one I got hooked...it was fun watching them come to life with their own personality. I started selling them at craft shows and through word of mouth. My business evolved as I made more and more bears."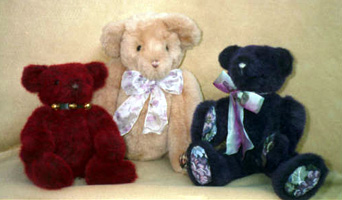 Donna has a particular fondness for tapestry fabrics and soon began incorporating these into the bears' paws, contrasted with the variety of synthetic furs she used for the bodies. But several years and many bears later, Donna found herself in a creative rut and stopped making bears altogether. During this lull, Donna's Golden Retriever, Brandy, died of cancer. She elaborates, "As a tribute to her I became involved in Golden Retriever Rescue, volunteering my craft and sewing experience and getting involved in fundraising. Little did I know I was going to meet a wonderful friend and 'partner in crime,' Sandi Silvestri." Several years ago Donna convinced Sandi to try her hand at bearmaking. Sandi found it to be every bit as relaxing and fun as Donna had.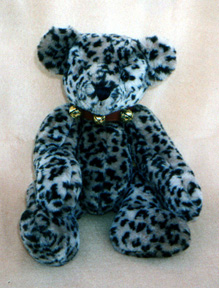 ---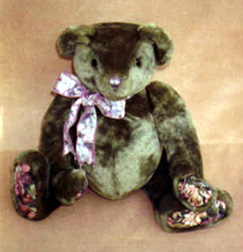 By the time Sandi completed her first bear, she too was hooked. Sandi's new enthusiasm helped to rekindle Donna's again. Now these two bear makers endlessly bounce ideas off each other and go on forays for bear fur. Donna's first collection of bears were made in traditional bear colors. This time around, she became more daring, making bears that sport red, green and blue fur along with even more offbeat colors such as purple, pink and leopard skin spots. She made bears out of any material that caught her fancy. Donna discovered that certain combinations of furs and tapestry fabrics really brought the colors to life. Her bears receive other special touches such as metallic collars, decorative bows fashioned from unusual ribbons and fanciful headgear. Though each bear evolves into a unique personality, Donna does not name them, preferring to let their new owners christen them. She explains, "I think each bear speaks to someone and that creates their name or identity."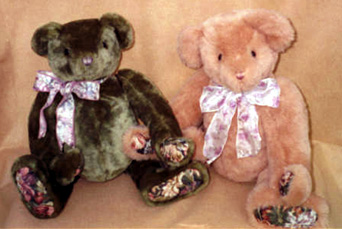 Donna credits Sandi with discovering the Caron Watercolours and using them to embroider the bears' noses. This turned out to be the exact finishing touch for the distinctive look Donna was aiming for. She explains, "I absolutely love using it for their noses and look forward to doing the bears' faces now. Embroidering noses and giving the bear a face was the hardest part of bearmaking for me. The Watercolours pull the whole bear together because the colors are so similar to the tapestries I use for their paws and also the ribbons on their neck." It might take several weeks for Donna to get the exact "look" she wants for a particular bear face, but once she hits on the right combination, she instinctively knows.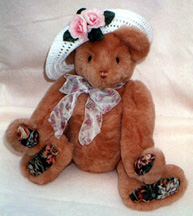 ------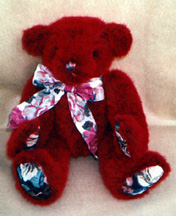 Donna's bears, which are sold under her company name, Donna's Country Sampler, are carried by shops and are sold at craft boutiques and consumer shows. She has won several awards for her creations at juried shows. The business has grown mainly by word-of-mouth; many of her new bear fans quickly joining the ranks of repeat customers. Right now, Donna's bear making is a part time endeavor as her full time job as a lab manager and her two daughters keep her pretty busy. Jessica (9) and Emily (5) make up the bear quality control team - they hug-test each and every one. Jessica often assists in choosing the fabric for paws and thread for the noses. It would not surprise Donna if she started her own bear-making offshoot!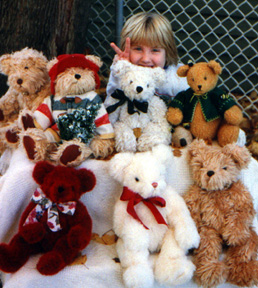 Making bears is therapeutic for Donna, providing an outlet for her creative energies while satisfying her passion for teddies. Its calming effects provide a vital asset in fulfilling the responsibilities of being a full time working mom. If you're yearning to adopt a bear with true flair and imbued with plenty of love to spare, Donna's bears can't be beat! For more information contact: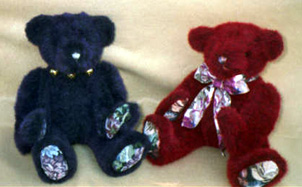 Donna Cornelison-Henasey
413 West 3rd Street
Florence, NJ 08518
phone: (609) 499-1920
e-mail: Bearmkr125@yahoo.com