The CARON Collection is pleased to feature one of the outstanding shops who so ably provide stitchers with not only supplies but guidance, technical expertise, and inspiration. We hope you'll support your local shops and browse through our extensive SHOP LISTINGS to find a shop near you.
Elegant Stitch
In Modesto, California
by Rita Vainius
"Anytime I went on a trip, I always found the needlework shops every time I went into one, I wanted my very own shop. I wanted, I wanted, I wanted and I made it happen," admits Lois Mouriski Bear of the Elegant Stitch. Her vision for the shop was in place long before it became a reality, "If you could purchase it at the local Michaels, Hobby Lobby, Walmart, etc., we didn't carry it. I wanted to provide speciality items that those chain stores didn't carry - not compete with them."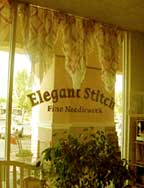 Lois, a native of LA, moved to Marin County at age 13. Her mother was an excellent seamstress who made the family's clothes and very intricate square dance outfits. Lois relates, "Fabric/patterns/sewing machines have been part of my life since I was a young child. Both grandmothers were excellent needlewomen - so I guess it just came naturally to me...it's certainly in my 'bones' as it were." In addition to stitching Lois engages in crochet, knitting, quilting, sewing, dyeing fabric, designing and charting needlework and craft projects of every type from soaps, candles and painting, to cooking, gardening and baking. She is teased on a regular basis, " by those who know me, as being 'Ms. Martha,' which I'm not sure is a compliment but I take it as such."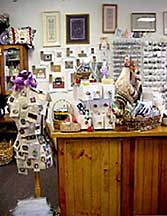 Lois' prior career was in "law," at 2 major U.S. legal firms and working for a member of congress. She is married to Bruce Bear, who owns his own company, LBA Systems, which designs and implements inventory forecasting systems for major companies all over the world.
An ambitious stitcher, Lois' biggest frustration was having no source for the finer supplies she craved. Since she had access to the Internet at her job, Lois developed a network of kindred souls with the same dilemma. Lois began "tossing out" the idea of starting an "on-line" shop, which would concentrate on high-end designers and supplies; it met with great enthusiasm.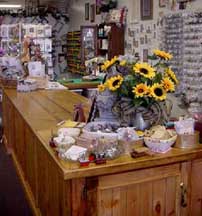 Just about the same time in early '97, Lois was diagnosed with breast cancer. By June, surgery and treatments were completed and she was back at her job. But, she confides, "Looking at cancer can certainly change priorities in life and I decided that it might just be time for me to do something that I really loved. So the Internet website was born and I've never looked back." Lois continued to work full time while running the site. Within 9 months the business had grown so much that it required her undivided attention. She quit the firm. Less than 2 years later, the business was "bursting at the seams" and Lois began considering a "brick and mortar" store. She recalls, "It was one of those 'milestone birthday' kind of years and I told Bruce that we couldn't be doing this in this place for another year. We had kicked around the idea of moving... we found Modesto purely by chance and it just seemed like a good fit." Lois continues, "Within 15 days we had sold our home in Marin, purchased a home and leased the retail space." Wham, Bang! Thank you Ma'am.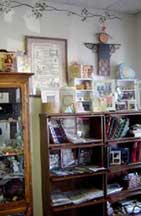 The Elegant Stitch moved into a bare bones space, making its debut on May 24, 2000. During the transition Lois kept the website and mail order business going. She adds, "Obviously this whole process caused at least another 2 gross of gray hairs...but we got it all done with a relatively small amount of disruption. We've been at this pace now for over a year!"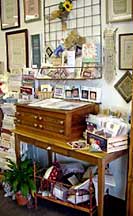 Lois has managed to find two extraordinary women to assist her. She confirms, "I'm very lucky to have Carla and Annie, who are very active and knowledgeable as far as product is concerned; both are excellent stitchers." Bruce too plays an integral role; given he is a "numbers" person, he instituted both inventory and bookkeeping systems for the shop.
Lois began her enterprise with a definite lean toward the high-end of the market, carrying only top-notch designers and quality merchandise, along with "fun" and out-of-the-ordinary things. The inventory is constantly updated and displays changed to make the atmosphere fun and exciting. Key to the operation is providing exceptional customer service; all linen sold is serged and cut to size; even to taking fabric out of kits to serge it. Everything is wrapped in tissue paper with a gold seal before going into plastic bags and being boxed for shipping. "The idea," Lois states, "Is to sell and present products with as much care as we would give our personal items."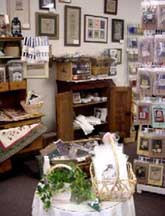 The shop stocks a full line of linen/evenweaves and has a very extensive line in counts and colors. Because Caron threads are such a huge part of linen/counted thread embroidery and are extensively used by the designers represented, in stock at all times are full lines of most Caron fibers. Also on hand are full lines from other manufacturers and many silk specialty threads. Since Lois is a "toy" person, she indulges her whims on a regular basis. Framing services are available, along with finishing services for just about anything. Recently, Lois has added primitive stitchery, carrying lines by Mulberry Folk Art, Indigo Junction and others. Since Lois is on "automatic" with a number of different designers, the shop is constantly restocked with the newest things. Lois adds, "I strongly believe in supporting the individual designers whenever possible."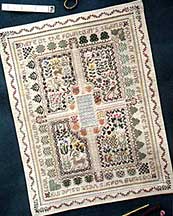 One example of this dedication involves Cynthia Zittel's sampler design, The Sanctuary, "When it was released last spring," Lois enthuses, "It was one of those designs that takes your breath away. Along with putting thread packs together, Lois and Annie, having no 32-count glenshee on hand, decided to dye some Italian linen. We have dyed yards and yards of it we have the color down perfectly...the thread packs, linen and the chart have become our number one all time best seller."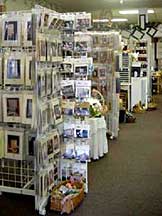 Regularly scheduled events include open stitching Tuesday nights, Birthday Sales and a "Superbowl Saturday" sale. A newsletter is published and customers can regularly check out specials and "what's new" on their website. Lois attends market religiously and writes a detailed report about it upon her return. Customers also love Lois' Punch Card system for purchases made, with a full card yielding a nice healthy $20.00 credit.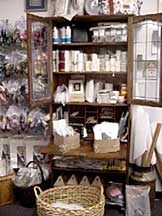 A designer herself, Lois sells her work primarily in the shop. Her design company, Bearly a Bird, is a play on her married name of "Bear. Her focus has been on designing Needleroll Samplers based on nursery rhymes. The first ones were " ...and the Pea, Mirror, Mirror.., Twinkle, Twinkle.., and the latest, ...has Lost her Sheep. Another, Little Boy Blue is in progress.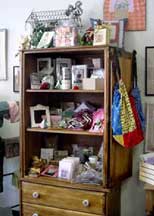 A breast cancer survivor, Lois is intent upon raising awareness and monies to fight the scourge. The shop is in its third year of donating a design, the proceeds of which go to breast cancer care groups. A needleroll entitled Believe was released in spring '98. Lois elaborates, "We kitted up 1,250 of those needlerolls Norden crafts distributed them free of charge and all NET proceeds from those kits were given to breast cancer organizations. We sold out, having raised $12,645 gross for this project." Designs released in subsequent years, a needleroll called From the Heart and a From the Heart Sewing Pocket, have grossed over $30,000 for the cause to date. Next year's matching accessories (needlebook, scissor and fob) are already in the planning stages. Every penny with the exception of actual costs is donated. Lois confesses, "I make my husband a little crazy, but I feel VERY strongly about this cause and I won't stop until this disgusting disease is brought under control. One of the most rewarding things is the number of guilds who are working this project as a group and how many notes we get from stitchers who have been touched."
Elegant Stitch holds classes in basic linen/evenweave, pulled thread, specialty stitches, Hardanger, finishing techniques, pincushions, tassels and more. They have hosted in-house workshops with designers Rae Iverson (Moss Creek Designs) and Kate Strickler (Indigo Rose). In Early May Cynthia Zittel of The Drawn Thread, was on hand to teach on both Saturday and Sunday. Lois plans to expand on this next year and already has sign ups from this year's alumni. Also planned is a special weekend "gathering" for west coast stitchers. Says Lois, "There are so many who are looking for this type of advanced/designer class and opportunities on the coast are few and far between."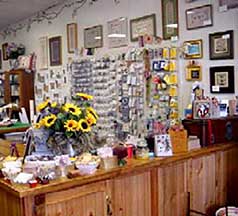 In an amazingly short time, Lois has managed to manifest a new vision for herself as a reality. Elegant Stitch incorporates her talents, skills and passions, reflects her spirit and satisfies some of her deepest longings. In closing, Lois admits, "The work hours are still horrendous but, I love my work and I love my 'shops' so it definitely is a labor of love. I hope the pace never lets up - it means we are doing something right!"

Lois Mouriski Bear
Elegant Stitch
3848 McHenry Avenue, Suite 130
Modesto, California 95356-1599
Phone: 209 -529-6393
Fax: 209 -529-6395
E- mail: elegantstitch@yahoo.com
Website: www.elegantstitch.com