John Karavas

And the Tale of how he was Transformed from a
Man Who Doesn't Stitch into a Man Who Did!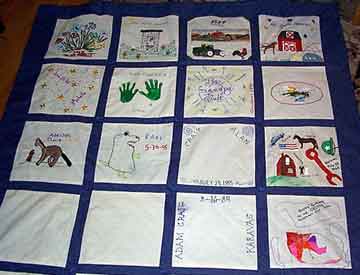 Grandpa's Quilt (Awaiting blocks for completion)
The quilt has truly been a cooperative labor-of-love. It was conceived as a homage for a very special father, grandfather and great-grandfather. Michelle Karavas-Babinski, John's sister, says the idea stemmed from some bed pillows she had previously made. She began by asking both her children, Addison Claire (age 7) and Ross John Walter (age 4) to draw pictures on a 12" x 12" piece of paper. Addison is a big fan of both horses and art, as can be seen in her superb drawing. Ross has wanted to be a paleontologist since the tender age of 3; he did his rendition of a T-Rex...with anatomical perfection -note the two "fingers." Michelle traced their pictures onto muslin and then embroidered the patches following the pattern and colors as closely as possible. They turned out spectacularly and were vibrantly colorful. She then conceived the idea to invite other members of the family to contribute blocks of their own.
| | |
| --- | --- |
| | |
| Addison Claire's Quilt Block | Ross JohnWalter's Quilt Block |
John and Michelle's father is in his late seventies. Michelle explains how the project evolved, "He [my father] doesn't need a thing but company and memories to get by. So...I decided in June to send out 12" square panels to all my siblings and their children. My brother [John], 3 of his kids and one grandchild, responded with the most enthusiasm. There are still four panels from my other brother and his kids that are 'in progress.' I'll hand sew these in later." Michelle put together the pieces she had received from John's family, along with hers and her children's. She waited until Dec. 23 to sew the quilt together since she was hoping that the other blocks promised would miraculously appear. She describes her father's reaction when presented with the quilt, "My dad is not one of many words...just choice ones. He accepted the gift with little hoopla but I did notice he keeps it on his bed and shows it to everyone that stops in, including my brother and his family who owe us the four missing panels!"

John Karavas' Quilt Block


The block John designed and stitched for his father's quilt is symbolic. He explains, "The two center flowers represent my wife and myself. On the left, I show 3 larger flowers, which represent my children (from a previous marriage), and the bottom flower is my grandson. On the right there are two flowers, which represent my wife's children, and the two other flowers represent our grandchildren from that side of the family. At the bottom left middle, you will find a weed. That's my ex-wife! The bottom wording reads John II, III XIX MCMXLIV - my name and date of birth. The sun represents all of those family members who have preceded us."
John elaborates about other family members contributions, "My oldest daughter Kim did hers as well as my grandson's (Joey Bracale) square. There are also squares from my son Jeff and daughter Jennifer (twins). I know that Jennifer did hers - the farm - as I went with her to the craft store to help her select the material. As for Jeff, although he admits to nothing, I think he had quite a bit of help from his fiancee, AnneMarie."
Quilt Blocks from Other Family Members

Aside from undertaking needlework, John possesses an inherent creative bent. He says, "I do like to write kids stories. They last about 15 minutes when read so I have put them on tapes for my grand kids. Keeps them quiet in the car. I recently attended a computer graphic arts class and found myself having fun and re-finding the joy of learning. One of the things I plan to do is create a kids website some day. I have the domain already registered (www.kidsdopics.com)." When asked whether this might be the start of a new obsession, John responds frankly, "All of these things, including the patch stitching, continue to remind me that I don't have time to take on any extra activities right now, but there are many things that I will be able to enjoy that are as far from golf as possible, when I reach that point in life where the office sees me less."

Perhaps John's experience will entice other Men Who Don't Stitch to give it a try!

COPYRIGHT NOTICE: No part of this feature story nor the included designs can be reproduced or distributed in any form (including electronic) or used as a teaching tool without the prior written permission of the CARON Collection Ltd. or the featured designers or contributors.