The CARON Collection is pleased to feature one of the outstanding shops who so ably provide stitchers with not only supplies but guidance, technical expertise, and inspiration. We hope you'll support your local shops and browse through our extensive SHOP LISTINGS to find a shop near you.

The Point of It All
Washington, DC
How's this for an alliterative name - Hyla H. Hurley! Hyla, or the "Queen," as her staff playfully refers to her, is the proprietor of a shop called The Point of It All. The shop was the end result of a time in her life when Hyla was actually asking herself, "What is the point of it all?" When she discovered the answer, her shop was conceived. That Hyla's store specializes in needlepoint, is not beside the point, at all - it only makes the name that much more poignant. The Point of It All is, without a doubt, the manifestation of Hyla's creative spirit coupled with her entrepreneurial drive.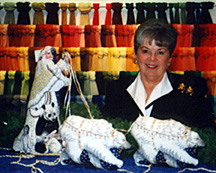 Hyla Hurley grew up in a small town on the Maryland coast along with her parents and 2 brothers. She learned embroidery, crewelwork and knitting as a child from both her mother and grandmother. Although she grew up with handwork all around her, she is self-taught in needlepoint. One day she sat down with Hope Hanley's book and learned every stitch, so that she would be able to teach both right and left handed stitchers. "Of course," she reflects, "I never dreamt that it would one day be both my passion and my livelihood!" Her education was primarily academic but she has always had an interest in art. After attending business college Hyla spent 4 years as a legal secretary and then took a job as an administrative assistant on Capitol Hill. The experience she gained there has stood her in good stead in managing her own business. She became the consummate diplomat - a priceless skill for one who lives and interacts daily in the Nation's Seat of Power. Hyla delights in confiding, "To this day no one knows if I am a Democrat or a Republican!"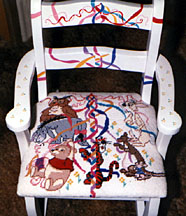 ----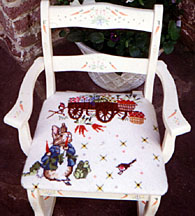 After Capitol Hill, Hyla worked as an agent and property manager in real estate. Eventually, she tired of the "9 to 5" tedium, longing to immerse herself in something more rewarding. Being headstrong and ambitious Hyla let out her condominium, rented a tiny apartment for herself instead and used her hard won money to start her own business. In the shop's fledgling years Hyla ate a lot of noodles - or was that needles! Sometimes it was so difficult to make ends meet that Hyla hired her services out to other designers at shows just so she could get to market. She taught during lunchtime in office buildings and stitched professionally for her customers. She claims credit for making up some stitches, in order to be able to complete backgrounds more quickly. But Hyla has never sacrificed quality for speed. Her priority has always been personal service and customer satisfaction, which she refers to as "the most valued commodity at The Point of It All. Whether it was noodles or needles which sustained her, Hyla literally lived and breathed needlework.

Hyla is proud that most of her staff have been with her for the duration. Carol was a longtime friend and neighbor before she began working at the store. Her tenure there began with a very innocuous request; one day Hyla was detained and asked Carol to secure her keys from another shopkeeper in order to open the store. Carol complied and hasn't left since! Hyla exclaims, "She now stitches and can talk you into buying more than you actually came in for." Hyla gives her staff much of the credit for the store's success. Beside Carol, they include Pat, Nancy, Lee (Hope Hanley's daughter), Laurie, Janie, Charlotte, Betsy. Madelaine, Anita and Lucy - one and all strong, opinionated, skilled and talented. Hyla has calculated that amongst them all the store boasts over 400 years of needlepoint experience. There is also another loyal staff member - Mon Petit Cadeaux, better known as Caddy. A Coton de Tulear breed of dog, he serves as Hyla's constant companion, punching the time clock whenever she does.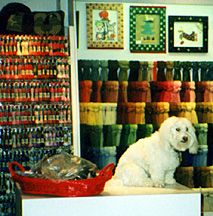 Hyla is the author of an extremely portable and handy reference guide for stitchers named My Favorite Stitches.One of Hyla's first customers and a 25 year veteran calls it, "A pocket-sized dynamo of a reference book - and Hyla assures you, 'There are no needlepoint police.'" This last comment speaks volumes on Hyla's approach to stitching - experiment, ask for help whenever you need it and have fun. She has created a venue that echoes the message. The Point of It All constitutes a feast for the eyes as well as a balm for the soul. It is dedicated to maintaining an inventory consistently a cut above the rest. In recognition of her efforts, Hyla was recently honored by the TNNA for her outstanding contribution to the needlepoint community on the occasion of her store's 25th anniversary in 1999.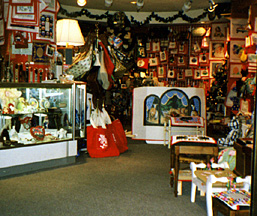 Within the shop colors abound. The trademark red walls make a dramatic statement though one may disagree with Hyla when she insists that red is the most neutral color! Besides the ubiquitous red hue, colors of every shade are represented in the fibers which drape the walls in cottons, silks, wools and blends. The overdyed fibers add much to the overall visual impact. Hyla's initial intention was to create a special niche in the marketplace by being highly specialized in needlepoint. She has accomplished it magnificently with a virtually exclusive and comprehensive inventory of handpainted canvases. The shop is a full service needlework venue; the staff will eagerly pull threads for each and every canvas (no kits are stocked) and offer a personal design service for finishing completed pieces. Customized work is one of the shop's fortes and they have many exclusive designs which can be personalized to suit customers individually. One example is the Betsy Bag which had its origin when Betsy asked for a custom design on a coach bag. Now there are endless variations on this theme. Custom designing is such a passion of Hyla's that her entire staff has been infused with a similar fervor.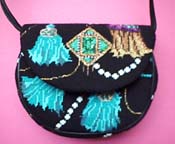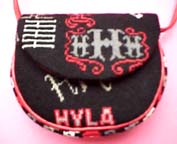 Teaching is an ever growing aspect of shop business. Hyla teaches a class twice a month called "Stitch and Bitch," which contrary to the implication is a fairly subdued but nevertheless rollicking good time. Laurie Bloch, a kindergarten teacher by profession, taught a wonderful summer camp for children, aged 6 and up. Hyla remarks, "To be a fly on the wall and listen to the group of children sitting around the table discussing what they had for dinner, their mom's new car or a family feud, is to know the joy of stitching in company, no matter what age." Hyla makes sure, however, to issue a warning to parents who sign up their progeny for summer camp, "If you don't want us to know your business, be sure your kids don't know!"

Hyla is also a much sought out needlework appraiser. She began offering her services because the Washington area was in need of a knowledgeable source of information. She was and remains the guiding force behind the needlepoint ornaments which have become an annual fixture on the White House Christmas tree. These are designed, stitched and donated by members of the TNNA. For several years, Hyla has designed and provided the White House with a seasonal Kissing Ball which hangs prominently in the White House Foyer. As usual, she has put her own spin on it by creating several design variations on a "3- dimensional Santa on his Sleigh" motif with a sprig of mistletoe to finish it off. When confronted with the fact, Hyla sheepishly admits to her name being the only artist's mentioned in the White House Christmas Program for several years in succession. Examples of Hyla's work hang in the permanent collections of all recent administrations, (Carter, Reagan, Bush and Clinton), as well as in the Bush home.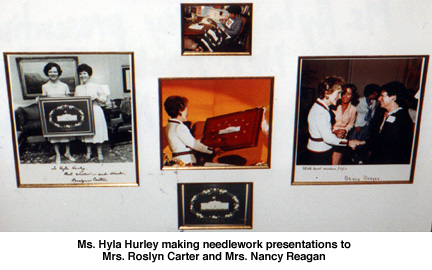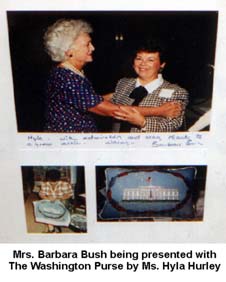 Hyla calls herself an "idea"designer. Fortunately, she has found the ideal partner to bring her brainstorms to fruition - the very talented Gail Hendrix, who has her own line, Festival Designs. Together they make an incomparable team and have been collaborating exclusively for 18 years. Gail, a multi-talented artist, has the unique ability to translate Hyla's cerebral musings into designs on canvas. Likewise Hyla can interpret custom design requests from her clientele so that Gail executes them exactly as imagined. In the past Hyla has retailed these designs in her store. Having finally achieved a level of experience and the resources necessary to move her business to a new level, she is getting set to launch Gail's designs to a much broader audience by offering them to the trade. Plans, among many others in the works, include a website, scheduled to be completed within the next six months.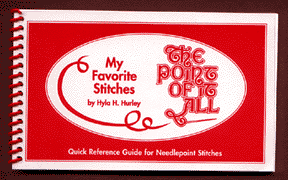 In closing, Hyla remarks, (feigning austerity while her eyes gleam), "I just want to make one thing perfectly clear...I want everyone who comes in the shop to have a good time...and if they don't want to, I hope someone else waits on them!" Rule # 3 is To Have Fun - so hath the Queen decreed!
The Point of It All
3301 New Mexico Ave. NW
Washington, DC 20016
phone: (202) 966- 9898
fax: (202) 966- 2955
e-mail: Hylah@erols.com
website: http://www.thepointofitall.com
hours: Mon. - Fri. 10 am to 5:50 pm
Saturdays 10 am to 4:00 pm
My Favorite Stitches, a Quick Reference Guide for Needlepoint Stitches by Hyla H. Hurley is available from The Point of It All for $12.00 including shipping charges.
P.S. Hyla's other Golden Rules for stitchers are:
Rule #1-There are no needlepoint police.
Rule #2 -Always ask for help and we will do our best to find an answer.