Our Feature Gallery presentation is a display of works by some of the designers who have been most inspirational to Giulia Manfredini in her own serendipitous journey from hobby needleworker to designer.

Cherished Workes Sewing Case
Outside Cover
Inside

of Envelope Style Sewing Case by With My Needle
This design was originally published in the magazine Fine Lines but will soon be available in chart pak. Ellen says of this design, "I think it is most characteristic of the style of designing that I have developed." Giulia adds, "All her pieces are wonderful but this piece is an exceptional one with gorgeous colors and seems to exude peace while stitching. I have that issue of Fine Lines and plan to stitch it myself."
Ellen Chester
With My Needle
7122 Larchwood Drive
Cincinnati, Ohio 45241-1045
phone: (513) 779-0935
website: http://www.withmyneedle.com
"My own favorite is, of course the newest, "An Open Heart," emphatically states Cynthia of the Drawn Thread. Giulia comments, "Cynthia makes such subtle and charming use of little motifs and borders to achieve masterly results. I have many of her chart packs and I love to read them while I sit and have a nice cup of tea. It makes me feel happy."

Cynthia Zittel
The Drawn Thread
P.O. Box 880159
Steamboat Springs, CO 80488
phone: (888) 384 ­7323
e-mail: drawnthreademail@earthlink.net
website: http://www.drawnthread.com

An Open Heart by The Drawn Thread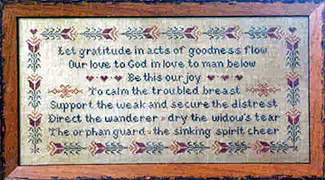 Gratitude
By La-D-Da
Lori's own favorite piece is "Gratitude." The soul of modesty, she exclaims, "I am
surprised to have inspired someone." Giulia adds, "Lori is actually one of my favorite designers. She surprises me with her charming way of designing life's creatures and life's events. I love Bo Peep, Doggie in the Window, A Right Spirit and others."
Lori Markovic
La-D-Da
e-mail: lorimarkovic@hotmail.com
website: http://www.Calicocanvasandcolors.com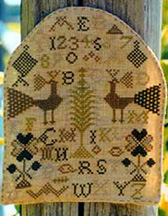 Pennsylvania Beehive Sampler
by the Goode Huswife
This little sampler was inspired by an antique one seen in a book. It has random Pennsylvania German lettering and motifs and is shaped like a beehive and has a loop at the top for hanging. Giulia states, "I love their pieces that are inspired by the past and keep it still alive and so charming"

The Goode Huswife
Phone: (406) 892 ­2860
Website: http://www.nordencrafts.com/CHARTS/GH/GHmain.htm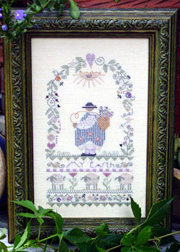 My Earth
by Shepherd's Bush
My Earth is one of Tina and Teri's new designs. Giulia adds, "I love the whimsically simple and apparently childish style of Tina and Teri. I have many of their needlerolls, some samplers, many kits and I am actually stitching Sophie's Stocking."

Shepherd's Bush
Phone: 801-399-4546
Website: http://www.shepherdsbush.net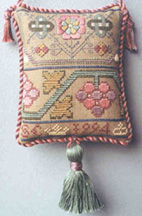 English Sampler Pincushion
by The Nostalgic Needle
Sharon's Designs are all so nice it was hard to choose just one! Giulia further states, "Sharon has such an elegance and is proficient in so many techniques and skills. She is a true teaching designer with a perfect choice of colors and motifs."
Sharon Cohen
The Nostalgic Needle
Website: http://www.nordencrafts.com/CHARTS/NOS/NOSMAIN.html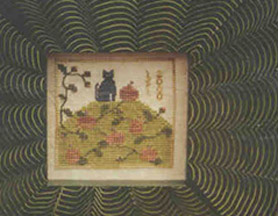 Pumpkin Hill
by Chessie & Me
Linda's designs reflect simplicity and love of color. I love her way of using variegated threads. The Stone Cottage Sampler and Two Found Hearts are a perfect example of this. The designs are so simple and yet exquisite at the same time.
Linda Lautenschlager
Chessie & Me
phone: (608) 924-6600
e-mail: Chesnme@aol.com
website: http://www.nordencrafts.com/CHARTS/CM/CMmain.htm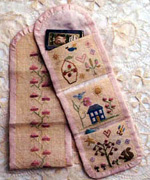 A Curious Needleroll
by Sheepish Designs
"I love their lovely way of designing creatures and flowers and trees. One
of my favorite pieces is Haste Ye Back but they have many beautiful examples
such as Winghaven and In The Meadows," says Giulia.
Sheepish Designs
phone: (704) 875- 1402
e-mail: sheepish@mindspring.com
website: http://www.nordencrafts.com/CHARTS/SD/SDmain.htm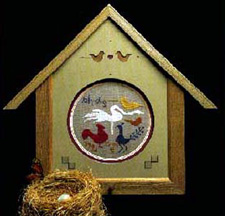 Feathered Flock
by Heart in Hand
Giulia notes, "Heart in Hand is one of my beloved designers. They have a simple way to represent life and human events. I love all those nice letters dancing under the needle or above the fabric. Once again a very nice and simple use of variegated threads."
Heart in Hand
phone: (513) 779 -6758
e-mail: hihn@aol.com
website: http://www.nordencrafts.com/CHARTS/HH/HHmain.htm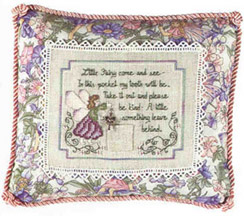 Teenie Tooth Fairy Pillow with Charms
by The Sweetheart Tree
Giulia notes, "The Teenie Tooth Fairy Pillow is one my favorite designs, but all the hearts are very nice. I love her wonderful way of designing and stitching garlands of leaves and flowers"
The Sweetheart Tree
e-mail: Sweetietre@aol.com
website: http://www.nordencrafts.com/CHARTS/SV/SVMAIN.htm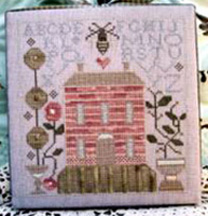 Old Rose and Chamomile
by Ewe & Eye & Friends
According to Giulia, "Ewe & Eye & Friends are designing and stitching lovely little creatures and their concept of nature is so quiet and relaxing. Their colors are charming and their use of variegated threads is lovely."
Ewe & Eye & Friends
Phone: (770) 570- 7663
e-mail: eweeye@aol.com
website: http://www.eweandeyeandfriends.com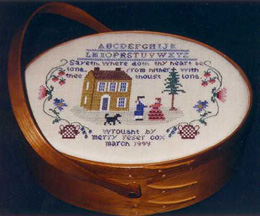 Where Thy Heart Belongs
From Merry's Heart ­
Designs by Merry Cox
Giulia states, "I marvel at the excellence of Merry's design work and especially love her three dimensional pieces. She has a special way of keeping the past alive and bright."
From Merry's Heart
Designs by Merry Cox
P.O. Box 402
Clovis, CA 93613 - 0402
Phone: (559) 346- 1976
Fax: (559) 346- 1976
E-Mail: merrysheart@cvip.net
Website: http://www.wyndhamneedleworks.com/Merry_Cox/merry_cox.htm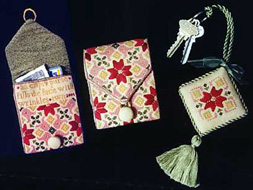 An Empty Purse
by Thistle Threads
Giulia refers to Tricia Wilson Nguyen as an inspiring designer. She further adds, "She has such a beautiful way of mixing the old and the new. Tricia has designed little needlecases, scissors cases and many other pieces with a unique old-fashioned style, like those beautiful slippers to hold the scissors."
Tricia Wilson Nguyen
Thistle Threads
phone: (781) 646- 9652
e-mail: tricia@alum.mit@edu
website: http://www.wyndhamneedleworks.com/Thistle_Threads/thistle_threads.htm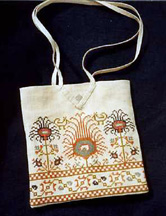 Pa. Pocket circa 1850
by Threads of Gold
"Sometimes I love to take out the Threads of Gold kits and booklets and spend a few hours looking at them. Edna designs gorgious samplers from the past and new pieces with old-fashioned charm. Her reproductions of antique samplers are truly stunning," states Giulia.
Threads of Gold
Edna Medlin
Phone: (910) 892- 3083
e-mail: emlis@emlis.com
website: http://www.wyndhamneedleworks.com/Threads_of_Gold/threads_of_gold.htm
We are grateful to Giulia for turning us on to these wonderful designers.
Special Thanks to Lydia of Wyndham Needleworks for providing designs and contact information about the featured designers. Not only does Lydia operate a comprehensive on-line needlework store, which carries many designs by these wonderful artists, but she also runs a unique Needleworker's Bed & Breakfast retreat, that caters to stitcher's groups, where they can sit, stitch and shop all weekend long to their heart's content! For more information, contact Lydia at:
e-mail: Lydia@WyndhamNeedleworks.com
website: http://www.WyndhamNeedleworks.com
Designs not found on the Wyndham Needleworks site can be found on the Norden Crafts Ltd. Site at http://www.nordencrafts.com or on individual designer's sites listed above.
COPYRIGHT NOTICE: No part of this feature story nor the included designs can be reproduced or distributed in any form (including electronic) or used as a teaching tool without the prior written permission of the CARON Collection Ltd. or the featured designers or contributors.