Sign up for our email updates:

The CARON Collection is a manufacturer of threads for needlepoint, cross stitch, crochet, embroidery, knitting, hardangar, crazy quilting, lacemaking, crafts, and other forms of needlework. We offer hand-dyed variegated threads in two weights of cotton, in silk, and in a 50% wool, 50% silk blend. Our threads provide a distinctive flair that have made them the preferred threads of designers around the world. We also offer solid color threads in hundreds of tantalizing shades and a full line of specialty and novelty threads to compliment our hand dyed variegated thread line. Our charted designs and handpainted needlepoint canvases offer classic elegance and innovative uses for our threads.
Dyed and Gone to Heaven, by The Caron Collection, is an online magazine and resource for needleworkers. We offer you the inspiration of other designers, along with free online classes and patterns to explore the joys and wonders of all kinds of needlework. You'll find the tools you need to help you develop your creativity and to create your own masterpieces.
ARCHIVES
The Caron Collection has been the recipient of dozens of awards. Browse through our ARCHIVES for hundreds of resources and free needlework patterns.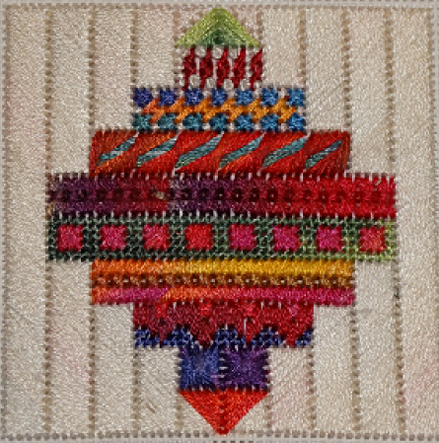 New Free Design by Lois Caron
To Bead or Not To Bead

Our newest free design, To Bead or Not to Bead, was inspired by a quilt that Lois Caron been working on. Visit Free Designs for more on To Bead or Not to Bead and for links to download this free design available as a PDF for your convenience.
---
New Design from the CARON Collection
Lone Star was planned as a study in black and white. This design is equally dynamic in bright colors or pastels, subtle tones or those with dramatic contrasts. You have unlimited choices when stitching with CARON threads. This design uses Waterlilies and Soie Cristale for the Satin Stitch star and borders and Impressions for the textured background. Work on 18 count canvas or your favorite evenweave linen for a 7.5" finished piece. Change canvas or fabric count to alter the size of the design.
Lois is kept busier than ever these days trying to forge a link between her
new found passion for quilt design with her love of needlework and her hand
dyed threads. Lone Star is another example of one design interpreted in both
mediums. Click on Lone Star to view the needlepoint design and her quilt version.
View all our design booklets for more on this design and others.
The design is available through your local needlework shop.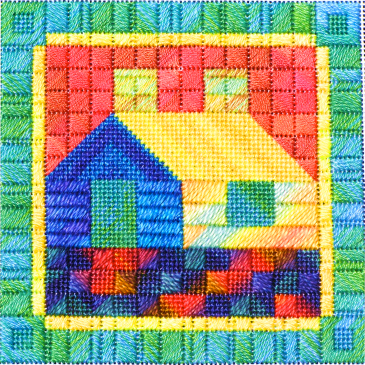 New Free Online Class by Lois Caron
Building Blocks
Learn some new stitching techniques in this fun online class instructed by Lois Caron. You start by laying the foundation by blocking the design off in sections. Next comes the a review of Basketweave stitching. After that you will learn about Satin Stitch. Along the way Lois will guide you with helpful tips and hints. The class is beautifully illustrated and easy to follow with crisp stitch diagrams which makes it easy. Click on the link to enter the class Building Blocks.

New Updated Caron Collection Color Charts, Alphabetical & Numerical Thread Listings
Print out these convenient PDF files to make it easy to purchase your CARON Collection Threads.
Calling All Designers
and Innovators !
How are you using The CARON Collection threads?
We've seen our threads used in many inspiring ways. Have you used our threads in a unique way or for a special project. Email us your photos with a brief description for possible inclusion on our site.