Ernestine Heythaler
of Victorian Dreams

Be sure to check out her free class too!
These little shopping bags are Ernestine's newest creations. One, a wintry scene depicting Bodium Castle, is offered as a free pattern to site visitors.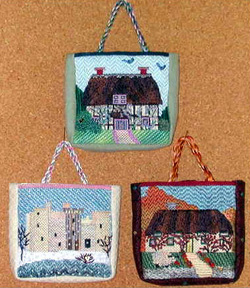 Ernestine Heythaler was born in Fenton, MI, a small town just south of Flint. She has spent most of her life in that state but has also resided in Wisconsin and California. After attending a one-room school in northern lower MI for 3 years, her family moved to the Upper Peninsula. A move to Wisconsin followed, then to California and finally a return to lower Michigan. She graduated there from high school, where she took business courses and became employed doing secretarial work after completing her studies. She adds, "After high school, I moved back to California with my parents and met my future husband, Frank. We all moved back to Michigan and I married. I then moved to Wisconsin and my first son, Frank John, was born there."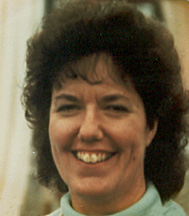 Ernestine Heythaler
When Ernestine attended high school, it was a requirement for girls to take sewing and cooking. Ernestine elaborates, "I loved both!" When she became pregnant, she had an old Singer treadle machine and made her own maternity clothes on that as well as baby clothes and shirts for her husband.
Another move to lower Michigan followed where Frank was employed by General Motors. It was there that her second son, Jim, and a daughter, Renee, were born. She became interested in needlepoint when Renee was just a baby. First she completed a couple of the ready-to-stitch-background-only pictures. Ernestine adds, "They bored me, so I went into Bargello. I once stitched a set of 6 chair pads in Bargello, all different patterns, but the same colors. I started designing my own pillows. Later I tried cross-stitching. I was soon bored with the Aida cloth and tried the evenweaves and linens, which I loved. Soon I was designing cross-stitch projects. I kept sewing all along, making clothes for the family as well as items to sell in a consignment shop."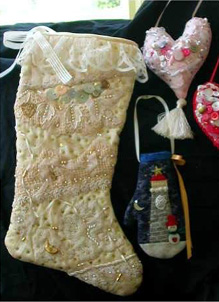 Cream Sock, Mitten and Pink Heart

When Renee started school, she decided to try her hand at quilting. She had purchased red and blue calicos to sew outfits for her daughter and had kept all the scraps. She started on a lap-size quilt with just 4" squares, alternating the reds and blues and then hand quilted it and discovered she enjoyed quilting immensely. More quilts, many larger ones, followed. When she became acquainted with the owner of a local fabric shop, she began teaching quilting there. She befriended one of her students and they would go shopping together about once a month. They scoured the quilt shops one month and needlepoint/cross-stitch shops the next. Together they enrolled in classes for tole painting, knitting, smocking and rug hooking. Ernestine quips, "Of course, then we would go to those kinds of shops on our trips."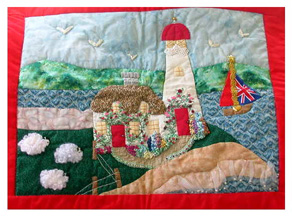 English Lighthouse Quilted Hanging
On one such trip to a needlepoint shop, they discovered a free Caron design and bought the threads to complete it. Ernestine finished stitching it in 1990, but never took it off the stretcher bars until a couple of years ago. Only then did she realize that she had been using Watercolours threads way back then. She even still has several of those old skeins with the old labels!
Starburst Design
stitched with Watercolours
Starburst Quilt
which inspired stitched Design
When Renee was 18, Ernestine and Frank divorced and she enrolled in Business College with the goal of working in retail management. Through it all she stitched and designed needlework, sewed and painted. After a couple of years, Ernestine married Gary and she moved to northern Michigan, where he lived. She points out, "Not being much of an outdoor person, I had to find things to do. I taught quilting classes in town, got acquainted with the needlepoint and cross-stitch shops nearby and stitched a lot."
Valentine House

Design executed in needlepoint
Design executed in cross-stitch on linen with silk threads
Victorian Dreams, Ernestine's company, was born several years ago. She began by designing Santas, Christmas ornaments, stockings and dolls. They were constructed out of elegant fabrics and embellished to the max! She notes, "All that glitz and sparkle ­ I sold patterns and some of the actual samples."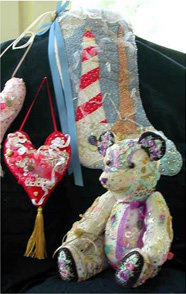 Lighthouse Sock, Bear and Heart
Ernestine had always been aware that her great-grandparents were from England, but didn't know much about them. With access to the Internet, she located a genealogy site and found her family. It turns out her great-grandmother was from London and worked for Queen Victoria as a maid of some sort. Her great-grandfather was from Suffolk and he was bootmaker to the Queen. She adds, "That's how they met, married, and came to Canada, where my grandfather was born. They then moved to Michigan."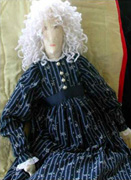 Agnes Doll
Ernestine had always had a special fondness for English cottages and chintzes, flowers and tea, which is no surprise now that she uncovered her forbears! One year she decided she would love to decorate her Christmas tree with little thatched cottage ornaments. As there were none on the market, she designed her own. She continues, "Some I just dream up. I have subscriptions to several English magazines and get a lot of the ideas for the houses and castles in those. Over the Internet, I have found several friends in England and am further inspired by them. I have gotten quite an education about the country and the houses and castles. I expect to live to be about 300 so that I can stitch all the ideas I have!"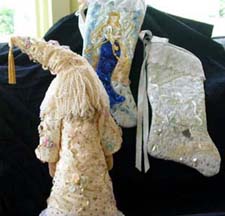 Santa, Mermaid and Blue Sock
Ernestine admits to loving needlepoint more than any other type of stitching. She has found that #18 canvas can be covered with many different threads and produce intricate detail. Her favorite threads are the Caron Watercolours. She adds, "There are so many colors and I love all the variations in the threads. I don't like to shade with dozens of different threads, so these are ideal. I have also tried the Impressions and Waterlilies which I love."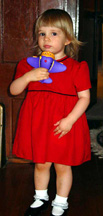 Sarah
Ernestine's Granddaughter
Many friends who cross-stitch have asked Ernestine to translate her needlepoint cottages to cross-stitch, so they can stitch them. Her own favorite cross-stitch projects are usually samplers, so she has designed several of them.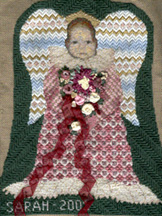 Sarah Angel Topper
After Renee got married, she gave birth to a daughter, Sarah. Ernestine wanted to make something special for Renee and her son-in-law, Christian, for Christmas. That's how the design of the Sarah Angel Tree Topper evolved. She used a program that converts photos to cross-stitch and she stitched the baby's face using that. She then designed the rest of the angel around the face. The following year, she designed and stitched the Sarah Star, and yes, this Christmas will find her designing something else with sweet little Sarah's face.
Miss Sarah Star
Ernestine has also used Sarah as her theme to design a sampler for her granddaughter's parent's wedding anniversary. Little Sarah, now 2 1/2 years old, has been using crayons to draw around her hands and sometimes her feet Since Grammy gets lots of pictures from Sarah, she incorporated Sarah's hand and foot prints into this special sampler. Ernestine adds, "An exciting bit of new news: Renee is expecting a new little one in March - we don't yet if it's a boy or girl, but I see lots of stitching ahead! And I just visited them where they live south of Columbus, OH and took Sarah her favorite sugar cookies plus other goodies."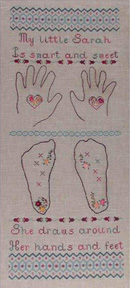 Sarah's Sampler

Ernestine Heythaler
Victorian Dreams
6646 Old M-68
Onaway, MI 49765
Phone: (989) 733-2081
E-mail: vict@freeway.net
For more of Ernestine's designs see her Spring Gallery Feature:
http://www.caron-net.com/03mayfiles/galeaster.html
For more of Ernestine's holiday designs see the Christmas Gallery feature:
http://www.caron-net.com/dec02files/dec02fea.html