This month we are pleased to present...
Carmen Wyant
By Rita Vainius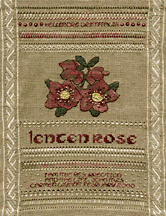 Click here for
Carmen's FREE Pattern
An unusually large "yours, mine & ours" family is how Carmen Wyant describes her home, growing up amid 6 sisters and 4 brothers in north central Montana. As she puts it, "Everyone older than me belonged to Dad (M.P."Tex" Polk); my younger sister, Cheri' & myself were my Mom's, my younger brother, Louis, is the "ours" & one foster brother, Don." Carmen's father worked in the oil fields while mother Lois tended home and children. Lois had her sewing work cut out for her in keeping "all those girls" clothed. Carmen recalls, "We had homemade prom dresses & her sewing machine seemed to be a permanent fixture on the kitchen table, so I grew up almost sewing by osmosis." Carmen sewed many of her own clothes as she got older and confides, "I was probably the only freshman at college with a sewing machine in her room."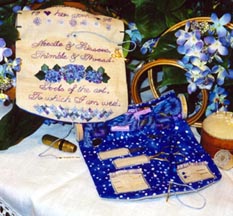 Over the years, Carmen has held a variety of jobs from road construction to bartending and currently works at the Mission Mountains Mercantile in a management position. She began marketing her designs in the summer of '98 and would like nothing better than to design and teach full time, a goal she has set for herself within two years. Carmen's family has been most encouraging of her needleart pursuits. Lois often accompanies her daughter to trade shows and is remarried to a "great guy" Harold, who makes all of the ends for Carmen's Blue Hydrangea Sewing Rolls, in addition to house-sitting for her menagerie of 4 dogs, 2 cats and 4 horses, while she is away. On occasion, when not away on business (building log homes), Carmen's husband, Tim, pitches in too. Carmen stresses, "For all his grumbling about the time I spend with a needle in my hand, my husband has been wonderful about this mid-life career move. He's never let me down when it came to something I really wanted to do." While they were courting, Carmen was embroidering a quilt top and laid it out in her future mother-in-law's living room to tie it together. For their nuptials, Carmen made her bridesmaid's dress, embellishing it with flowers around the neckline and a rainbow on the skirt. She also executed the detailed embroidery on her sister Cheri's gown. For her own bridal attire, Carmen relied on Lois' able hands, "Mom crocheted mine and had yarn left to crochet my niece's flower girl dress, the ring bearer's's pillow and a dress for Cheri's youngest. One of my wedding gifts...was my great grandmother's crocheted bedspread with the matching bolster cover and throw pillow top. It is an heirloom that I treasure - not just for the handwork, but for the history & the story that goes with it." Carmen comes from a long line of female ancestors of Scottish and English descent, who engaged in handwork, "It just seems to be something we do!"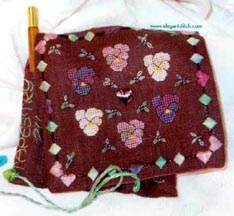 Shortly after her marriage, Carmen found a kit with counted cross stitch and decided to give it a try. There was no looking back from that point on and when she discovered evenweaves there absolutely no stopping her! She began attending the Spirit of Cross Stitch shows, "I went mostly to take classes from some designers I admired...I started designing...because it seemed to be the next logical step. One day I was feeling rather depressed about fast approaching middle age (me? middle-aged? when did that happen?). I decided that I didn't want to be sitting around 25 years from now saying 'I could have done that.' I wanted to at least be able to say 'I tried that' if not 'I did do that.'"
----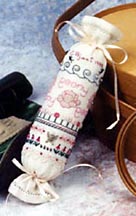 When Carmen first saw the Caron Waterlilies fibers, she was not sure how she would employ them,"Since they were silk, [they] scared me silly anyway. Then I took a class with Lauren Sauer...The design called for Waterlilies Fir. This was also the first time I ever worked 'in hand' [stitching without use of a hoop, scroll frame or Q-snaps]...I fell in love with silk and use it in everything I do and work mostly 'in hand' to this day... the inspiration I get from the colors in the Caron threads is unsurpassed."

Carmen's design ideas can stem from anywhere; her first needleroll design was inspired by an antique Japanese kimono; the next, by a wild plant found throughout the northwest - beargrass. The peony design began as a bouquet from her garden, ants & all, " I like to inject a little humor (the ants) or something that will give the stitcher a little grin if I can work it in." The Heartsease piece evolved from the linen used; its shade reminded Carmen of antique pansies. The form it took resulted from the needlecase itself, "I went to market...with this vague idea of looking for...needlecases...to work up into a piece. When I saw these, the whole thing just came together in my head." Lenten Rose was inspired while perusing a flower catalog and out of Lenten Rose has sprung a companion piece, Christmas Rose.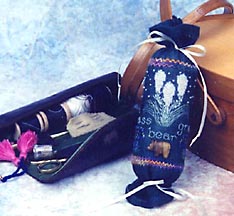 Click Here for Page 2 of this month's Designer Feature