Carmen Wyant - Designer Feature Page 2
Click Here to go back to Page 1 of our Designer Feature

Carmen integrates symbolism into her designs, "It may not be obvious, but I know it's there. It seems to come out whether I'm thinking of it consciously or not. My Proposal Pillow has a lot of symbolism...I think that anyone stitching it would pick up on it while they work it." The pillow features pink roses (perfect happiness), ivy (wedded love, fidelity), daisies (innocence), forget-me-nots (true love, memories), bachelor buttons (hope), bittersweet (truth and, in marriage, you take the bitter with the sweet) blue periwinkle (happiness & friendship) and viola (faithfulness). For more detailed information and pictures of Carmen's Proposal Pillow, see Celebrating with Needlework at http://www.caron-net.com/jun99files/jun99fea.html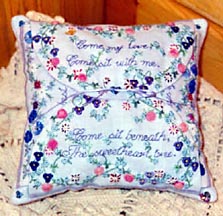 Though Carmen invested in a computer, scanner, printer, charting program and graphics program when she began designing in earnest, she still sits down with a pencil, ever-ready eraser and graph paper to start, "I set out the main element of the design, start pulling fabric, fibers and beads and start stitching. I'm a very visual, tactile type and the design doesn't really come to life for me until I see it in thread on the fabric." It has been her intent from the start, to concentrate on traditional heirloom designs as this is the style she is most comfortable with and where her talents lie. Carmen's other great passion and the greatest inspiration for her designs, is gardening. She is a voracious reader, never venturing anywhere without a book or magazine, "It drives me crazy to just sit and do nothing... I cross country ski when my husband can drag me away from my stitching and he occasionally gets me on a horse to pack in the mountains for a few days away from civilization."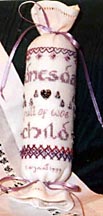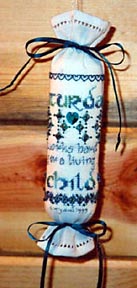 Carmen exhibited her work at The National Counted Cross Stitch Show in 1995, winning first place for her entry in "Holidays" and again garnered first place in 1998 for her entry in "Amateur Original Designs." In 1999 she entered under the Professional Design category for the first time. She comments, "I was very thrilled...to be asked at Charlotte if I would be interested in submitting class proposals for CATS 2000. This was a big step for me, but submit, I did and teaching, I am." Carmen's first class was on the Queen Mary in January. She loved it, once she confronted her fears, "My friend, Margaret, took my class and was a huge help in getting me through my nerves. After that, it was pure fun... I encourage my students to take the design and make it their own...this is needlework - not masonry and nothing is written in stone. A good teacher encourages and instructs, I just hope that I'm able to do that." Carmen's students certainly do not share her qualms!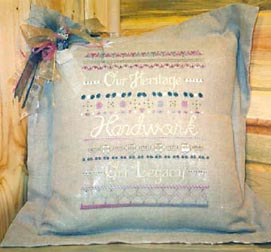 Carmen's itinerary for the year includes:
CATS (Creative Arts and Textiles Show )- Denver, CO April 26 - 30, 2000
NATS (Needlework and Accessories Trade Show) - Charlotte, NC July 28 - 30, 2000
CATS (Creative Arts and Textiles Show) - Riverside, CA Sept. 6 - 10, 2000
She will be teaching at the CATS shows. For more information, contact Cathy Shelton on the CATS website at http://www.gripitplus.com/cats/new/
For wholesale orders, contact Carmen at:
Columbine Designs
56560 Highway 83
Swan Lake, MT 59911
phone: (406) 754- 2569
fax: (406) 754- 2821 (Call ahead if sending fax)
e mail: cnd2821@montana.com
For more information on Columbine Designs or for retail orders, see your local needlework shop or contact Lois at:
Elegant Stitch
3848 Mc Henry Ave., Suite 130
Modesto, CA 95356
phone: (209) 529- 6393 or (800) 790- 0810
fax: (209) 529- 6395
e mail: elegantstitch@yahoo.com
website: http://www.elegantstitch.com
Elegant Stitch is very pleased to announce the opening of their new retail shop in the heart of California's Central Valley, offering the finest in linens, fibers, embellishments, ribbons, lace and needlearts from the industry's top designers. The Grand Opening is set for May 15th, 2000. Check their website for further details.
Click Here to go back to Page 1 of our Designer Feature