The Caron Collection Designer Spotlight Remembers
(Caron visitors: This designer spotlight was written before Alan's death.)
Alan Greenstein
By Rita Vainius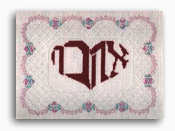 Hebrew Love Sampler
FREE PATTERN
"It seems like I have been designing forever." So states Alan Greenstein, our featured designer. Alan hails from Philadelphia, PA, but spent his formative years in Miami, FL. Alan was already practicing his art as a teen. He elaborates, "When I was in high school I was designing patterns for my younger sister and her best friend to latch hook." However, latch hook did not give Alan the means to express himself adequately. He continues, "I always liked to sketch faces and landscapes, neither of which lends itself to latch hook. That was when I started to design samplers."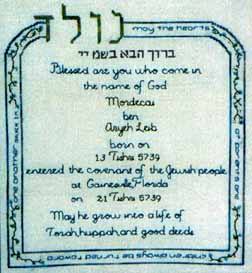 Boy's Naming Sampler
Engaging in creative pursuits was a common feature of Alan's home life. He grew up with 2 sisters, the younger of which he dubs the "crafty" one. "Fiber art was just a natural part of our growing up," Alan reminisces. "I remember my mother always had a project or two going on. I drew and my sister would work on one project or another." His mother's creativity was channeled into knitting and his sister's artistic side encompassed latch hooking, cross-stitching, tole painting and scrapbooking. Alan has never had any formal art training. His formal education prepared him for a career as a paralegal.
Alan has been married to Ellen for twenty-six years. She insists that she does not share Alan's creative nature, but Alan does not concur, stating emphatically, "When she remarks that is a piece is good or bad or just OK, somehow the rest of the world listens. I am always bouncing ideas off of her and I have learned to listen to her and others when they comment on my work."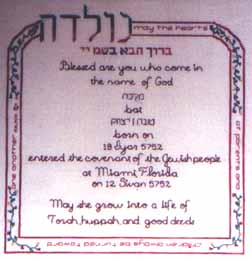 Girl's Naming Sampler
Alan has been designing exclusively for the past six years. Initially he designed only for a local market as he was unsure that his designs would attract a national audience. His horizons were broadened when a friend asked him to design a sampler featuring her home in Savannah as a motif. This design was so well received that Alan decided to branch out to other markets beyond his own region of the country.
Through his designs, Alan endeavors to present stitchers with a new perspective on fiber art. How he accomplishes this has been influenced by his knowledge of art history. Alan elaborates, "I have tried to bring something of the different schools of art into my work. The idea of the points of color comes the work of Georges Seurat - my pieces are very Impressionistic. I get bored with staying in the conventional constraints of cross-stitch. Just because every designer uses five or more colors to show a flower- why do I have to the same? That is why I create with overdyed floss. The same effect can be achieved but in a new way. I suppose that is what I want to bring to the needlework field."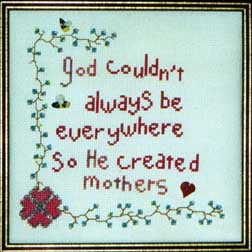 Mother's Sampler
When Alan and his wife moved to Gainesville in 1980, he met Sally Criswell, the proprietor of Cross Stitch and More. At the time Alan was very involved in designing but a relative novice at stitching. Sally approached Alan about designing samplers and poems for sale in her shop. Whenever a new frame, box or other accessory that would accommodate a stitched piece came in, Sally would commission Alan to create a custom design for it.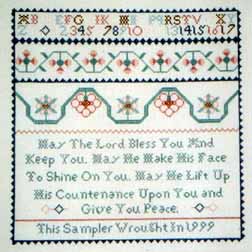 May the Lord Bless You
Alan has long harbored a fascination for Antique samplers and tapestries and these have served as an inspiration for his own designs. He clarifies, "I have always admired antique samplers and tapestries. I taught myself most old embroidery stitches and try to incorporate them in my designs."

As a practicing Jew, Alan also seeks out Judaic design motifs. At first he was frustrated in this quest. He claims, "All I found were ones that were either only blue and white or very heavy with gold." It was actually Ellen who provided the solution of how to transform Judaic designs into his own style. Alan explains, "My wife and I enjoy the look of traditional country designs and it was she that first got me to design Judaic pieces with muted colors and in traditional ways. Although I still like to design for specific frames and boxes or trays, I find that I now have no lack of subject matter in designing Judaica. My Judaic work is currently the primary focus of my designing."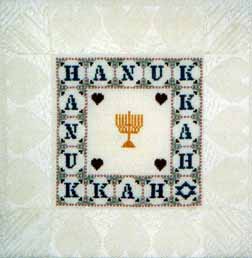 Hanukkah Sampler
Other inspiration for Alan's designs is provided by specific design motif or theme requests from individuals, such as, "Why don't you design..." When queried thus, Alan invariably mentally imagines the finished piece. Customer feedback also plays an equally important role for him, "My inspiration comes from people telling me how they enjoy my work." The threads themselves, which catch his fancy, provide another source for ideas, particularly overdyed fibers. Alan clarifies, "One of the most exciting developments in needlework is overdyed threads. I find that the color changes add a new dimension to my designs."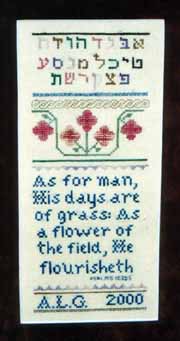 Hebrew Band Sampler
One rather ambitious project Alan has embarked on, involves a collaboration with a good friend and fellow artist who works in oils. By combining their individual talents, skills, vision and expertise in their respective artistic disciplines, they intend to transform some of Alan's original designs into large paintings. These will be pointillist in style, similar to the painting technique employed by George Seurat and other Impressionists. Alan says they will accomplish this effect by translating each individual colored stitch into a one-inch painted tile. In the finished pieces each 1" square painted tile will represent one stitch of the needlework piece. Thus a stitched piece measuring 34 x 80 stitches would become a painting 34 inches x 80 inches. The effect produced thus, with each stitch being a different color, will allow the viewer to visually combine the colors to see the entire image. This project in-progress will no doubt involve much experimentation as it evolves.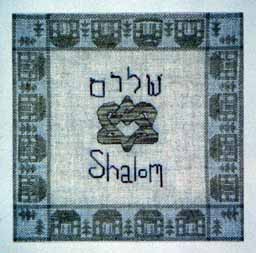 Shalom
Alan has 2 sons of his own. Of them he says, "My sons names are Matthew (22) and Evan (12). My oldest son is the more creative one. He is studying movie direction and has been involved in theater since he was five. My younger son is the jock. He plays city league baseball and dreams of playing professional ball, but he does make my buttons when they are needed for a design."
Alan has a passion for sharing his expertise with others, especially children. He plans to establish a series of classes for five and six year olds at the two Temples located in Gainesville. He explains his motivation, "I feel very strongly that children need to be exposed to the world of creativity that involves more than TV or video games." About his approach to teaching, Alan states, "When children tell me that they are not enjoying what I am teaching, I tell them, 'That is all right,' but encourage them not to make up their minds until the project is finished. Then I suggest that they also help their parents with cooking or gardening or just read a book- something to stretch their imaginations."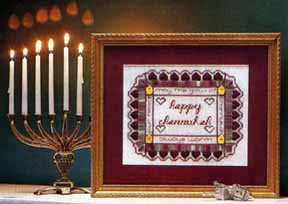 Happy Hanukkah
(photograph courtesy of Just CrossStitch)
Even though Alan may feel like he's been designing "forever," his enthusiasm and wonder at being able to do so, has not diminished one bit. He proclaims, "After all these years of designing, there are still times when I look at a finished design and can't believe that I designed it." He completes the thought in true perfectionist fashion, "Also I am so focused about my designs that I still stitch almost every single one myself!"
Alan Greenstein's designs are sold under his company name, Stitcher's Heaven. The company name was inspired by Alan's desire to create designs that would elicit a positive response and entice stitchers to try others. Alan still accommodates custom design work and exhibits a very hands-on approach when conferring with clients. He adds, "I talk to the buyer to find out not only what they want in terms of motifs, but also color schemes and where the piece will be displayed. Only then do I get started designing." Initially Alan designed with pencil and graph paper, but over the past 3 years has switched to using the computer as a primary design tool. He quips, "It makes it easier to do because I don't get writer's cramp anymore, but the process of designing is still the same."