The CARON Collection Presents a

Special Designer Tribute to the September 11, 2001 Tragedy - Part IV of an Ongoing Series
(Click here if you missed Part I, Part II and Part III)

An Urgent Appeal to Stitchers Worldwide to Participate in
The Memorial Flag Project
In HONOR of Those Who Have Perished in Acts of TERRORISM
Elizabeth Barnes is a woman on a mission -- to create a giant Memorial Flag to honor those who have perished in acts of terrorism over the past 25 + years. Included are the attacks on September 11, 2001, the USS Cole, the American Embassy bombings of 1998, the Oklahoma City bombing in 1995, the World Trade Center bombing of 1993, and the numerous bombings of American Embassies in the eighties, such as the Marine Barracks in Beirut in 1983, as well as many others.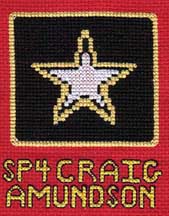 --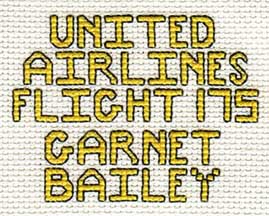 The flag began as a memorial to those that died in the September 11, 2001 attacks. Elizabeth explains, "Like everyone, I was terrified. My husband is in the Navy and we live in base housing. When I finally got over being afraid, I was angry and for the first time in my life I actually hated somebody. After speaking with my priest, I decided to channel all the hate and anger into something good. That is how the Memorial Flag Project began.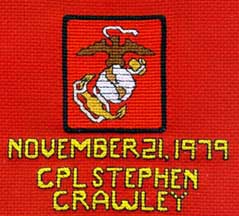 --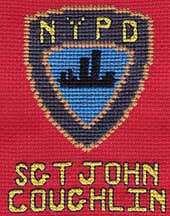 Initially, Elizabeth thought she would cross-stitch a small 3" x 5" flag. She elaborates, "Then I thought about making a memorial flag for all the victims and that blossomed into this 'huge' flag! My goal is to give people an idea of what this country does and the sacrifices it has made over the years to maintain the freedom of America and to create and maintain peace through out the world. I would like to send out a heart felt 'THANK YOU' to the thousands of veterans and current military personnel who have given me my freedom and my pride."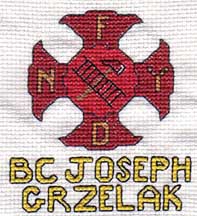 --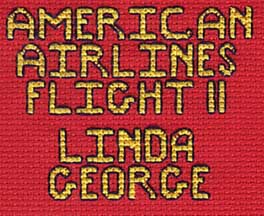 Elizabeth hopes to have the flag completed by September 11, 2002. She envisions it as a traveling exhibit, spreading its message far and wide. Since seeking outside support, Elizabeth has enlisted many volunteers to help make her vision a reality. Currently, close to 500 stitchers from10 different countries are participating. Recently, Beverly Kingsley, owner of the shop, the hook and i, in Virginia Beach http://www.hookandi.com has offered to display a poster alerting her customers to the project. Pamela, owner of The Old Stitch, which is a source for discontinued and old cross stitch designs, has also generously added a notice on her website, http://www.oldstitch.com, inviting stitchers to participate in this worthy cause.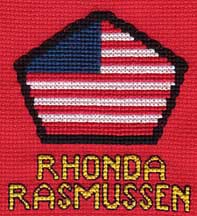 --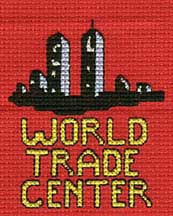 You may request including the name of someone you knew who was a victim of one of the attacks, but it must be a specific name (first and last). Elizabeth will attempt to fulfill these requests unless that name has already been given to somebody. She is currently attempting to answer all emails received within 48 hours. Volunteers will receive a pattern to stitch, along with a welcome letter, containing information about the count and color of the fabric that is being used, and other information necessary to participating in this most worthy project.
If you would like to stitch a "square" for the flag, please send an email to Elizabeth from the Memorial Flag Website at:
Note: Images shown above are stitched pieces commemorating victims of terrorist attacks, to be included in The Memorial Flag.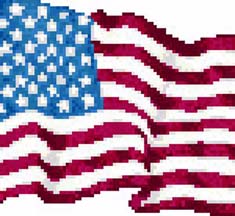 "The Flag Was Still There"
By Teri Rasmussen George
In the Realm of Dreams Designs
The Flag Was Still There, by Teri Rasmussen George is the design recommended by SilkWeavers for use in the World Trade Center Memorial Quilt. States Teri, "As an American, the events of September 11th have seriously affected me, as I'm sure they have many of you. This design is offered to help each of us remember and commemorate the happenings of September 11th. I hope that working on this design will both comfort you and help you express your pride in America. You're welcome to distribute the design freely."
For a copy of the chart, go to:
Website: http://www.craftsoft.com
For more info, contact Teri at:
CraftSoft Publications
395 Wellington Rd
PO Box #25177
London ON N6C 6A9
Canada
Phone: (888) -680-9957
Fax : (519)- 680-9964
E-Mail: teri@craftsoft.com
Website: http://www.craftsoft.com
Design Page: http://www.craftsoft.com/free.shtml
SilkWeaver's website page for design recommendation:
http://www.silkweaver.com/fabric/wtcquilt.html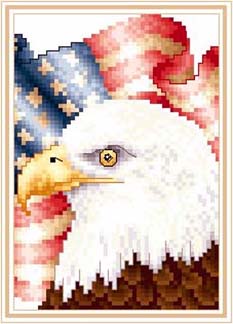 "They Will Soar On Wings Like Eagles"
By Pamela Kellogg
Kitty & Me Designs.
They Will Soar On Wings Like Eagles has appeared three times in the World Trade Center Memorial Quilt being directed by Kathie Baumgardner. Says Pamela, "I hope that this design will help each of you find some comfort through your needlework. I wanted to do something to help...
For a copy of the chart, go to
Website: http://www.kittyandme.com/
Design Page: http://www.kittyandme.com/designs.shtml
For more information, contact Pamela:
Kitty and Me Country Crafts
E-Mail: pamkellogg@kittyandme.com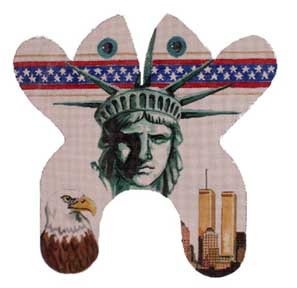 The World Trade Center Remembrance Frog
Needlepoint of Back Bay designs a series of Needlepoint Canvases that are finished as frogs. They are custom painted by in-house designers at Needlepoint of Back Bay. The snout is stitched together to form the nose and the two round circles are the eyes. Beads and buttons as well as various types of specialty fibers can be used to bring the canvas to life. The frog is finished as a beanbag.
For more information, contact:
Needlepoint of Back Bay
164 Newbury Street
Boston, MA 02116
Tel/Fax: (617)- 536-7999 or call us toll-free at (877)- 595-7999
e-mail: info@needlepointbackbay.com
website: www.needlepointbackbay.com
---
Plea from the organizations that are helping those affected by the American Tragedy of September 11, 2001:
Your Help is Needed. Please Donate Now! While we are all deeply saddened by the tragedy of Tuesday, September 11, you can help now by supporting the relief efforts. Relief organizations tell us that they most need cash donations to fund special resources and personnel. To make a donation or learn more about these organizations, links for them and others can be found at:
American Red Cross
September 11th Fund
The New York Firefighters 9-11 Disaster Relief Fund
New York State World Trade Center Relief Fund
Twin Towers Fund
WTC Police Disaster Relief Fund
The Survivors Fund - Washington, D.C. area
Salvation Army
Robin Hood Relief Fund
New York Police and Fire Widows' and Children's Benefit Fund
The Fund for Public Schools - WTC School Relief Fund
100% of your donation will go directly to these relief organizations. Donating through Helping.org is safe and secure. United Kingdom residents can make donations to a special Help USA fund created by the Charities Aid Foundation