Libby Sturdy

By Rita Vainius
Click here for her
FREE PATTERN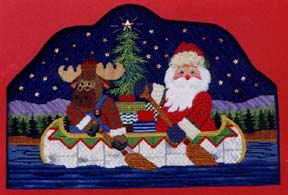 Libby Sturdy is a native of Middletown, CT, renowned in the Guinness World Book of Records as the town having the largest width main street in the U.S., also named Main Street. In the days before malls proliferated, everyone headed downtown to Main Street to shop, eat out or see a movie come Friday night. Libby grew up in such a time, filled with the promise of the American dream and surrounded by needleworkers and their handiwork. One grandmother was an expert rug hooker, who stripped and dyed her own wool. She and Libby's mother, Emilie, taught Libby some embroidery basics and from there Libby stitched away to the "beat of her own drum." Her other grandmother's talent was for crochet and she also had an aunt who was a professional seamstress. Libby is hard pressed to recall a time in her childhood when she wasn't making something with her hands.
Libby began stitching by working on stamped pillow cases. Her aunt recruited her to stitch the needlepoint background for a set of chair seats. Libby found it rather tedious but persevered through all 8. Throughout high school and college, Libby constructed many of her own clothes. No matter what medium she worked in, even when learning a new skill, Libby never stuck to the pattern, but always improvised with the design elements. She always intended to work as an artist, remaining determined and focused on that goal.
At Wesleyan University, in Ohio, Libby's major was Graphic Design and she went on to receive a MFA degree from Boston University in Advertising Design. Libby has put all this hard won education to good use. She also met her future husband, David, while at Wesleyan. He asked her out by using pantomime in the college library. After Libby's marriage, they moved to Illinois. Nothing in the advertising field was available so she took a job as a needlework production artist. She was soon promoted to manager of that department, enabling her to start designing some original painted canvases. Before long needlework was no longer just a job, but a passion. Libby augmented her skills by procuring Hope Hanley's Needlepoint books and experimenting with other stitches. As the materials used at the time were limited to wools, floss and Perle, the stitches themselves were the primary design element to work with.
Libby's next employment was as a commercial artist with a company specializing in campaign and novelty buttons and leather goods. Though this may seem to have no relation to her needlework aspirations, it was actually a surprisingly relevant experience. Libby learned how to take an idea from conception, through the design process, into the manufacturing phase and ultimately to store displays - all invaluable skills later adapted to her own business.
Once after designing a pillow as a gift, Libby visited her local shop for some supplies. She was surprised to find that the owner, Ellie Hanke, was a former customer of the company Libby had worked for in Chicago. Ellie was looking for a custom designer and Libby fit the bill. She began needlepoint painting in a small corner of her bedroom and has continued doing much of the shop's custom work ever since. Even today, Libby works from home, often improvising to suit her business needs as she playfully confesses: "While everyone laughs at my 'photo studio,' it is effective. It is on my back deck where I prop up a draped blackboard on the barbeque and sit on the cooler. I pray for bright cloudy days!"
Libby started teaching at Ellie's shop, Flying Colors, beginning with a paint and design class. She would have her students bring in examples of images they wanted to transfer to canvas and Libby would teach them how to do it. Over the years she discovered that, far from sabotaging her own work, her students gain an appreciation for the complexity involved in producing good hand painted canvases and usually prefer having a professional do the work.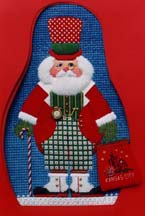 Just Libby Designs, inaugurated in 1977, was soon a full time job. Libby's specialty of Santa motifs, was initially born out of a request from the Fox Valley Embroiderer's Guild to design and teach a custom Santa class. Thus was the "themed Santa" born. It didn't take long for news of Libby's custom "Clauses" to become known through the stitchers' grapevine and she was besieged with requests from other guilds for their own. As Libby succinctly states: "The whimsical fellas multiplied." Libby's Santas were introduced to a much bigger audience when, in 1996, Sally Volkert, of The Canvasback, took several of Libby's Santas to the Woodlawn Plantation Christmas Show, where they were displayed on the mantle and subsequently photographed for the Fall 97 issue of the Stitchery Magazine. That is when, as Libby says' "my little business endeavor really took-off." Her first long-distance teaching assignment and commission led to the creation of her most popular Santa design to date: a Wine Country Santa" created for Club "Stitch" in Santa Rosa, CA. Santa's wife, Mrs. Wine Country runs a close second!
Libby's method for customizing her Santas for guilds or shops, she explains thus: " Each Santa...has elements significant to the client. I spend many hours researching ideas provided...then I select those that can be worked into the design. I provide a preliminary sketch with explanations and suggestions... Next I transfer the... design to canvas and start stitching...The process includes the selection of threads, stitches and embellishments. Many of the Santas combine not only needlepoint but also decorative surface stitchery, ribbon embroidery, trapunto, applique or weaving. Next comes preparation on the kits contents, the written instructions with graphs and drawings, cover design and cover photo of the completed piece. Finally canvas and kits are reproduced for the client and eventually for general sales." It is easy to see why even experienced stitchers are not only willing, but eager, to leave the production of these designs to an expert.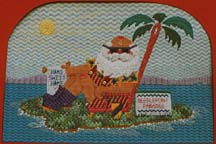 Keenly aware of what stitchers respond to, Libby tries to combine both some fun and challenging stitches in each piece. She pays particular attention to the faces because Santa should always be "cute and jolly." Libby endeavors to inject lightheartedness by adding animals for unexpected whimsy. She defines her own home as an "animal house," having fostered pet mice, crayfish, cats, fish, a pair of toads and a horse named Raalph who just graduated from college with honors in Pasture Management! Libby's oldest daughter, Becky, a Magna Cum Laude graduate in Math and Computer Science is a superb equestrian and has won many ribbons with Raalph. Sister, Amy studies horticulture and loves to knit, with many gorgeous sweaters to her credit.
Libby is a strict devotee of the Caron threads. When the Watercolours line was first introduced, she grabbed every color combination to experiment with. She especially likes the matte look of the Wildflowers threads and the unique shine particular to Waterlilies.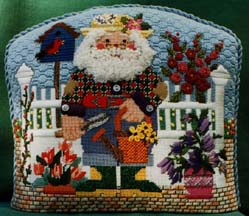 Using them judiciously helps to define a color palette particular to the design and also sets the mood. Impressions are favored because of their smooth feel and excellent color range. Libby uses Rachel and Rachelette to add shimmer, and Candlelight provides the glitz when called for.
Libby's hobbies include doll collecting, going back to childhood. She searches for handmade dolls - those that bear evidence of the persons who created them. "Going junking" is another pastime, hunting for examples of her other obsession: Ribbon Lady pictures. Most recently, her collectibles have expanded to include "moose" objects, spurred by a close encounter with a herd of moose ambling through their campsite while on a canoe trip. "Pretty awesome and VERY smelly," is how Libby describes it. One of her latest designs incorporated a moose and this new motif has received quite an enthusiastic reception. Forget Santa, anyone for a Customized Moose?
Libby has a very full teaching itinerary set up for the rest of the year, including classes in Maryland, Pennsylvania, Delaware, California, North Carolina, Iowa, Illinois. For a complete itinerary, please contact her at:
Just Libby Designs

16 Oxford Avenue
Clarendon Hills, IL 60514
phone: (630) 655-1819

fax: (630) 655-1946

e-mail: libby@justlibbydesigns.com

website: http://www.justlibbydesigns.com