by Anna Mastropolo:
Click Here to Meet Anna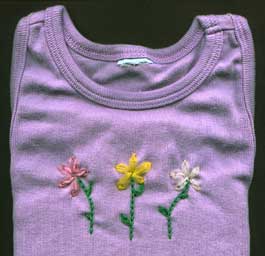 Kelly is a 15 month old that I baby-sit for at least once a week. I wanted to make this tank top for her because the flowers seem so cheerful and she's always laughing. I chose lavender for the top because it looks pretty with her blond hair.
Materials needed:
Approximately 36" of each thread type below:
Impressions thread #5086
Rachelette #A 37
Rachel #B 42, #B 37 and #B 8
Needle to fit threads above
Click Here for Stitch Diagrams
Directions for Kelly's tank top: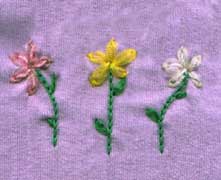 Step1. Stitch the stems with chain stitch with Impressions thread .
Step 2. Make straight stitches for the leaves using Rachelette A 37.
Step 3. Make lazy daisy stitches to form flower petals. Use Rachel thread in colors specified: for pink: Rachel B 42; for white: Rachel B 37; for yellow: Rachel B 8
I like using Rachel and Rachelette because of their transparency. The color is really bright, but softened. I wanted bold but soft shades since Kelly is just a baby.
I hope you like this project
Anna - achewi234@home.com
Kids! More of Anna's work will appear on an upcoming website, so stay tuned!

Meet Our Kids' Project Creator!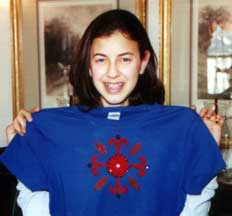 Anna with one of her custom embellished Tee Shirts
Hi! My name is Anna Mastropolo. I'm 14 years old and I've been home schooling all my life. Ever since I can remember I've loved drawing fancy dresses and detailed clothing. Sometime last year I became very interested in fashion and I started designing and decorating my own clothes. I used to put just a few beads, sequins or rhinestones around
the neck or sleeves of my shirts but then I took a crazy quilting class with Leslie Levinson and I finally learned some embroidery!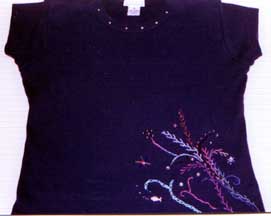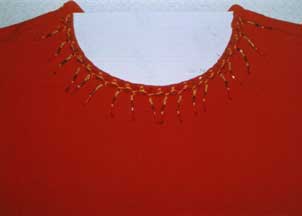 Some More of Anna's Tee Shirt Designs
The crazy quilts were beautiful but I was most interested in figuring out how to put the embroidery and more complicated beadwork onto clothing along with sequins, rhinestones and studs. I do love the actual stitching and beadwork but the designing is still my favorite part of the process.
I've stitched designs on my jeans, khakis and a few skirts but I seem to design mostly Tee shirts now. Each design is always unique so every Tee shirt I make is always one-of-a-kind. I especially like to custom-make them and give them as gifts to friends. I've made so many Tee shirts now that I've started selling them to my friends, family or whoever wants to buy them. I hope you like this project!
Anna
achewi234@home.com