We are Pleased to Present
Giulia Manfredini
Giulia is that rare European who truly loves America. She elaborates, "We conceived Sofia in Chicago and that was the first great gift. I was able to make wonderful friendships in USA. Sandy, my dearest friend, is more like a sister to me. Barbara Cockerham, Editor of SANQ, became more than a friend. What about you? I have friends all over the States. I was even enrolled as honorary member in the EGA chapter of Sacramento 4 years ago and after that I decided to keep my membership forever. I have a special place in my heart for Americans! It is so true."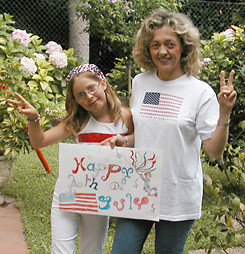 Giulia & Sofia
July 4th, 2002
Giulia Manfredini was born in Massa, Italy. Her paternal grandmother was a wonderful stitcher. Giulia's mother saved all the embroidered dresses her grandmother made for Giulia's two sisters and herself; the next generation of children has already worn them as well! Giula's mother is a wonderful cook and craftswoman and made sure her children experienced everything: cooking, crafting, crocheting, knitting, woodcarving, sewing, gardening. Giulia adds, "She was a wonderful elementary school teacher and has been a wonderful instructor to us."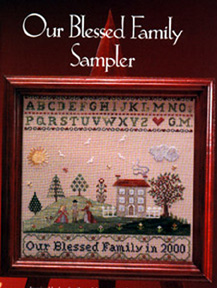 Blessed Family Sampler
Giulia believes, "Artistic temperament is something you have in your DNA and it comes out with great power. I am so happy to have it, as Sofia [Giulia's daughter] has it." But Giulia is not smug about it and realizes that she was blessed with it at birth. She also had the advantage of growing up in a family that nurtured it. She furthered her natural curiosity and aptitude through reading and experimentation. What she enjoys most about creating art is the sense of fulfillment and feelings of serenity and happiness it brings.
Giulia's father also supported all their endeavors. He bought books for the family and engaged in crafts himself like binding books, building little toys and making ornaments out of champagne corks. Giulia retains all corks he made for her starting with those from her own birthday and those from her daughter's too! Her father, presently retired, was professor of Latin and ancient Greek and Dean of his School. He is also an internationally recognized scholar on Plutarch. The family grew up surrounded by books, classical music, art and crafts. In addition to two sisters, Giulia also has a brother. She states, "We all had a lot of encouragement and support to expand our ability in every field we liked and love and respect surrounded us."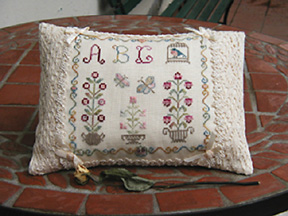 Blue Bird Pillow
Giulia herself became a Medical Doctor, specializing in Nuclear Medicine and Endocrinology. Her husband, Mario, is a Physician also, who specializes in Radiology. They both work at the local Hospital of Massa. Giulia ponders, "If we think about my family, it is totally unrelated to my scientific education. Still I think there are a lot of common things in medicine and needlework art. You need to be precise and patient and besides that, the medical field is so stressful that the search for a relaxing hobby is truly a must, or a sort of desperate need." Giulia began immersing herself in needlework almost 22 years ago and it soon became her favorite hobby. During her journeys abroad she is always on the prowl for ethnic needlework techniques and designs. She has never attended any formal needlework classes and is entirely self-taught.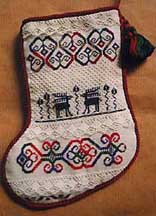 Tyrolean Christmas Stocking
Of Mario's sterling qualities as a husband, Giulia notes, "When I met my husband, Mario, in 1988, he immediately gave me tremendous encouragement in my life, my work and my hobbies. Mario is very much like my adored father and my new life and family was a lovely transition from previous family life." Mario passed the American Board of Radiology and has practiced for some time in the States. It was because of Mario that Giulia's love affair with the USA took root. Giulia explains, "Mario loves the States and made me discover them in many ways. He took me to museums, shops and other related places for needlework and let me detect many things we do not have in my Country. We have been visiting the States many times and we have very good friends in Fullerton, CA, Saratoga, CA and Boise, ID."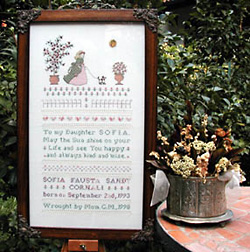 Sofia's Sampler
Their daughter Sofia was born on September 2, 1993. Their daughter's full name is Sofia Fausta Sandy Cornali. Fausta, in honor of Giulia's mom (Fausta means 'happy,' and indeed happy she is!) and Sandy (for their best friend in the states, who is like a sister to Giulia and Mario, and who introduced Giulia to lots of crafts and needlework shops.)
Sofia is a charming an intelligent child. She is now 9 years old and completely bilingual (English and Italian) and brimming with artistic taste. She actively participates in choosing colors for Giulia's projects and doing her own needlework projects. She dabbles in many other crafts also. One of her original drawings was published in the February 2000 issue of Highlights for Children. Sofia's Mermaid was also published on the Caron website. No small accomplishment for a little girl!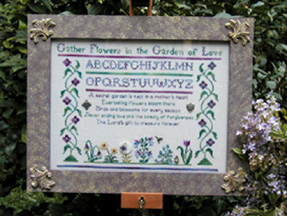 Garden of Love
During one visit to the USA, Giulia happened to walk into Willy's Needleworks in Orange,CA and discovered the Caron threads. On another trip, she discovered the Caron website and read about the Online Design Contest, which she considered participating in. Mario urged her to enter. Giulia remembers, "Before that time I had never designed a piece on my own. It was so challenging to see what could happen. When I received notice of the Award I was very happy and Mario told me, 'I am not surprised...I told you!' My life is very much accomplished with him, so supportive in my work as a doctor and as a craftswoman, and proud of the recognition I received as a beginner designer."
Nor does Giulia confine herself to stitching. (Though God knows where she finds the time!) She made a big dollhouse for Sofia along with all the furnishings, carpets, pillows and clothes for the dolls. She adds, "I love to sew dresses for Sofia, for Sofia's dolls (American Girl dolls; she owns two) and for ourselves (Renaissance dresses for our historical parades). I love crocheting, knitting, beading, designing, painting, gardening and cooking."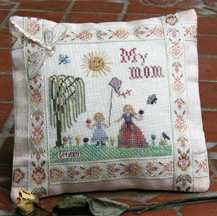 My Mom
So where does Giulia find inspiration for her designs? "Sometimes I get my ideas from my life or personal feelings like my family, my mom, or something important for me, like Sept. 11th. Sometimes just a piece of fabric or threads make me start to think about a design for that special color. What I always do is take the fabric out and place the skeins on the fabric. I have to see how the colors 'mix and match' or mismatch and only after the choice of the fabric and colors, can I start stitching. I would say that colors are the main ingredient for my work as a designer. Besides, needlework designing gives me the opportunity to see my ideas becoming real and I can touch and modify them and this is the challenging part of my love for needlework."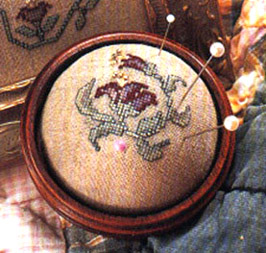 Lilies Pincushion
Giulia also derives inspiration from the past, by studying antique samplers and experimenting with different styles and stitching techniques. Designing old-fashioned samplers with variegated threads is quite challenging and adds a contemporary feel to an old "look." Giulia comments, " I strongly believe we have to look back to the past to realize our best future and while stitching I have inside my brain and my hands the past of my family. I always design and stitch my projects using variegated cotton or linen threads. I love the different shades I can realize while I stitch with overdyed threads; it is like having a rainbow in my hands. I am almost sure that without variegated threads my needlework designing adventure would have never started."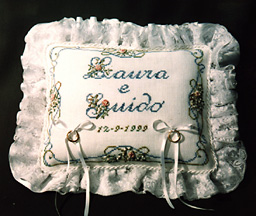 Wedding Ring Pillow
When queried about her personal style, Giulia with candor, "I do not think to have a specific artistic style. I love all my pieces and I would stitch them again with no change. Each piece reflects a period of my life and reminds me of my loving moments. As far as I enjoy designing and stitching, this is fine for me. I am still surprised to see how a little heart for September 11th was so loved. It might be that my style is not my main concern and this is why I cannot give the right answer." Giulia does admit that she loves variety and hopes to establish a more consistent look in her work. She adds playfully, "I tend to vary very much in my decisions. At least I do not want to change husband or work or friends! I am very stable with human relationships but very flexible with style and things not related to moral commitments."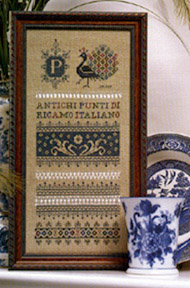 Assisi Peacock Sampler
After the Assisi Peacock Sampler was already accepted for publishing, Giulia took it to show to Peggy at Willy's Needleworks. Peggy told Giulia she should sign and date it. Giulia asked, "Why?" Peggy remarked that samplers have more value if they're dated and signed by the artist. Then she asked Giulia how much she had asked for the contract. Again Giulia was caught off guard, admitting she was not familiar with the "business end of needlework since this had always been more of a hobby for her." Peggy looked her straight in the eye and said, "You should give a value to your work, otherwise it has no value." Giulia returned to her friend's home and immediately stitched the date and her initials on the sampler, and the set her fee for the contract.
Front
Back
Mother's Day Scissors Fob
Giulia firmly believes that her success to date is entirely due to the relationships, which has had the good fortune to make with stitchers, needlework designers, publishers, shop owners and suppliers here is the US. Without them, none of it would have been possible. She states firmly, "All this came from my beloved American stitchers and I will never forget this in my life. I want to thank all these people now. Also your Country gave me the opportunity to develop my artistic skills and this is the great gratitude I have for USA and American citizens.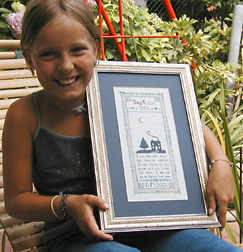 -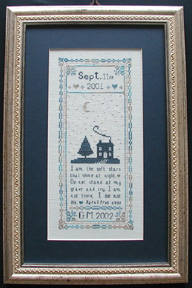 September 11th Stars Sampler
(Giulia's newest Design)
Stars (victims) are caressing their homes from above. One of the victims is softly looking at her/his house and whispering to the relatives. They are inside their home while smoke emanates from the chimney. They might be having dinner or sleeping and dreaming. Nature (the big tree) is participating in this moment with great respect, close to the house. Our Sovereign (the moon) overlooks the scene and the stars and they are together in the sky. After one year, and for the rest of the relative's lives, the scene will be the same day-by-day, or better night-by-night. The space with my initials can be used for the stitchers's initials or the victim's name. This is what I had in mind when I designed the piece and while I stitched this peaceful "blue-sampler." The Peacock color includes shades of light brown and turquoise, which add warm color and life to a scene, which could have been too cold without this thread.
Giulia voices strong convictions, "What is important for me is that stitchers should know their support value for a designer. The history of painters who became famous after death but were desperate in life because nobody would understand their value is proof of this. I cannot compare myself to a famous artist but the success of Justice in Our Heart was the best gift of love my beloved America could do for me."
Giulia Manfredini
Via Palestro 16
54100 Massa, Italy
Tel.: *39 (Italy) 0585 499103
Email: jmanfr@tin.it
To purchase the September 11th Stars Sampler leaflet with chart and instructions you can write to Giulia at the e-mail address above. Giulia is currently visiting the USA until October 1st, but will have access to her e-mail while here and will reply to stitchers requests.
People Giulia would like to express her thanks to:
My parents, my husband and my daughter for all their support and love for my hobbies. I would have not been able to do what I did without my husband Mario. My dearest friend Sandy in Fullerton, CA, for all her great friendship and all the time we have spent together in finding bookshops, craft shops, needlework shops. She is so proud of my achievements in the States, but she doesn't know how lucky I feel to have met her.
Then, some wonderful needlework lovers who have been so supportive and lovely: Rita, Lois, Barbara, Peggy, Pat, Julie, Cecelia and Virginie. These people have been helping me a lot, more that I was expected and I guess more that I deserved to be. I also want to thank my beloved supporters, most of them American, who requested the chart of Justice in Our Heart. Their letters were a true blessing during a long winter and Spring season while I hade to take care of my mom. I also want to thank my friend Luana. She is my only Italian friend sharing with me the same love for designing and stitching and giving me good advice. Also I would like to thank all my beloved American stitchers who wrote to me and getting so much love back from people and all those letters of blessing while my mom was not feeling fine. I will never forget this in my life. Also your Country gave me the opportunity to develop my artistic skills and this is the great gratitude I have for USA and American citizens.
Below are links and information on where to find other designs by Giulia Manfredin:
Christmas Sampler
http://www.caron-net.com/oct98files/oct98cla.html and
http://www.caron-net.com/nov98files/nov98cla.html.
Sofia's Mermaid
http://www.caron-net.com/sep00files/sep00kid.html
Justice in Our Hearts
http://www.caron-net.com/apr02files/guilia.html
http://www.caron-net.com/oct01files/nov01trib.html
Sept. 11th Mourning Sampler: to appear in the Winter 2002 issue of Sampler and Antique Needlework Quarterly.